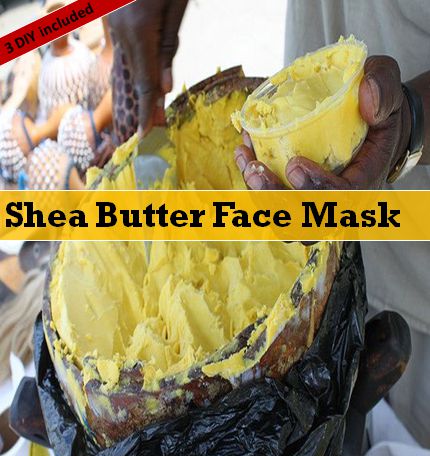 The unparalleled moisturizing benefits of shea butter are due to assorted moisturizers in it, according to American Shea Butter Institute these moisturizers are identical to moisturizers secreted by sebaceous glands. Impeccable proofs show that topical application of shea butter face mask can trigger considerable change in skin tone.
Almighty made our body with all the essential resources; however our food habits and distressing levels of pollution deplete moisture from our body. This is where innate external resources come in handy. Shea butter is one among those fascinating natural moisturizers which almost has identical benefits like skin's own natural moisturizer.
Vitamin A in shea butter has exceptional healing property which is a good remedy for skin diseases including acne, eczema, wrinkles and skin allergies. American Shea Butter Institute states that premium shea butter can also treat insect bites, frostbites and sunburns. Restorative properties in shea butter enhance collagen production to stimulate fast healing.
Before we dwell into face mask recipe, let us note that you must initially hydrate your skin from the inside by consuming water rich foods like cucumber, water melon and vitamin rich spinach.
Also read: How to make a cucumber face mask
Without ado let's see process of making shea butter face mask.
3 DIY Shea Butter Face Mask
We're listing only few recipes of face mask, you can add other essential remedies to enhance this homemade shea butter face mask.
DIY: 1 Avocado, Honey and Shea butter Face Mask
Ingredients in this face mask have fascinating properties. Avocados are packed with vitamin A, B, C, E and K. Minerals include magnesium, iron and potassium. Antioxidant properties restrain bacterial growth and enhance collagen to fade wrinkles. Honey is a natural humectant which helps to retain moisture over body. Antimicrobial properties in honey thwart acne or infection causing bacteria. Regular application can fade acne scars. Lime juice can lighten dark spots.
Things you'll need
Avocado – 1/2 tbsp
Honey – 1 tbsp
Shea butter – 1/2 tbsp
Lime juice
Procedure
Blend all the specified ingredients into a bowl or mash with a spoon.
Apply it on your prewashed and exfoliated face using fingers.
Massage in circular motion and at problem specific areas like blemishes, scars slightly press with fingers.
Rinse it after 15 minutes. You may have sticky feeling after washing, but don't cleanse, it soaks naturally. (source: Jenni Raincloud)
[Related post: How to Apply Face Mask]
DIY: 2 Shea Butter Face Smoother
Things you'll need
Unrefined shea butter
Facial scrub
Facial mask
Procedure
Topically apply raw shea butter over your face.
After 10 minutes apply face scrub over it, you can use homemade face scrub instead. This process will open up skin pores.
After 2 more minutes rinse it off with warm water.
Now you can apply any homemade facial mask to enhance smoothness of skin. We recommend using above (DIY 1) mentioned face mask here.
Scrubbing face before applying face mask helps to absorb nutrients effectively. Shea butter can also be used as a night cream added with any essential oil like olive oil and vitamin E oil. (source)
DIY: 3 Aloe Vera, Rose Water and Shea Butter Face Cream
Things you'll need
Aloe vera gel – 1 tbsp
Rose water – 1 tbsp
Olive oil – 3 tbsp
Vitamin E oil – 800 IU
Beeswax pearls – 2 tbsp
Shea butter – 1 tbsp
Procedure
Pour shea butter, beeswax and olive oil to top of the double boiler and fill the bottom of the double boiler with half water. Heat the ingredients till beeswax melts.
Parallelly, whisk honey and rose water into a bowl.
After melting beeswax remove the boiler from heat and add specified quality of vitamin E oil, this turns into an emulsion.
Pour whisked honey and rose water to this shea butter bowl. Optionally other essential oil and stir well.
Transfer the face cream into a jar. (source: Livestrong.com)
Related post: Rose water and acne