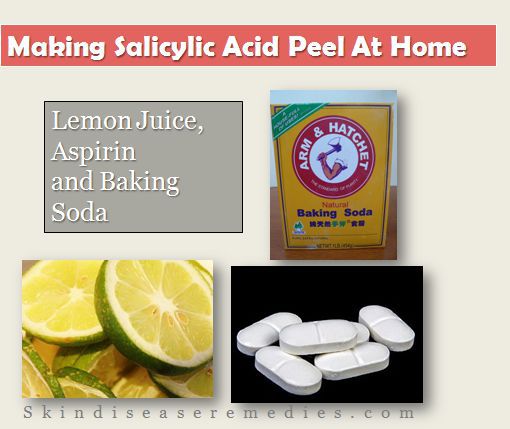 Salicylic acid has been used as an anti inflammatory drug from ancient times. Now, in modern times salicylic acid is used as constituent of some products. It's a beta hydroxy acid derived from willow bark and it's a key ingredient in many skin care treatment products including acne, dermatitis, psoriasis and warts.
Salicylic acid bags credit for treating whiteheads, blackheads, pimples, acne and large pores. It comes as a cloth, cream, lotion, gel, ointment, shampoo, pad, patch and peel. Almost all skin care products include this beta hydroxy acid as an ingredient. But you can also make your own salicylic acid peel at home.
Stay away from this chemical peel if you're allergic to aspirin or if you're pregnant.
Why Salicylic Acid Peel So Beneficial For Acne and Other Skin Diseases
According to Medline plus, topical application of salicylic acid treats acne by unplugging blocked skin pores to shrink pimples and reduces swelling and redness. Also it treats other chronic skin diseases by softening and loosening dry, scaly skin, whereby it falls.
Salicylic acid is fat soluble, it breaks down sebum and clears pimples. Topical application can help in fading acne scars and exfoliating skin. Anti inflammatory properties help to reduce skin inflammation.
How to Make Salicylic Acid Peel at Home
If you're a lazy guy and don't want to try homemade salicylic acid you can get one from local store or online. As aspirin contains salicylic acid and topical application of it produces rejuvenating effect we here consider aspirin for making salicylic acid peel at home.
Things you'll need
Steps to Make Your Own Salicylic Acid Sitting at Home
Take aspirin tablets into a bowl and squeeze lemon juice into it.
Crush aspirin tablets using the spoon.
Cleanse your face and apply crushed aspirin paste to your face evenly.
Parallelly mix 1tbsp of baking soda with 1 cup of water.
To neutralize acid, use cotton ball and apply baking soda (the one who mixed with water) gently on face to remove aspirin peel.
So simple isn't it?
Note: To save eyes, mouth and nose from salicylic acid, apply petroleum jelly prior to aspirin application.
For spot acne blemishes treatment use dissolve half aspirin in lemon juice and apply on lesions.
Few Important Tips
Initially start with 15% salicylic acid peel every day.
Depending on your skin type increase time intervals of peel on face.
If you see no results with 15% salicylic acid after weeks of application, try with 20%.
You face will be left with frosting on skin, don't alarmed by this.
Remember topically application of salicylic acid results in break outs.
First time users, stay in shade, wear sunscreen.
If you see any side effects, stop using this chemical peel and consult your doctor.
Whats your recipe to make salicylic acid peel at home?