Religious books like Qur'an and Bible reveals that human is made up of clay, even scientist come to same conclusion after research. May be this is the reason why topically applying clay will nourish the skin and make it free from flaws.
Kaolin clay has been extensively used to treat diarrhea, dry itchy skin, rashes and as emollient. Because of lack of scientific data its use in daily life decreased significantly. Anyhow, it enticed cosmetic world with its assorted properties. So, many creams and lotions you use may incorporate kaolin clay powder.
As it's a natural ingredient and is used as a face masks hundreds years back, it completely safe to put this clay on your face.
Kaolin Clay Mask Recipe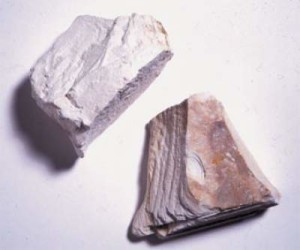 To be on safe side, experts recommend to make face mask if you're using kaolin clay or any other clay. As mentioned earlier, lack of scientific data to back the claims, you'll see different opinions over effectiveness of kaolin clay. Anyhow, people who used it claim that it's good for both dry and oily skin.
Here goes the basic form of mask.
Things you'll need
Kaolin clay – 2 table spoons
Water – 2 table spoons
Mix the store bought kaolin clay in a bowl with required amount of water. Wash your face with water, then topically apply kaolin clay face mask. Leave it for 15-20 minutes then rinse it off.
According to Mountainroseherbs.com, white kaolin clay will not draw or stripe moisture from your skin. So, it works great for dry skin. Its mild nature makes it an excellent remedy for sensitive skin.
Related post: Bentonite Clay Face Mask Recipe
Kaolin Clay Mask for Acne and Oily Skin
Cosmetic companies incorporate this clay into soaps, scrubs and face masks, because of its absorbent properties. Kaolin clay mask actively absorbs excess sebum/oil produced by your skin. White kaolin clay is renowned for cleanse toxins, dirt and replace them with minerals to enhance skin tone.
Along with this, kaolin clay tightens skin pores and reduces acne blemishes. Its exceptional properties reduce inflammation, which is one of the main causes of acne lesions.
Here goes the recipe.
Things you'll need
Fresh Thyme
Kaolin clay – 2 tbsp
Essential oil (optional)
Get little fresh thyme and steep them in a bowl to get 1 table spoon of thyme fusion. Mix it with kaolin clay thoroughly. Optionally you can add few drops of essential oil.
Now expose your acne prone skin to steam or wash with lukewarm water to open up pores. Topically apply the kaolin clay mask and leave it for 15-20 minutes then rinse it off.
Also read: Seaweed face mask benefits
Kaolin Clay for Sensitive Skin
Sensitive people at-last got some useful natural remedy for them.
Mix 3 tbsp of kaolin clay with 1-2 tbsp of finely grounded oatmeal, then add 1 tbsp of lavender oil.
For sensitive skin, add required amount of raw or manuka honey .
Mix well and apply it over your face after washing it with water.
Leave it for 10-15 minutes then rinse it off.
Related post: Multani mitti face pack
Kaolin Clay Mask Benefits
Depending on your skin type you're free to choose other innate ingredients with kaolin clay. Let's now check out benefits of using kaolin clay.
Its renowned for its natural absorbent properties, it takes off excess oil from your skin.
Assorted agents in kaolin clay cleanse dirt and dead cells accumulated over the skin; it's also a great exfoliator.
Though it effectively controls oily skin, dry skin people can also use it as it doesn't stripe natural moisture from the skin.
Topically applying kaolin clay face mask will improve blood circulation.
And this bunch of features comes for a cheap price.
Wonder if you can use kaolin clay mask during pregnancy? Experts quote that, products with kaolin clay is safe to use during pregnancy. However, we recommend consulting your doctor before giving it a try.
Tips before using Kaolin Clay Mask
Before using any face mask or ingredient do a patch test to confirm you're not allergic to its ingredients.
Ensure that the mask has right consistency; avoid applying too hard or too soft.
Avoid metallic substances, as they may react to clay and reduce its effectiveness.
Don't try to smell the clay, make the mask then you're free to fulfill your desire to smell.
Did you ever try kaolin clay mask to treat acne or to get a glow? Please share your recipe here in comments.