We love innate remedies, as they contain enticing nutritional properties. There are few cosmetic industries who're striving to serve you with natural resources, so they started incorporating natural ingredients to their skin whitening creams and body lotions.
Different countries have their own cosmetic companies and creams. Here, am starting out with Pakistan.
Best Skin Whitening Creams in Pakistan
People always don't like the raw form of an ingredient, because some organic remedies come with foul and stinky smell. These companies subject them to process and provide you with the better one. Anyway, we can't compare the effectiveness of an organic remedy with refined item.
Without the recipe and process, right away you can start using these face whitening creams and get spotless skin. We aren't verifying ingredients in these creams, we leave it for you to check and decide.
Dark skin is the main problems in Asian countries, so the people here are desperate to get fair skin. Personally, I think we need to pamper our skin but the mad desire to have fair skin is something which is not recommended. If you make your skin well hydrated and free from dark spots, you look good no matter whats your skin tone is.
However, am listing few top skin whitening creams available in Pakistan and I leave it to you to verify and test before trying.
1. L'Oreal Paris White Perfect Transparent Rosy Whitening Cream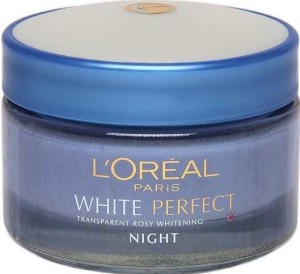 According to the site, best time to apply this cream is before going to bed. At night your skin relaxes and can easily initiate collagen production. Cleanse your face with water and apply this night cream evenly. After 4-5 weeks of application you'll notice a clear reduce in complexion and dark spots appear clearly. Continue with the whitening night cream to obtain spotless skin.
Based on a review over online, this cream contains SPF 17 (sunscreen), instantly moisturizes your skin, lightens dark spots, an instant glow and like every skin care cream it comes with fragrance. But, people with oily skin may not find this cream helpful in summer; the cream leaves your skin oily in summer. Dry skin people, you can include this to your beauty regimen.
2. Pond's White Beauty Spot less Lightening Cream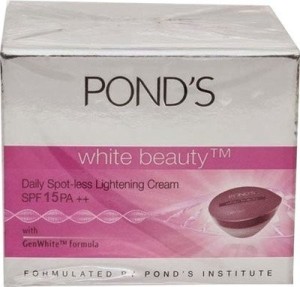 This cream includes GenWhite™ formula to help you get rid of discoloration. Along with this, vitamin B3 penetrates into the skin and lightens dark spots. Glycerin incorporated in this cream moisturizes your dry skin. According to reviews published online, this cream doesn't blend quickly.
3. Olay Natural White Night Cream
The cream claims to nourish the skin and repair. Vitamin B3 and pro-B5 packed in the cream will certainly make your skin smooth and glow. Because of nutrients, it will fade or reduce dark spots. People who used claim that it quickly absorbs and has light fragrance. People with oily skin may have tough time with this cream, test before trying out.
These are the best skin whitening creams that got my attention, will surely update this post if I find any enticing creams, especially for Pakistanis.