Increasing levels of pollution and dirt gets accumulated over the face; along with this your skin sheds millions of dead cells daily, all these pile-up on epidermis to interrupt smooth functioning of the skin.
Unlike cosmetic cream, natural homemade yogurt face mask recipe is cheap and effective with long lasting results. Yogurt and honey face mask is renowned for its nutritional value. Honey is known for its miraculous cure for all skin disorders. Whereas plain yogurt had been included in almost all face mask made at home.
I'd like to give you a small insight of nutritional benefits of honey & yogurt face mask for your skin.
Lactic acid & AHA in yogurt known to exfoliate the skin pores, whereas honey is popular for antibacterial property that fights infectious bacteria.
Vitamin B2, B12 in yogurt and B6 in honey, cleanse the dead cells and other accumulated impurities from the skin. These vitamins also stimulate regeneration new cells and make your skin smooth.
Vitamin B5 in yogurt lightens the dark spots and fades acne scars.
Honey is known for its humectant properties, means it draws water from air and hydrates your skin.
Wrinkles, healing minor burns and acne lesions can be reduced by this face mask.
Zinc residing in both the ingredients thwarts free radicals that assault cell membrane.
Calcium and vitamin C packed in honey and yogurt face mask hydrates the dry skin and enhances fast healing.
Unmatched vitamins and nutrients in this DIY face mask works effectively for all skin types. Anyhow, to make it more effective you're free to add other innate ingredients.
Homemade Yogurt Face Mask
Keeping your skin well hydrated from inside and outside will protect it from most infectious fungi. So, let's first start moisturizing mask.
Dry skin people, here is the best remedy to get rid of annoying dry patches.
Things you'll need
Yogurt – 2 tbsp
Raw honey – 1 tbsp
Oatmeal – 1/4 tbsp
Where yogurt and honey moisturize your dry skin, oatmeal cleanses dead cells and dry patches. Ground oatmeal into fine powder, and then mix all ingredients in a bowl. Wash your face and pat dry, apply thoroughly mixed face mask.
Leave it for few minutes and wash your face with cool water.
Homemade Yogurt & Honey Face Mask for Acne Prone Skin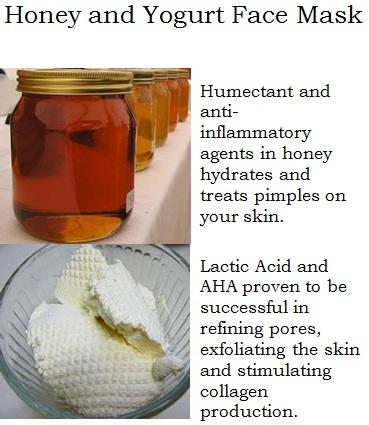 Researches claim that inflammation is main reason behind acne blemishes. Luckily honey is packed with anti-inflammatory agents that can soothe acne lesions and fight P.acnes.
Uncoated aspirins – 3
Plain yogurt – 3 tbsp
Manuka honey – 3 tbsp
Avoid aspirin if you're allergic to it.
Mix yogurt and honey thoroughly, drop aspirin to it. Optionally add water or aloe juice to fasten dissolving process. Expose your face to steam or splash lukewarm water over blemishes. When the aspirin is completely dissolved, topically apply the mask over the skin. You can use it as a spot treatment on pimples.
Other natural ingredients that you can include in yogurt and honey face mask to nourish the skin are:
Honey, yogurt, lemon juice and grounded almonds for cleansing the skin. Limit the use of lemon juice if you've sensitive skin.
Lemon juice, manuka honey and Greek yogurt to fade acne scars.
To calm irritated skin make a face mask using plain yogurt, aloe vera gel, mashed cucumber, honey and few drops of chamomile oil.
Strawberry and Yogurt Face Mask
Regularly using this homemade mask can help you to achieve radiant skin. Delicious strawberries are filled with vitamin C and salicylic acid, which can brighten and enhance collagen production. Honey moisturizes your skin and restrains bacterial action.
Mash 2 very ripe strawberries in a bowl.
Add 1 teaspoon of raw honey and plain yogurt to the bowl.
After mix thoroughly, wash your face and apply this face mask using your fingers.
Let the nutrients in the face mask improve your skin texture for about 15-20 minutes.
When the mask dries completely, rinse it with water and pat dry using cloth.
Yogurt, Olive Oil and Avocado Face Mask
Natural moisture guards your skin from various ailments. Due to few external factors skin becomes dry and loses its ability to protect itself. Homemade yogurt face mask blended with avocado and olive oil will hydrate your skin and improves its texture.
Both avocado and olive include vitamin E and moisturizing agents which make your skin supple.
Mash 1/4 ripe avocado in a bowl using fork.
Add 1 teaspoon of plain yogurt and 1 teaspoon of olive oil to it.
After mixing thoroughly, massage it over the face.
Leave it to dry and rinse it off after 15 minutes.
Few more: