Excellent thing about homemade avocado face mask is that you don't have to change your work schedule, like you do before visiting a spa. Same goes with all natural remedies.
What you eat shows on your skin. Having nutritious diet will improve your skin functioning from inside. Whereas, topical face mask like this one will enhance the outer look of your skin.
Both are equally important. However, here am going to discuss about the topical enhancement of your skin.
Your skin is exposed to various impurities and irritants, which steals natural moisture from it and results in varied skin ailments. Skin deserves to be pampered. It not just protects your inner parts from infectious germs; it also makes you look enticing.
After seeing media promoted models, most women and men dream of having that alluring look. On the other side, promising advertising campaigns from cosmetic companies attracting people to put their money on the wrong product. Report says that regular use of chemical filled beauty creams will ruin your appearance in coming days. From my personal experience, I learned that your skin will become dependent on those cosmetic creams for the rest of life.
Avocado is packed with vitamins and minerals that penetrates deep into the skin and enhance its texture. Let's discuss in more detail about this fruit.
Homemade Avocado Face Mask
It resembles like pear and is very nutritious for your overall health. Vitamins A, B, E, K and minerals like potassium, calcium, sodium, copper, magnesium and iron are housed in this green skinned fruit.
Vitamins A, C and E help to reduce wrinkles and enhance collagen production. Antioxidant activity of this ingredient will thwart free radicals that can damage cell membrane.
Assorted vitamins in the face mask improve skin's elasticity and help to get rid of dry itchy patches.
Antibacterial and antimicrobial properties residing in this remedy can treat acne and lighten the appearance of acne scars.
Mono-saturated fats in the fruit will moisturize the skin and improves overall texture.
Exfoliating activity of these nutrients will help to wipe dead skin cells and pollutants off the skin.
Free from chemical preservatives and ingredients, avocado facial mask have no serious side-effects.
Friends believe me; this fruit is a whole package of gift for your skin and that too within your budget.
Now, let see how you can apply this avocado face mask over the skin.
#1 Homemade Avocado and Honey Face Mask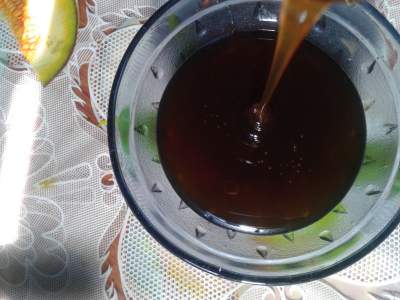 Beauty experts recommend blending different innate ingredients based on skin type. Honey is prominent for its moisturizing and healing properties. Viscous nature of honey locks moisture and hydrates dry skin. Its antimicrobial properties treat acne and other chronic skin ailments.
You can mix oatmeal to exfoliate dead cells and impurities.
Take ½ ripe avocado and mash using fork.
Add ¼ cup of oatmeal and 2 tablespoon of raw honey to mashed avocado paste.
Optionally, add 1 teaspoon of lemon juice and 1 tablespoon of apple cider vinegar.
Lemon and apple cider vinegar helps to remove dark spots and can make your skin radiant. Before applying this mask, wash your face and pat dry. After 20 minutes of application of the face mask rinse it off with water.
Note: Repeated use of lemon juice may irritate your sensitive skin.
Also read: Avocado oil for dark circles
#2 Avocado, Banana and Egg Face Mask
Mash ½ soft/ripe avocado, ½ ripe banana in a bowl and mix 1 egg yolk to it. Thoroughly mix the ingredients to make thick paste like consistency.
To remove impurities and excess sebum, apply gram flour mask or splash with cold water before using above mentioned facial mask.
Using your clean fingers apply the avocado face mask and leave it for 15-20 minutes.
#3 Avocado and Lemon for Cleansing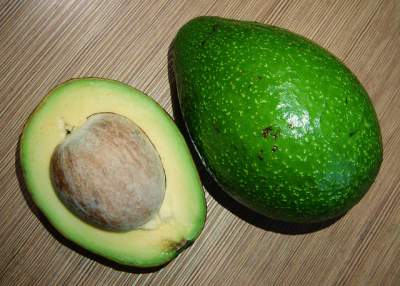 Your skin sheds millions of dead cells, along with impurities, sebum, dust and pollutants it accumulates on the skin. You must wipe them using a natural cleanser.
Take 2 avocados and 2 lemons. Peel the skin of avocado and blend to make juice. Mix both avocado and lemon juice in a jar.
Refrigerate the lotion and apply on the skin using cotton ball. Use this once or twice in a week depending on your skin type.
#4 Avocado Yogurt Face Mask
Acidic nature in plain yogurt can treat acne and moisturize dry skin. Take ¼ ripe avocado and 1 teaspoon of yogurt. Mash the avocado and add yogurt to it. Optionally, you can add 1 teaspoon of honey if you've extremely dry skin.
Wash the face and pat dry using soft cloth. Apply the face mask evenly and leave it to dry naturally.
If you don't have other innate ingredients to add, don't worry just mash avocado and apply it over the face.
Important points
Healthy diet is a great step to improve your skin texture, tone and elasticity.
Drink enough water and practice a healthy lifestyle.
Good sleep improves your skin functioning.
With regular exercise you'll experience a drastic change in your health and skin.
Note: Patch test before using the ingredients over the face.
What is your homemade avocado face mask recipe? Let us know your thoughts.