Aloe vera is one of the most precious gifts from nature to humans. There are numerous benefits of this amazing plant. It improves the overall digestive system, strengthens the immune system, cures dermatitis, reduces arthritis pain, delays ageing process, cures nausea, eliminates ulcers, heals wounds etc.
Besides these wonderful benefits, aloe vera works wonder on the skin. It seems like aloe vera is the best solution to all the skin related problems like acne, ulcers, pimples, psoriasis, eczema etc. In this article, we are going to discuss aloe vera for eczema. There are a lot of claims that aloe vera is one of the best and safest ways to cure eczema.
There are more than enough historical and anecdotal pieces of evidence that prove aloe vera as a wonderful cure for disease. But, what about scientific pieces of evidence? Are there enough scientific shreds of evidence which can suggest it as a proper cure for disease? We will try to find through this article
What Causes and Who Gets Eczema?
Let's have a look at some of the important facts regarding eczema:
The term "eczema" generally used for the most common type of eczema- "atopic dermatitis".
The proper definition of "Atopic Dermatitis" is the itchy inflammation on any part of the body.
Children under 5 are at higher risk of affected by eczema or atopic dermatitis, but it can also occur at any stage of the life.
It is generally a chronic skin problem and sometimes accompanied by asthma or hay fever.
According to the leading medical bodies, there is no proper cure available for atopic dermatitis, but Homoeopathy is the most promising option for its treatment and cure.
Some self-care measurements can reduce the itching to a decent extent.
Let's discuss a bit about the causes of eczema:
Cause of disease is still not clear, but there are some strong assumptions which suggest that eczema caused by due to some of the following reasons.
1. Genetics
Genetics plays an important role in a lot of health-related problems, and eczema isn't separated from it as well. If dermatitis remains for a longer period on the body of a person, there are a lot of chances that the next generation will be affected with disease as well.
2. Abnormal immune system
The Immune system provides much-needed protection to the body from different types of disease-causing agents. If the immune system gets weaker and weaker because of prolonged attacks of disease-causing agents, there is a higher probability that the person with the weaker immune system can get affected with eczema.
3. Environment factor
Dirty or polluted environment can also cause a lot of skin related problems like eczema. People living in slum areas where the atmosphere is pretty much dirty or polluted can suffer from disease.
4. Different types of jobs or other activities
Working in a pollutant or allergic atmosphere can also trigger eczema causing agents inside the body. Prolonged and constant contact with the allergic agents like cement, spices, coal etc. can be a triggering agent for inflammation.
5. Abnormalities in the skin barriers
Our skin contains some very important skin barriers which stop the germs and other harmful agents to enter the body and also keeps the moisture under the skin. Any problem or abnormality in the skin barrier can cause the dryness of skin and hence initiate issues like eczema.
Related post: How to Use Oatmeal for Eczema?
Is Aloe Vera Good for Eczema?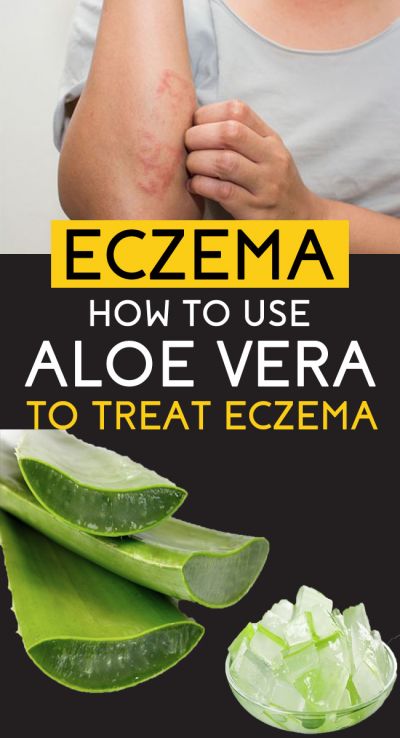 Why and how aloe vera is being claimed as one of the best solutions to eczema and other skin related problems as well. Let's understand some of the benefits of aloe vera in eczema.
Reduces the dryness of skin and bring the moisture back to it: A lot of researchers being done about the aloe vera which suggests that it is an excellent moisturizer.
Natural aloe vera gel for eczema can increase the water contents of the uppermost layer of the skin known as the epidermis.
Aloe vera gel for inflammation contains a higher amount of sugar which acts as the collagen and holds the water effects in the dermis.
A significant increase in the epidermis can reduce the dryness caused on the outer as well as an inner layer of the skin due to eczema.
A great infection reducer: Infections of the skin work like fuel for eczema. The severity of disease can be increased significantly due to skin infections.
Aloe vera initially stops the virus from spreading, reduces its severity and then starts to minimize it properly.
Babies are more prone to get infected with different types of infections, and aloe vera for baby's eczema can be more than handy to combat diseases and ultimately eczema.
Provides calmness to the itching: Constant itching on eczema affected surface of the skin can increase the severity as well as can reduce the healing duration of disease.
Plenty of anti-inflammatory substances are found in the aloe vera and are believed to reduce the itching. Stopped or decreased itching due to the application of aloe vera cream for eczema can help you to get properly rid of eczema.
Can accompany hydrocortisone: Hydrocortisone found in steroid creams are believed to be very effective in eczema. But the main problem with its usage is it doesn't absorb on the skin properly.
Using aloe vera with steroid can enhance the absorption of hydrocortisone and can work more effectively than only hydrocortisone.
How to use Aloe Vera for Eczema?
A simple application of aloe vera on the skin affected by eczema can be enough, , but for getting proper benefits of Aloe Vera, there are some different ways to use Aloe Vera. Let's know some of the recipes, how they are made and their nutritional benefits.
#1 Simple and pure Aloe Vera
Nutritional value:
Vitamin A, C, E, B1, B2, B3 & B6, Amino Acids, Enzymes, Polysaccharides, Fatty Acids and Minerals like Calcium, Zinc, Magnesium, Chromium, Selenium, Manganese, Iron, Sodium, Copper etc.
Recipe:
Get out the Aloe Vera from the leaf with the help of a spoon.
Store it in a clean and air-tight container.
Apply the Aloe Vera gel on the affected area and keep it for 20 minutes.
Wash the area under running water.
Keep repeating it until you get rid of eczema.
#2 Aloe Vera with coconut
Nutritional value of coconut:
One standard cup of coconut oil contains 276 calories, 7 grams carbohydrates, 3 grams protein, 3 grams fiber, 29 grams fat, 25 grams saturated fat and 4 grams sugar
Recipe:
Add 1/3 cup of Aloe Vera juice, ½ cup of coconut oil and 2-5 drops of any essential oil.
Whisk the mixture properly with the help of an electric whisker.
Transfer the mixture to a glass container and keep it in the refrigerator.
Take enough mixture on your palm and apply on the affected area.
Leave the mixture on the skin until the skin absorbs it completely.
Keep repeating it at least for a month.
Don't forget to prepare the fresh mixture in every two weeks.
Also read: How to Use Coconut Water to Whiten Skin?
#3 Aloe Vera with Olive Oil
Nutritional value of olive oil:
100 grams of Olive Oil contains 13.8% saturated fat, 73% monounsaturated fat, 0.76% Omega-3, 9.7% Omega-6, Vitamin E and Vitamin K.
Recipe:
Take the aloe vera gel out of the leave with the help of a spoon.
Mix 1 tablespoon aloe vera gel and 5-6 drops of olive oil.
Apply the solution on the affected area for three times a day.
Related post: Is Olive Oil Good for Skin Whitening?
#4 Aloe Vera with Vitamin E Oil
Nutritional value of vitamin E oil:
Vitamin E as D-Alpha Tocopherol (253 IU per serving i.e. about 8 drops)
Recipe:
Mix the equal quantity of Aloe Vera gel and Coconut Oil.
Stir the mixture well and keep it in an air-tight container.
Apply the mixture on the affected area and leave for a few minutes.
Wash the affected area properly under running water.
Repeat the process daily.
#5 Aloe Vera with Calendula
Nutritional value of calendula:
Calendula is an excellent medicinal plant and contains antioxidants in the form of flavonoids and carotenoids. Leaves of calendula plant contain lutein and beta-carotene.
Recipe:
Collect some calendula from its plant and dry it in sunlight for a day.
Convert the dried calendula flowers into a powder (you can get calendula powder from medical shops as well).
Mix the Aloe Vera Gel and calendula powder properly.
Apply the mixture on the skin where eczema occurred.
Leave it on the skin until it is absorbed properly.
Repeat its application daily with some patience for an excellent result.
Tips to Prevent Eczema
As we have discussed eczema, some of its important facts, causes of eczema and some very easy to prepare and use recipes, we should also know a bit about how to prevent eczema.
It is better to avoid a problem than countering it after getting affected by it. Let's have a look at some important tips to prevent eczema:
Moisturize your skin: As dryness is one of the most important features of eczema, you can prevent eczema by constantly moisturizing your skin. Try to use some types of oils (essential oils will be great), natural moisturizers or artificial moisturizers in the form of creams.
Keep your body clean as much as possible: Taking a shower daily is always a good habit. Never forget to have a shower. Always try to keep your body clean and free of dirt and germs. The shower also hydrates your skin and stops it from getting dry and hence can be very useful to prevent eczema. If you are already suffering from eczema, taking a warm shower would be great.
Reduce the outbreak triggering factors: Skin problems or certain infestations can be increased or triggered due to some certain foods, dust, pollens etc. Try to understand the biggest allergy-causing agent for your body and always try to keep away from it.
Avoid Scratching: Scratching the skin constantly can cause rashes on the surface. Outbreaks are the starting of different types of skin related problems and can cause eczema. Always try to keep your body moisturized. And if your skin asks for scratching, try to avoid it as long as possible.
Use a humidifier: Low humidity can also a causing agent of eczema. Keep enough moisture in your room and your work space with the help of a humidifier and prevent the eczema outbreak.
Wear soft cotton clothes: Clothes made with raw linen, wool or other synthetic materials can irritate your skin. Try to wear cotton clothes which are very comfortable for your skin.
Did you ever use aloe vera gel for eczema? Please share your experience in comments.