Renowned for its moisturizing and soothing properties, aloe vera is an innate remedy for all skin problems. Though it's widely grown as an ornamental plant, aloe vera is putatively medical plant. Restorative properties in this herb soothe cuts, burns and other skin irritations. Antimicrobial, antioxidant and anti-inflammatory properties are also included in its nutritional aisle.
To reap these assets of aloe vera you can either directly apply its gel over skin or mix it with some natural ingredients to make aloe vera face mask. It's no sin to have dried or acne prone skin, but yes its annoying and spoiler to your appearance. If you want to stay away from chemical ingredient face packs, then try this natural homemade aloe vera face mask.
Wonder how to make aloe vera face pack at home? It's damn simple! Just be with us and within few minutes you'll become your own beauty expert. Prior to this, check out benefits of aloe vera for skin.
Do you've dry skin, oily skin or acne prone skin? One solution to all these skin conditions is, regularly try these face packs and practice good diet. Unlike other remedies, aloe vera gel is a great for all skin types.
Jump to: Aloe Vera Face Mask Recipe
Benefits of Aloe Vera Face Pack
Exceptional medical benefits are packed in succulent leaves of aloe vera. Main compound in this gel is water; anyhow it also contains minerals and vitamins. You can either topically use it or consume it with any citrus fruit juice.
Moisturizing property of aloe vera gel makes this face pack a remarkable remedy to hydrate your skin.
Antioxidant and anti-inflammation properties present in this mask helps you soothe cuts, inflammation and other skin diseases.
It enhances collagen production which tightens skin and fades wrinkles. (1)
Aloe vera gel reduces the production and release of skin keratinocyte. (2)
According to US National Institute of Health, aloe gel consists of 6 antiseptic agents; these agents inhibit fungi, bacteria and viruses.
As we're not here to list all scientifically proven benefits of aloe gel we'll stop here and proceed to making of aloe vera face mask.
How to Extract Aloe Vera Gel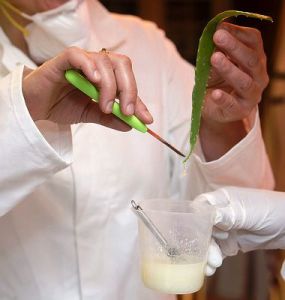 Wait! You might be thinking how come we get gel out of this medical plant bordered by small spikes. It's simple. Initially get one fresh aloe leaf, you can borrow or buy it. To strain aloe resin, place it vertically, and then wash the leaf. Cut the borders and remove upper layer of leaf from all sides.
The sticky substance in your hand is aloe vera gel. Now you've natural aloe vera gel, let's dwell the process to make face pack. If you've no time for this adventurous extraction, replace it with store bought aloe gel.
5 Simple Yet Effective Ways to Make Aloe Vera Face Mask at Home
Why only 5? We don't want to confuse you with long lists; you'll be able to try other variations at the end of this post.
#1 Aloe Vera Face Mask
Things you'll need
Aloe vera leaf or gel
Turmeric – a pinch
Raw honey – 1 tbsp
Milk – 1 tbsp
Rose water – few drops
Procedure
Initially extract aloe gel from leaf.
In a bowl mix turmeric, honey, rose water and milk in mentioned quantities.
Blend the mixture after adding aloe vera gel.
Wash or cleanse your face.
Topically apply this over your face and leave it for about 15-20 minutes, then rinse it off with water.
To get glowing skin, regularly apply this face pack, twice in a week.
[Related post: Raw honey benefits for skin]
#2 Aloe Vera Face Pack for Acne and Oily Skin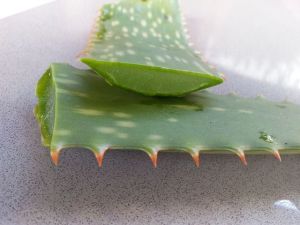 According to Mayoclinic.com hormones plays vital role in forming acne blemishes. Hormones stimulate excess sebum production. With antioxidant and anti-inflammatory properties in aloe gel you can easily unclog pores.
Things you'll need
Procedure
Extract gel from aloe leaf.
Blend aloe gel with honey, apply this paste on your face for 15-20 minutes, and then rinse it off with water.
Properties in honey and aloe gel along with soothing inflammation, controls sebum production.
[Also read: 10 Home Remedies for Acne Scars Removal]
#3 Aloe Vera Face Pack for Dry Skin
Things you'll need
Aloe vera gel
Cottage cheese
Seedless dates
Cucumber
Lemon juice
Procedure
Make paste of aloe vera gel, cottage cheese, dates and cucumber.
Drop few drops of lemon juice to above paste.
Now apply this paste over face and neck. Rinse it off after 15 minutes.
Limit the use of lemon juice, if you've sensitive skin then limit. Consider reading lemon juice for dark spots.
#4 Aloe Vera and Cucumber Mask
Things you'll need
Aloe vera gel
Cucumber
Yogurt
Honey
Procedure
After extracting aloe gel blend it with sliced cucumbers.
Now mix honey and yogurt in equal quantities.
Apply it on prewashed face. Leave it for 15 minutes and rinse it off.
[Related post: Benefits of cucumber for skin]
#5 Face Pack to Remove Tan
When your skin gets exposed to UV rays, it darkens your skin color. It's very insightful to see skin tanning. Based on aloe vera review by US National Institute of Health, aloe gel generates an antioxidant protein called metallothionein; this saves you from UV rays. Try aloe vera face pack to remove tan.
Things you'll need
Aloe vera gel
Lemon juice
Procedure
As usual, extract aloe vera gel and mix lemon juice thoroughly to it.
Apply it on prewashed face and rinse it off after 15-20 minutes.
Use cotton ball to apply it on skin.
To shed dead skin cells, use oatmeal with cucumber and aloe vera gel. This aloe vera face mask makes your skin enliven.
Did you ever tired aloe vera face mask at home? Did you notice any side-effects?