We're humans and we desire to have clear natural looking skin. In this article you'll know how to use olive oil for melasma to recover glowing skin.
Dark or brown patches interfering your skin color on cheeks, nose, forehead and upper lip can be Melasma. Genetics, hormonal imbalance, cosmetics and UV rays are held responsible to trigger these brown patches.
These factors stimulate melanin growth resulting in dark spots.
Women are prone to get this skin disorder, while only 10% of people with melasma are men.
According to American Academy of Dermatology, these grey-brown patches fade naturally with time, if they are triggered due to pregnancy or birth controlled pills. Else you must use hydroquinone cream to fade them.
However, as cosmetic creams include chemical preservatives, people often prefer natural remedies.
Benefits of Olive Oil for Melasma
Since centuries extra virgin olive oil has been used for beauty. Cleopatra, who is prominent for her beauty used this oil.
Fatty acids, vitamin E, A and antioxidant activity of this innate ingredient can wipe impurities, dead cells and bring back the lost moisture.
Anti-inflammatory properties housed in this home remedy helps to maintain pH of the skin.
It also helps to decrease melanin production, thus reduce melasma.
Vitamin A and E residing in olive oil hydrates the skin with essential elements.
Assorted vitamins packed in this natural remedy can effectively fade wrinkles, tighten skin pores, reduce dark spots and treat chronic ailments.
How to Use Olive Oil to Treat Melasma?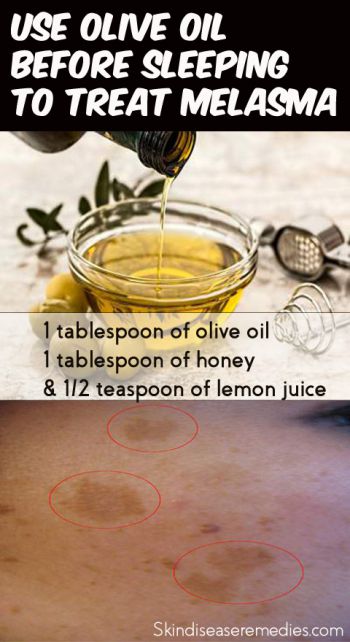 Please don't expect overnight results.
There are few creams that claim to give results within hours; however in the long run they harm your sensitive skin.
Natural remedies like olive oil, castor oil and grape seed oil aren't associated with any side-effects.
Check how to use olive oil on the skin.
Wash the face or skin with water to cleanse the impurities.
You can use rose water to remove dead cells and pollutants.
Take few drops of extra virgin olive oil in your palm and gently massage over melasma spots.
Leave it to dry naturally.
Night is the best time to apply this wonderful oil.
Remove the oil from face by exposing the skin to steam and wipe using a clean cloth.
Lemon, honey and olive oil mixture is great for glowing skin.
Blend all ingredients in required quantity and apply it over face. Limit the use of lemon juice if you've dry or sensitive skin.
You can blend other natural remedies with olive oil for melasma. Share your favorite recipe in comments.
Save
Save