Papaya is called angel fruit because of its sweet and musky layer. Natural facial mask goes well with all skin types. In this article I'll share about papaya and honey face pack recipe.
Papain is an enzyme in this fruit, which prevent aging wrinkles and helps to fade dark spots.
Apart from this, the enzyme combine with alpha hydroxy acids housed in this fruit to cleanse dead cells and impurities piled over the skin.
Why You Need to Apply a Face Mask?
Therapeutic activity of face mask improves your overall appearance. Pollutants and impurities accumulated over the skin can be easily cleansed by regular application of facial mask.
Apart from exfoliating, homemade face pack are filled with essential nutrients that can enhance collagen production, fade wrinkles and avoid other skin disorders.
Massaging with homemade facial isn't just inexpensive, but it also improves blood circulation.
Excellent thing about natural face pack is that you can blend any natural ingredient that goes well with your skin.
Honey and Papaya Face Pack Recipe and Benefits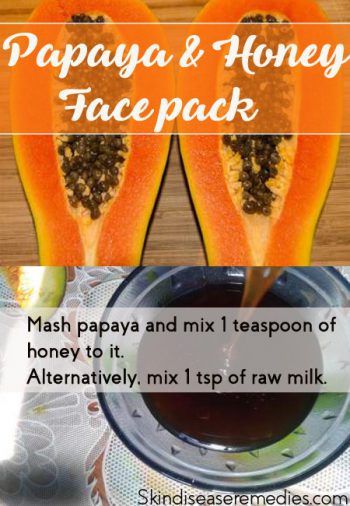 Apart from Papain and alpha hydroxy acids, other vitamins are also packed in it.
Vitamin A residing in papaya fruit fades dark spots, acne scars and avoids premature aging wrinkles.
Topical application of papaya will boost collagen production and promotes elasticity of the skin.
Anti-inflammatory activity exhibited by Papain reduces acne inflammation, rosacea and eczema flare-ups.
Cell regeneration ability of this fruit face mask reduces pigmentation and makes your skin supple.
Hydrating properties of honey and papaya face pack will help to get rid of dry skin.
Exfoliating property of this face mask helps to shed impurities off the skin.
Benefits of honey have been documented in religious scripture and scientific books, which needs no explanation.
Hydrating, anti-inflammatory, antibacterial and healing activity of raw honey can reduce skin ailments and help you to obtain youthful skin.
How to Use Honey and Papaya Face Pack at Home?
If you're too lazy to follow the recipe, then just mash ripe papaya and apply it over prewashed face. After 20-30 minutes, rinse it off.
But, if you're serious about your skin, then it's recommended to blend other natural ingredients like honey and milk.
Recipe: 1 (Honey and Papaya)
Peel the skin and mash papaya using fork. Once you get smooth paste, blend 1 teaspoon of raw honey and mix thoroughly.
Wash your face with water. If you've acne blemishes, then wash with lukewarm water.
Pat dry with soft cloth and apply the face pack evenly all over the face.
As a spot treatment, apply face pack over acne lesions. Rinse the face pack after 20 minutes.
Recipe: 2 (Milk, Honey and Papaya face pack for dry skin)
Chop papaya into small pieces. Add 2 teaspoons of raw milk and 1 teaspoon of raw honey to papaya pieces.
Mash using spoon and apply the fine paste over prewashed face.
Recipe: 3 (Lemon, Papaya and Honey face pack for acne)
Acidic nature of lemon juice lightens dark spots and shrinks large skin pores.
Take required amount of ripe papaya and cut into small pieces.
Add 1 tablespoon of honey and 4 drops of lemon juice to the paste.
Mix thoroughly and apply the face pack evenly over the skin.
Wait for 15-20 minutes and then rinse it off.
Note: Drink enough water and avoid stress. Real beauty is inner peace. 🙂