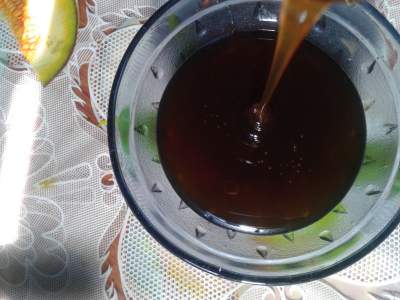 Blackheads are common and people try to get rid of it out of cosmetic concern. These short dark spots on the layer of the skin are caused due to blockage of pores with keratin and sebum.
Scrubbing is not the permanent solution for blackheads; medicine you use must penetrate into deeper layers of the skin to affect. Honey for blackheads has renowned nutrients and proteins that control excess oil and thwarts infectious bacteria.
Medicalnewstoday.com states, sebum carriers a pigment called melanin responsible for skin color. When melanin gets exposed to air it turns black. This is the reason why you see black spots.
Extolling benefits of honey are documented in religious as well as historical books. Now let's check out how to get rid of blackheads with honey.
How Honey for Blackheads Works?
Anti-fungal and antibacterial properties residing in honey draws out impurities including dirt, dead cells and excess oil over the skin. Thus avoiding breakouts.
Anti-inflammatory agents packed in honey reduce inflammation of pimples and acne lesions.
Its antioxidant agents restrain free radicals and impurities, thus avoiding blackheads to worsen.
Naturally, honey is packed with such an exceptional property that it draws out blackheads and hydrates your skin at the same time.
Not just blackheads, using honey you can get bonus benefits for your skin.
How to use Honey for Blackheads?
Wash you face or cleanse it and pat dry. Topically apply raw honey over the face and leave it for few minutes then rinse it off. Seem so simple? You can try below prominent methods to get rid of blackheads.
Note: For best results use raw honey and avoid refined or inorganic honey. We recommend manuka honey, which has high concentration of nutrients.
1. Honey and Milk
Properties in milk are known to good for health, but history proves that milk has been used for beauty. Queen Cleopatra, used milk bath to maintain her beauty. Raw milk is renowned to cleanse the impurities and dirt over the skin. Along with this, anti-bacterial agents in raw honey fight bacteria.
Things you'll need:
Raw honey – 1tbsp
Milk – 1 tbsp
Cotton stripe to apply over blackheads
Mix raw honey and milk in a container and heat it to blend them completely up to 10 seconds. Wash your face and pat dry using a soft cloth. (Cool the solution and follow below steps)
Use a brush to apply honey and milk mask over the blackheads.
Then place a stripe of cotton on it.
Let it dry naturally, after 15-20 minutes slowly peel the cotton stripe.
Rinse with water and follow with a natural moisturizer.
2. Honey and Lemon for Blackheads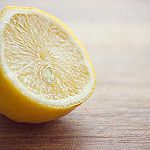 Antiseptic and antioxidants in lemon are prominent in removing dead cells and impurities off the skin. As the lemon is quite acidic and can leave your skin dry, mix it with honey or water. Regular use of lemon will restrain bacterial infection due to its anti-bacterial affect.
Things you'll need
Raw honey – 3 tbsp
Lemon juice – 2 tbsp
Mix both ingredients in a bowl and heat it to blend. Then topically apply it over blackheads. Leave it to dry and wash with cold water. Repeated use will give you long lasting results.
Before applying this mask, wash blackheads area with lukewarm water and pat dry.
Alternatively, you can drop few drops of raw honey over half price of lemon and rub it over face avoiding sensitive areas like eyes. Along with honey you can mix salt, strawberry or oats as face scrub. As these ingredients contain innate properties the results you get last for long time. (source)
Also read: Lemon and honey face mask
3. Honey and Cinnamon for Blackheads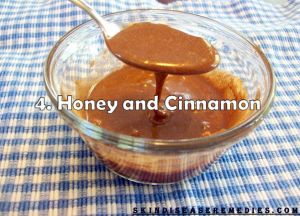 Excess oil production is the main cause behind blackheads. Cinnamon powder will work to control excess sebum secreted, while honey in this mask hydrates the skin and fights bacteria/virus.
Take 1 table spoon of cinnamon powder and mix it with 3 table spoons of honey. Wash your face with lukewarm water and pat dry.
Apply the cinnamon and honey mask topically before going to bed and leave it for night.
Antimicrobial agents in cinnamon powder draw dead cells and impurities from the skin.
Rinse it off in the morning.
Add it to your beauty regimen and use it once or twice a week.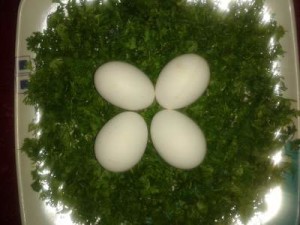 Though egg white has fewer nutrients compared to egg yolk it has abundant benefits for your skin. Lysozyme, an enzyme in egg white restrains bacterial and viral infection.
Expose your face to steam or wash it with lukewarm water.
Beat one egg white and mix 1 table spoon of raw honey to it.
Topically apply this mixed mask over blackheads and leave it for few minutes and rinse it off.
You can place tissue paper on mask and peel it off.
5. Honey with Oatmeal Mask
Removing dirt and impurities from the face is the most important aspect of treating blackheads. Chemicals in oatmeal like saponins are represented for cleansing, which exfoliate dead cells and dirt. Raw honey has antibacterial and antimicrobial properties, which fights bacteria.
Finely ground 1/4 cup of oatmeal and pour 1/4 cup of water to it. Then add 2 table spoon of raw honey to the oatmeal mask.
Stir thoroughly, meanwhile wash your face with water and pat dry.
Topically apply the oatmeal and honey face mask over blackheads and rinse it off after 20 minutes.
Conclusion
Honey for blackheads is an effective remedy. Pay attention while mixing other ingredients they may trigger allergic reaction. Like, excess use of lemon will make your skin dry. Apply natural moisturizer if the mask makes your skin dry.