Hectic schedule made us impatient; everyone needs instant and effective remedies. Comparably, natural remedies are far better than instant skin lightening cream. Anyhow, using cosmetic creams your skin can at least get hydrated and nourished to some extent, here is my Vaseline healthy white lightening visible fairness lotion review.
Vaseline, the renowned cosmetic products company claims it to be lightening and instant fair cream. Like other cosmetic cream Vaseline healthy white lightening lotion packed with innate ingredients, which include moisturizing agents and skin illuminating minerals. The lotion/cream comes in 20 ml, 100 ml and 300 ml bottles.
Lets checkout ingredients in Vaseline healthy white cream
Ingredients:
Yogurt serum, Vitamin B3 and Skin illuminating minerals are key ingredients.
Other ingredients include: Water, stearic acid, Isopropyl myristate, mineral oil, gylceryl stearate, ethylhexyl methoxycinnamate, niacinamide, glycerin, Disodium EDTA, triethanolamine, phenoxeyethanol, dimethicone, butyl, carbomer, Cetyl Alcohol, Methylparaben, hydroxystearic acid, propylparaben, petrolatium, triethoxysilylethyl polydimethylsiloxyethyl dimethicone, Titanium Dioxide & Aluminium Hydroxide & Stearic Acid, Titanium Dioxide and dimethicone, CI 77491, isopropyl titanium triisostearate, methoxydibenzoylmethane, perfume.
Stearic acid is the popular fatty acid packed in most of household products. Known as a

strong cleanser

, stearic acid will wipe impurities and dead cells off the skin.
Eminent

moisturizing

property of glycerin, vitamin B3 and yogurt soothes your dry skin and keeps itching at bay.
Dimethicone, known to form a

barrier

on skin to lock moisture and leaves smooth feeling over skin.
According Mayoclinic Titanium Dioxide can damage your skin, however all

sunscreen

creams incorporate this mineral.
Yogurt is an excellent

anti-aging cream

.
Niacinamide plays vital role cell production. 4% concentration of niacinamide is known to lighten

dark spots and reduce aging marks

.
And the list goes on. Though the ingredients listed here promise to give you radiant and spotless skin, we can't expect same from refined or processed ingredients in Vaseline healthy white lightening visible fairness lotion.
What the product claims?
Instant Fairness
Reduce dark spots
Protection from UV rays
Removes marks on skin
My Experience with Vaseline Healthy White Lightening Visible Fairness Lotion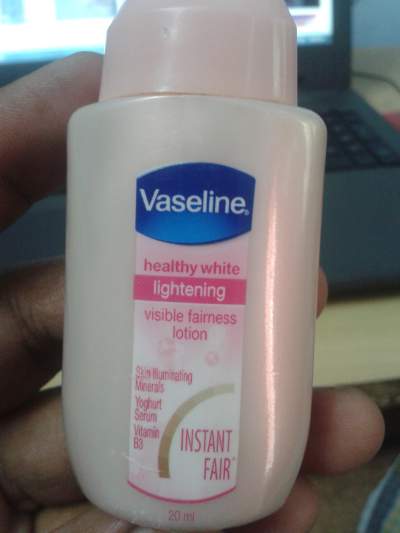 I've 20ml Vaseline lotion, this skin care cream is soft and aromatic. Wash your face and apply this lotion over the skin when it's still damp. The smooth consistency and pink color with perfume gives you refreshing feeling. The minute you evenly apply it gets absorbed by skin easily. But slight hue stays which will disappear after few minutes.
Yes, it instantly hydrates your skin and makes it soft. Mine is normal skin and it looks good in summer, but not sure how it works for dry skinned people. Regarding skin lightening and getting fair instantly, I don't think anyone will love to have greasy lotion over face. The Vaseline healthy white lotion fails to make the skin fair or lightening.
Will I recommend?
If you're looking for an instant moisturizer, then go for it. But for skin lightening, I'd rather go for some natural remedy. Though they may take time, but the results stay with you unlike these chemical filled products.
Did you ever use Vaseline healthy white lightening visible fairness lotion? What's your take on using it?