Aromatic effect of chamomile gives you an instant relief from stress and anxiety. It has been used to treat various health ailments for centuries.
Apart from exhibiting healing and calming effect chamomile face mask has many cosmetic benefits.
Men or women yearn to have attractive and smooth skin. Unlike cosmetic creams, that makes you dependent on them; natural remedies repair your skin from the root and enhance healthy functioning.
Chamomile is an herbal plant extensively used for its exceptional medicinal properties. Assorted nutrients in this herbal plant can treat hemorrhoids, hay fever, inflammation, menstrual problems, gastric problems, insomnia and ulcers. Here go brief benefits of chamomile face mask.
Anti-inflammatory agents in this herbal plant can effectively reduce inflammation of acne, eczema, psoriasis, minor burns and rashes.
Its antimicrobial activity can thwart bacterial infection.
Essential oil extracted from chamomile can effectively enhance skin texture and helps to get rid of frown lines and wrinkles.
Flavonoids and Bisabolol present in this herbal plant aids in healing injuries and exhibits anti-cancer activity.
Alpha-bisabolol has antiseptic and anti-inflammatory properties.
Apigenin has shown significant effect on cancer cells when applied topically. (source)
How to Make Chamomile Face Mask at Home?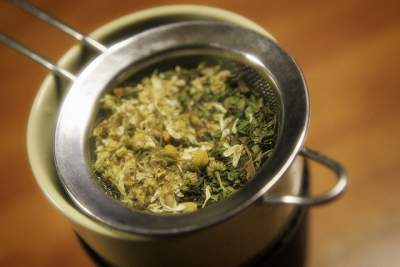 Because of its enticing agents cosmetic industries included chamomile in their creams. Anyhow, they also include chemical ingredients in them. To stay away from them and to get benefited from natural remedy you're advised to make your own chamomile mask at home with added ingredients.
1. Chamomile Honey Face Mask
Honey has humectant and anti-inflammatory properties that can soothe your skin. Apart from this raw honey can treat various skin ailments like acne, eczema and psoriasis.
Add oatmeal to this face mask; salicylic acid in oats exhibits exfoliating properties. It can wipe the impurities accumulated over the skin.
Grounded Oats – 1/2 cup
Raw honey – 2 teaspoons
Strongly brewed chamomile tea – 1/4 cup.
White sugar – 3 teaspoons
Initially, brew chamomile tea with dried chamomile flowers and hot water. Then add other listed ingredients to this herbal tea. Sugar can be used to exfoliate dead cells and pollutants piled over the skin.
Remember to wash your face before applying this face mask.
After applying the mask, leave it to dry naturally and then rinse it off. Practice this regularly.
Read: Turmeric and honey face mask recipe
2. Chamomile and Olive Oil Face Mask
Vitamin E in olive oil has antioxidant properties and can help to reduce wrinkles and fine lines. It's also protects your skin from harmful UV rays. Assorted nutrients in olive oil can effectively exfoliate impurities and unclog blocked pores.
Olive oil – 1/4 cup
White sugar – 1/2 cup
Chamomile tea bag – 1
Mix chamomile tea powder with olive oil and white sugar. Place it aside in airtight container, meanwhile wash your face with lukewarm water and pat dry.
Now, apply the face mask evenly and leave it to dry naturally. Rinse it off after 20 minutes.
Related: Olive oil for Skin Whitening
3. Almond Oil and Chamomile Face Mask
Almond oil reduces dark spots and exfoliates impurities accumulated over the skin. Assorted nutrients in almond oil can enhance healthy functioning of the skin and hydrates it from the outside.
Chamomile tea bag – 1
Almond oil – 3 drops
Grounded oats – 1 tablespoon
Raw honey – 2 tablespoons
Take chamomile tea bag in a bowl and add honey, grounded oats and almond oil to it. After mixing the ingredients thoroughly apply it on prewashed face.
You're not confined only to use these ingredients in chamomile face mask, you can add your favorite innate ingredient. But, limit its use if you see allergic reaction or patch test before using it.