Are you among those who love their skin?
You might think it's a weird question, but most of them including few among you love to have chemical ingredient creams over their face instead of natural remedies that has rich nutritional value.
Your skin loves natural ingredients, as they provide vitamins and minerals needed for its healthy functioning. Whereas, you're cosmetic products strip natural oil surrounding the skin. Apparently your skin likes to have home available natural ingredients, but you serve them pricey refined creams.
Natural ingredients like turmeric and yogurt can make your skin free from impurities and guard it from harmful UV rays. Excellent thing is, it's inexpensive and you don't have to rush to a beauty spa. Regular use of these affordable ingredients will make you look young and attractive all the time.
Benefits of Turmeric and Yogurt for Skin
Turmeric has got vital role for minor injuries and burns in India. It is renowned for its anti-inflammatory and antiseptic activity that can soothe your skin and reduce acne inflammation. Curcumin is the compound that exhibits antioxidant and other assorted properties in turmeric.
Indians topically apply turmeric powder as a ritual. Below are some benefits of turmeric for skin.
Fade acne scars
Remove wrinkles
Treat acne
Fade stretch marks
Enhance healing of minor burns and injuries
Helps to remove unwanted facial hair
Soothes your cracked heels
Also read: Turmeric face mask for acne
Take it as a breakfast or apply it over your skin, either way yogurt can benefit you. Lactic acid and alpha hydroxy acid in yogurt can remove dead cells over your skin. Without ado let's check the benefits of yogurt for skin.
Antibacterial and anti-fungal properties residing in yogurt can restrain acne causing bacteria and effectively treat acne blemishes.
As mentioned above, acids in yogurt can hydrate your dry and dull skin. When your skin becomes dry, it can't fight to restrict bacterial invasion. Natural moisturizers can successfully bring back the lost moisture to your skin.
Zinc in yogurt helps to soothe minor sunburns.
Bleaching power housed in this innate remedy can help you to get rid of hyperpigmentation.
Assorted properties in yogurt can effectively reduce aging wrinkles and make your skin supple.
Also read: Honey and Yogurt face mask
How to Use Yogurt and Turmeric Face Mask?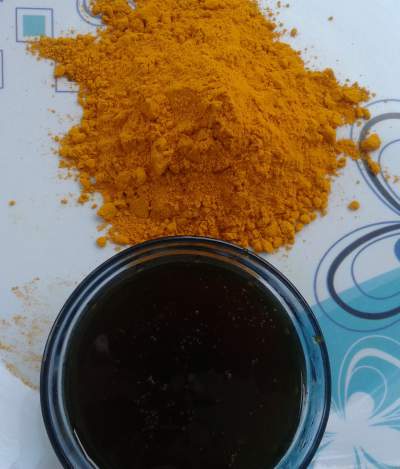 You don't have to blend them to reap their benefits for skin. But, to make the face mask more effective beauty experts recommend mixing innate ingredients with each other.
Both turmeric and yogurt can make your skin glow and keep skin ailments at bay.
Take 1 teaspoon of turmeric powder in a clean bowl.
Mix 2-3 teaspoons of plain yogurt to it thoroughly.
Mean while wash your face and pat dry with soft cloth.
You can add 1 tbsp of yogurt if needed to form thick paste like consistency.
Apply the mask evenly all over the face and leave it to dry naturally.
Rinse it off after 15-20 minutes.
I'd like to add my favorite home remedy honey to it.
Extolling benefits of honey are documented in religious scriptures. It bagged exceptional varied properties like anti-inflammatory, antibacterial and antiseptic activity. These agents will thwart bacteria and enhance cell regeneration to bring back your skin to life.
Add 1 tbsp of raw honey to above mask and it will turn into an effective acne remedy. While applying the mask, make sure you avoid sensitive areas like eyes and inside nostrils.
Though the mask looks delicious, don't lick it.
Must read: Turmeric and honey for glowing skin
Yes, you're busy and can't apply this face mask daily. Try this weekly or biweekly to see positive results.
Turmeric may leave yellow stains over your face. Don't worry, apply moisturizer or wash it twice to fade the yellow stain.
Turmeric yogurt and avocado face mask
Antioxidants in avocado thwart free radicals and its vitamin C improves elasticity of the skin. Fatty acids residing in this fruit can hydrate your dry skin.
Blend 1 table spoon of mashed avocado with 1 teaspoon of yogurt and 1/4 teaspoon of turmeric powder.
Wash your face thoroughly and apply the face mask evenly.
You can apply it around the neck and over forehead.
Lemon juice yogurt and turmeric face mask
If you've oily skin add few lemon drops to the face mask. Acidic nature of lemon lightens dark spots and treats acne. Regular use can lighten the appearance of acne scars.
Optionally, apply natural moisturizer after using this face mask.