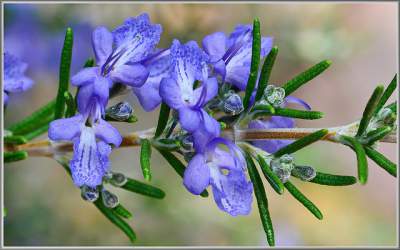 In ancient times, rosemary got a prominent role in religious rituals, may be because of its aroma. Today, it's been used extensively in perfumes, foods and in skin conditioners. Rosemary, which is native to Mediterranean, belongs to Lamiaceae family along with oregano, lavender and thyme.
Use it in food, tea or as a skin toner, assorted properties in rosemary will nourish your body and skin. With simple home available ingredients you can make your own rosemary face mask that makes your skin supple.
Nutrients in rosemary include:
Studies show that rosemary is rich source of antioxidant agents. Antioxidant and anti-inflammatory properties are housed in rosemary thwarts free radicals and reduce inflammation. (Medicalnewstoday.com)
Pimples are triggered because of inflammation, anti-inflammatory properties packed in rosemary helps to soothe blemishes.
Rosemary oil is renowned for its use in healing scars and minor wounds. The exceptional property in this herb stimulates collagen production and fastens healing process.
Nutrients like calcium, iron and vitamin B6 all affect positively over skin and fade wrinkles.
Antibiotic properties in rosemary herb help to treat minor wounds and fade dark spots. Innate properties in this herb will treat wrinkles, aging signs, pimples, dark spots, hyperpigmentation and other chronic skin diseases.
1. Oats and Rosemary Face Mask
To have a healthy skin, impurities and dead cells accumulated over the skin have to be removed. Exfoliating and scrubbing come in handy to cleanse the skin. Rosemary along with oats works as an excellent face scrub.
Finely grid oats and dried rosemary then blend and preserve it in a jar. Whenever you want to have facial scrub, mix some water to the mixture and topically apply it over the prewashed face. Wait for 15 minutes then rinse it off.
If you're looking for a moisturizer face scrub, then add 1 tbsp raw honey to the mixture. Also follow with a moisturizer, after wiping the face scrub off.
2. Apple cider vinegar and Rosemary Bath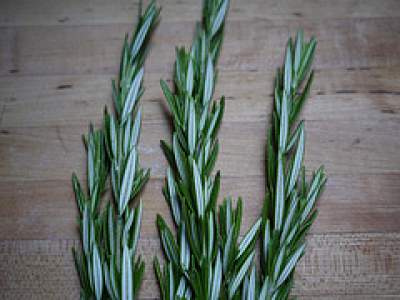 To get benefited from exceptional properties of ACV and rosemary, mix it in your bath tub and it will relive you from itchiness and other infectious bacteria.
Take 4 cups of apple cider vinegar in a saucepan and heat to simmer. Then add few fresh rosemary leaves and leave it for few minutes. After straining the leaves collect it in a jar. Before taking bath, add 1 cup of this solution to bath tub.
You can preserver remaining solution for a year.
If you'd like to use rosemary oil then experts suggest adding any carrier oil to it. Avoid internal use of this oil. (Source: Livestrong.com)
3. Cucumber and Rosemary Face Mask for Acne Treatment
Peel fresh cucumber skin; chop into small pieces and grid it. Add rosemary oil and whisked egg white to it. Prepare your face by washing or cleansing it. Pat dry and apply this face mask over face. Leave it for 15 minutes and rinse it off.