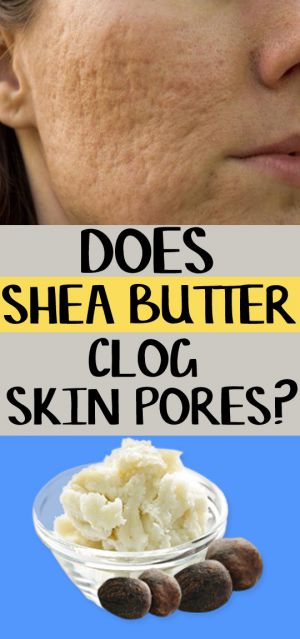 Prominent to hydrate dry skin, topical application of shea butter can also help people with oily skin.
But can you use this solid butter on your oily skin? Does shea butter clog pores?
These were questions debated all over shea butter industry and straight away answer is, no it doesn't.
Shea butter like jojoba oil is non-comedogenic, means it doesn't clog skin pores.
According to American Shea Butter Institute, the moisturizing property housed in shea butter is identical to your natural oil sebum.
Thus, this makes it an impeccable remedy for dry skin. Likewise, anti-inflammatory and antimicrobial properties in shea butter aids to treat acne lesions.
According to Wisegeek.com pure shea butter soap removes excess sebum secreted by the skin, thus controls oil on your face.
What is Shea Butter?
Shea butter is an ivory fat extracted from the seeds of shea tree also known as karite tree.
It's native to Western Africa and has tremendous use in cosmetic industry as a moisturizer.
Wikipedia.org states that African use this edible oil in food and even chocolate industries use shea butter instead of cocoa butter occasionally.
Also read: How to Use Shea Butter for Acne?
Does Shea Butter Clog Pores?
With 'zero' comedogenic rating, shea butter application can't block skin pores. However, beauty experts say that using shea butter in an insalubrious way may end up clogging pores.
By this, we came to know that if you slather this non-comedogenic cream on your dirty and unwashed skin, it will block skin pores.
Basic skin care knowledge is needed before using it at home.
Here is the list of things that you must remember:
Remove makeup using natural makeup remover.
Cleanse your face by exfoliating or with any cleanser.
Exfoliation can help to shed dead cells and wipe other piled impurities.
Pat your face dry before applying shea butter.
Use clean fingers to apply any anti-acne cream or shea butter.
Tie your hair and sleep on the pillow. While the ingredients in this remedy effect positively, you can enjoy by closing your eyes.
How to Use Shea Butter for Oily Skin?
Topically apply a light layer of shea butter to moisturize your skin. Experts suggest if you've acne-prone skin then prior to shea butter you must wash or cleanse your face using salicylic acid peels.
If your skin is drying after using salicylic acid avoid it and use shea butter instead, it penetrates into the skin and moisturizes without clogging pores.
Some acne suffers reports that unrefined shea butter helped to get rid of excess oil and heal acne lesions.
Dermatologist recommends using fresh shea butter after cleansing face with a fresh sponge instead of fingers.
Avoid using fingers on acne blemishes as this may lead to secrete more sebum and invite bacteria into acne breakouts.
After applying shea butter over acne prone skin leave it for few minutes, so that it gets absorbed into the skin.
Based on the non-comedogenic property of shea butter we can now confirm that it doesn't clog pores.
DIY Acne Fighting Shea Butter Cream
To make the face more effective, beauty expert often incorporated other innate ingredients.
Shea butter – ½ cup
Aloe vera gel – ¼ cup
Manuka honey – 2 tsp
Geranium essential oil – 10 drops
Cooling ability exhibited by aloe gel helps to fasten the healing process of acne. Its anti-bacterial property thwarts acne-causing bacteria.
Renowned for its vitamins, minerals and healing abilities, manuka honey is backed by scientific and religious books. Anti-inflammatory and antiseptic properties help to cleanse skin pores and reduce inflamed lesions.
Geranium oil, with the spicy rose smell, this essential oil can restrain infectious germs and help to prevent hormone-related ailments.
Boil shea butter in a double boiler until it becomes fully liquid.
Now, mix aloe gel and manuka honey with liquefied shea butter.
Add few drops of geranium essential oil and stir well.
Place the mixture in the refrigerator
Now, apply the obtained cream on your face.
This anti-acne cream will treat acne and make your skin radiant.
Did you ever use shea butter? Does it clog your skin pores?