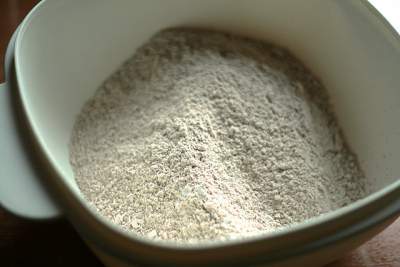 Your skin sheds millions of skin cells. Along with this other impurities and pollutants pile over your face resulting in different skin disorders. In this article you'll learn how to use wheat flour for face.
Wheat flour face pack is packed with exceptional nutrients that help to exfoliate your skin. Apart from cleansing, you can use wheat flour for skin whitening.
Cosmetic face mask creams are attractive as they are promoted by beautiful models. But, when you compare them with natural face mask remedies they lack to provide long lasting results.
Is Wheat Flour Good for Skin?
This powder is collected by grinding wheat. Essential nutrients are packed in this innate ingredient that can contribute to beautiful skin.
Selenium housed in wheat flour exhibits antioxidant properties that help to fight free radicals. This ability of selenium also helps to reduce oxidative stress.
Vitamin E and Zinc residing in this home available ingredient can promote collagen production and improve your skin texture.
Vitamins and minerals packed in wheat flour improve skin's elasticity and reduce wrinkles.
Rich fiber content in wheat improves digestion and removes damaging toxins from the body.
Antioxidant ability of this innate ingredient protects your skin from harmful UV rays and cancer causing agents.
Researches prove that wheat is power house of abundant nutrients and vitamins, which can improve metabolism, reduce inflammation and recommended for diabetic patients.
Either consume it (like most of us prefer) or topically apply it over face, with other natural ingredients wheat flour protects your skin and enhances new cell generation.
If you want to consume it for a healthy body and skin, here's my favorite wheat flour recipe.
To reap its cosmetic benefits, beauty experts recommend topical application.
Also read: Corn Flour Face Mask
3 DIY Wheat Flour Face Pack Recipes
To make the face mask more effective, you're advised to mix wheat flour with other natural ingredients.
Below given are different recipes, choose the one that suits with your skin.
This one for lazy guys, start with the easiest recipe.
To make your own homemade wheat flour face pack, all you need to do is spend some time.
Keep benefits or uses of wheat flour and start this simple recipe by mixing wheat flour with some distilled water till you obtain thick paste like consistency.
Apply the mask over prewashed face and leave it to dry naturally for 20 minutes. Repeat this simple process twice or thrice per week.
Note: If you've dry skin, then apply rosewater after rinsing this face mask.
#1 Wheat Flour for Oily Skin
Oily skin is often related with acne. Anyhow, it's not true.
Experts say that stress results in oiliness over your skin, because in response to stress your body produces androgen hormones that lead to more oil production. (Source)
Apart from changing your lifestyle to reduce stress, topical application of natural ingredients also helps to get rid of oily skin.
Ingredients:
Whole Wheat flour – 4 table spoons
Milk – 3 tbsp
Rose water – 2 tbsp
Raw honey – 2 tbsp
Rose water is packed with anti-inflammatory, hydrating and other essential properties that help your skin to maintain pH level.
Honey is prominent for its healing ability. You can use this innate ingredient to treat health and skin ailments.
Procedure:
Boil the milk in a pan, add rose water and honey to it.
Remove it from stove and add wheat flour to the solution.
Make thick paste. Allow it to cool, and then apply the wheat flour face pack on face evenly.
Start from right side of your face and neck.
Leave it to dry naturally and rinse it off with distilled water.
#2 Wheat Flour for Skin Whitening
Your skin consists of a pigment known as melanin, which is responsible for skin's color. Few external and internal factors influence the excess production of melanin that results in dark or brown spots. Here's goes a simple remedy to fade those brown spots and make your skin glow.
Ingredients:
Exceptional properties in milk lighten dark spots. Mix required amount of milk cream with wheat flour thoroughly. Wash your face and topically apply this skin whitening face pack over the skin. Leave it to dry naturally and rinse it off.
Related post: Papaya face mask for skin whitening
You can use raw milk, sandalwood powder and rose water to lighten brown spots and under-arm areas. Repeated use of wheat flour for face is recommended to see the positive results. Along with this, you need to consider taking nutritious rich diet.
#3 Orange Peels and Wheat Flour for Face
Your skin is exposed to many impurities as mentioned above, these natural ingredients soothe your skin and protect it from UV rays.
Ingredients:
Orange peels
Wheat flour – 4 tbsp
Raw honey – 2 tsp
Rose water – 2 tbsp
Milk – 3 tbsp
Dry orange peel powder is a boon for your skin. Filled with vitamin C, this natural remedy can promote elasticity of your skin. It can treat blackheads, acne, dark circles, dry skin and make your skin radiant.
Procedure:
Take powdered orange peels and mix all listed ingredients in a bowl.
Mix thoroughly till you obtain smooth paste.
Add some distilled water if needed.
Prepare your face by cleansing it with water.
Pat dry and apply this prepared face mask evenly.
Allow it to dry naturally and then rinse it off after 15 minutes.
Tips:
Before using wheat flour face pack recipe on your skin. You must make sure you're not allergic to any of these ingredients.
As mentioned by experts, stress results in many health and cosmetic issues. Avoid it.
Drink enough water and ingest vitamin rich diet regularly.
Regularly exercise keeps your metabolism healthy, which in return helps to throw toxins from the body.
Don't use chemical incorporated creams, as they strip natural oil from your skin.
Spending long hours before computer screens and long exposure to sunlight also ruin your physical appearance. 🙂