If you are suffering from any type of skin related problem, you can understand, how annoying it can be. In addition to making your skin a bit unhealthy, it can be harmful to your overall health as well.
Eczema, also known as Atopic Dermatitis is one of the most common skin condition accompanied with itchy inflammation and rashes of the skin. Symptoms of eczema include blisters, itchiness, crusted and thickened plaques of skin etc.
Despite being a widespread skin condition, treatment of eczema can be a bit difficult and can take a very long time. Different types of herbal tea can be beneficial to cure eczema that too without any side effect.
In this article, we are going to discuss some very healthy and active herbal tea for eczema. We will also learn about the causes of eczema. We are also going to explain how beneficial herbal tea is in case of eczema. After all this, we will go through some very important recipes for treating eczema. Last but not least, we will highlight some essential tips to prevent eczema. Let's start discussing some common causes of eczema.
Must read: Is Almond Oil Good for Eczema?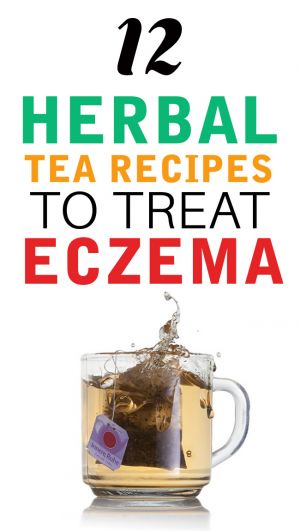 What Causes Eczema?
From genetics and abnormal immune system to the environment and defective skin barriers, there are different causes of eczema. Let's deal with some of them.
1. Genetics
Genetics is one of the most common and most causes of eczema. If you have or had someone elder in your family with eczema, you might get affected by it. More than 75% of people are assumed to have eczema simply because of their ancestors.
2. Improper Functioning of Immune System
As we already know, the immune system the most important defense mechanism for our body. If we had not something like the immune system, we already had suffered from plenty of harmful diseases.
The immune system can get weaker due to different factors including diet, prolonged exposure to the unhealthy environment as well as lifestyle. If your immune system is not strong enough, you are at higher risks of getting suffered from eczema.
3. Environment
Another undeniable cause of eczema is the environment. Different types of pollutions or presence of unhealthy particles around you can cause dermatitis to you. People who live in slums or other similar unsanitary conditions have higher chances of developing environmental eczema.
There are some other causes of eczema like defects in skin barrier and sensitiveness of the skin.
Benefits of Herbal Tea to Treat Eczema
In this part of the article, we are going to have a discussion about the benefits of herbal tea to treat eczema. Which properties make these herbal teas very beneficial for eczema? How these herbal tea work to treat eczema? Let's find out.
Anti-inflammatory actions: Most of the herbal tea are excellent to reduce any inflammation. Inflammation is one of the symptoms seen in case of eczema. Herbal tea like burdock, fumitory, red clover, etc. have significant anti-inflammatory properties and can reduce the inflammation of the skin caused due to eczema.
Strengthens the Immune System: Herbal tea is also used successfully to increase the strength of the immune system. Regular consumption of herbal tea can improve your immune system, which is one of the causes of eczema.
Reduces Allergies: Skin allergy can undoubtedly assist eczema. Herbal tea like ginger tea has been in use for ages for reducing the skin allergies. By decreasing the sensitiveness of allergy, herbal tea can be handy to halt the progression of eczema to other parts of the skin.
Helpful to combat stress: Stress can be a barrier when it comes to treating a disease. In case of eczema, any type of treatment is not more than just a waste if the stress and the cause(s) of stress are not considered. Peppermint tea, chamomile tea, passion flower tea, rose tea and green tea are known to provide excellent results in case of stress.
12 Best Herbal Tea Recipes for Eczema
You can easily find loads of herbal teas, but we are only focusing on some incredibly beneficial green teas, which are more than just sufficient to reduce the severity of eczema. Let's underline some best herbal tea for treating eczema.
To increase the effectiveness of these herbal teas, we are going to talk about some beneficial recipes as well. In addition to learning to prepare some tea for consumptions, we will also try to learn how to make some herbal tea for topical application.
#1 Lemon Tea
Lemon is one of the most favorite ingredients when we talk about herbal tea. Lemon Tea provides a refreshing zing to your mood, and its vast quantity of vitamin C helps in healing of inflammation caused due to eczema.
Take ¼ cup of lemon balm, ¾ cup of lemon grass and 1 ½ tbsp. of any natural sweetener.
Mix all the ingredients properly with a lid.
Add 1 tbsp. tea strainer for every cup.
Pour in hot water and let the tea steep for up to 10 minutes.
#2 Lavender Tea
This wonderful intoxicating tea can calm your mind, improve your digestive system as well as can bring restful sleep. It is excellent to combat depression as well.
Take 2/3 tbsp. dried lavender, ¼ cup fresh mint leaves and 3 cups hot water.
Combine mint and lavender properly and pour into cups.
Add hot water, honey or any other sweetener.
Also read: Is Lavender Oil Good for Eczema?
#3 Peppermint Tea
Peppermint is in use for soothing respiratory problems for centuries. It has some incredible health benefits including great healing properties in case of eczema or any other skin related problems.
Take 1 tbsp. dried peppermint leaves, 1 tbsp. sugar and a cup of water.
Steep leaves in hot water for 10 minutes.
Add sugar or sativa or any other natural sativa.
#4 Red Bush Tea (Rooibos Tea)
This excellent tea has been used for thousands of years in different parts of Africa. It can be used to treat various types of skin conditions including eczema. Flavonoids found in Red Bush Tea is capable of fighting pathogens and to keep eczema at bay.
Take 1 orange, 1 lemon, 2 slices of ginger, 1 tbsp. honey, 4 stalks of mint and 8 rooibos tea bags.
Cut the lemon and oranges into 4-5 slices.
Put all the ingredients in a glass jug and add 4-5 cups of boiling water.
Cover the jug and leave for half an hour.
Squeeze lightly to get rid of excess fluid.
Pour into a glass and add cold water.
Serve with some pieces of ice.
#5 Black Tea
Free radicals are capable of increasing the severity of eczema. Black tea fights with free radicals and can aid the improvement in case of eczema.
Take little amount of water in a saucepan.
Add some sugar and cook for about 2-3 minutes.
When the water starts boiling, add black tea leaves and lower the flame.
After another 2 minutes, pour the tea in a cup.
#6 Chamomile Tea
Roman chamomile is known for its soothing and calming effects. Due to its anti-inflammatory and anti-fungal properties, it can be beneficial to get rid of eczema.
Prepare chamomile tea just like green tea.
Keep aside for half an hour and refrigerate until it converts into ice cubes.
Wrap a few pieces of chamomile ice cubes in a cloth.
Apply on the area affected with eczema.
Also read: How to Use Green Tea for Eczema?
#7 Calendula Tea
Calendula is very effective when it comes to healing the skin problems. It can be very effective to heal eczema as well.
Take a cup of warm water and steep 2 bags of calendula tea for 7-8 minutes.
Squeeze out excess water from the bags.
Open the bags into ½ cup plain yogurt and ¼ cup oats.
Mix well and apply properly on the affected area(s).
#8 Lemongrass Tea
It is an excellent detoxifying agent. In addition to cleaning your internal system, it can heal the skin after getting suffered with eczema.
Take 2-3 stalks of fresh lemongrass leaves and add to 600 mL boiling water.
Bring the water to boil and let it simmer for 10-12 minutes.
Serve with lemon slices.
#9 Ginger Tea
Ginger tea is known as a wonderful antiseptic and can treat any kind of skin imperfections including eczema.
Boil 2 cups of water with a little amount of honey.
Keep the boiled water aside for 2-3 minutes.
Pour 1 tbsp. ginger tea leaves to it and serve with lemon slices or mint leaves.
#10 White Tea
Made from dried buds and leaves, White tea has excellent antioxidant, antiaging and anti-inflammatory properties. All these properties make it very beneficial for eczema.
Add some leaves of White Tea in boiling water.
Squeeze the leaves with a cotton cloth to get rid of excessive water.
Add these leaves in little amount of glycerin and shea butter.
Apply constantly on the affected areas for better results.
#11 Matcha Tea
This Japanese tea is a wonderful detoxifying agent. It can make your skin clean and healthy from inside and can work wonders in case of eczema.
Take a skin lotion of your choice.
Add some matcha tea leaves to boiling water.
Squeeze it out to reduce the excessive water.
Add to your favorite lotion and use constantly for better results.
#12 Hibiscus Tea
Being a natural source of alpha-hydroxy acids, it can exfoliate your skin to a decent extent and can control the excessive oil and cogged pores of your skin as well.
In a cup of warm water and steep 2 bags of hibiscus tea for few minutes.
Squeeze out excess water from the bags.
Open the bags into ½ cup plain yogurt and ¼ cup oats.
Mix well and apply properly on the affected area(s).
 Tips on Preventing Eczema
Keep your body clean and moisturized.
Keep your environment and surroundings clean and fresh.
Stay hydrated and drink enough water and liquid.
Maintain your diet by adding enough vegies to it.
Try to avoid junk food as much as possible.
Always involve in some types of physical and mental exercise.
Keep your mind fresh and stay away from unnecessary tension and stress.
Replace your milk tea with anyone of the herbal tea discussed in the article.
Stick to any of the above mentioned recipes to treat the ailment. Did you ever use herbal tea for eczema? Do share your experience in comments.