It's an embarrassing and annoying situation to have eczema. Your skin turns dry with scaly patches. Vigorous itching accompanied by this chronic skin ailment results in inflamed eczema flare-ups.
This write-up will help you to understand benefits of grapeseed oil for eczema, which not only relieves eczema but enhance overall functioning of your skin.
I too tried steroid creams to treat eczema, but the effect of these chemical incorporated creams was temporary. Moreover, you can't expect them to be smooth on the skin. Harsh chemical ingredients in the cream may damage elasticity of the skin.
In a study, researchers found that repeated use of cosmetic creams decreased elasticity of the skin leading to premature aging wrinkles.
So, why anyone would will try such cream. Before you conclude home remedies are the one way to treat skin ailments, let me clear that what worked for me may not work in your case. According to anecdotal reports, grapeseed oil can effective treat eczema, but it may or not may not work for you.
Note: Apply the oil on small portion of the skin to patch test.
Must Read: Is Apple Cider Vinegar Good for Eczema?
Is Grapeseed Oil Good for Eczema?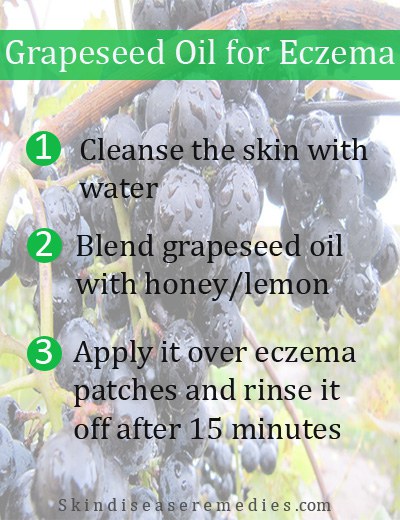 Essential oils are packed with antioxidants, vitamins and omega -3&6 fatty acids, which can improve skin texture and enhance healing. Grapeseed oil is no different; it is extracted from seeds of grapes.
Exceptional nutritional properties residing in grapeseed oil enticed many cosmetic industries. You can check extracts or oil itself behind the product's ingredients list. It can also be used for making foods and delicious dishes.
Beta-carotene, vitamin C, D, E and fatty acids like palmitic, stearic, linoleic acids are packed in this essential oil.
Linoleic acid residing in the oil hydrates and fastens the healing of dry itchy patches.
Anti-inflammatory properties in the oil can effectively reduce eczema inflammation and itching.
Omega 6 fatty acids in the oil form a protective layer over the skin and antioxidant activity thwarts free radicals.
Astringent properties in grapeseed oil can shrink larges skin pores and makes the skin firm.
Vitamin C&E housed in the oil can enhance collagen production and fade ageing wrinkles.
Repeated application of this oil will fade scars, stretch marks and eczema marks.
These nutrients exhibit antioxidant ability that can thwart free radicals and reduce oxidative stress.
Astringent property of this natural ingredient can tighten your skin and shrink large pores.
Internal consumption and external application both will help your skin.
How to Use Grapeseed Oil for Eczema?
According to experts and researchers, you can't permanently treat eczema.
However, using home remedies and steroid creams you can relieve symptoms of this chronic skin ailment. Apart from using natural ingredients you must avoid clothes, foods and substances that can trigger eczema flare-ups.
Cleanse the eczema affected area with water and pat dry with a clean cloth.
You can use grapeseed oil or rosewater to wipe scaly dry patches.
Blend cornstarch with grapeseed oil and apply it over prewashed skin.
After 20 minutes rinse it off with water.
#1 Grapeseed Oil Mask for Dry Skin
Blend 1 tablespoon of brown sugar with 4 tablespoons of grapeseed oil.
Apply the mixed solution thoroughly and apply it over prewashed face.
Leave it for about 15 minutes and rinse it off.
Brown sugar is renowned to remove hanging dead patches. Repeated use of this ingredient will shed dead cells and exfoliate your skin.
#2 Grapeseed Oil Mask for Oily Skin
Take 1 tablespoon of sea salt and mix with 2-4 tablespoons of grapeseed oil to it.
Natural purifying agents in sea salt promote blood circulation, improve skin texture and make the skin firm.
Mix the ingredients thoroughly and apply it over prewashed face. After 10-15 minutes, rinse it off with water.
#3 Grapeseed Oil to Treat Eczema
Blend honey and lemon to required amount of this essential oil. Humectant and anti-inflammatory properties residing in raw honey relieves from inflammation and locks the moisture.
Renowned acids in lemon juice remove dead cells and clear blackheads, acne and lighten eczema marks.
Mix 4 tbsp of grapeseed oil with 2 tbsp of honey and 1 teaspoon of lemon juice.
Wash your affected skin with normal water and pat dry using a clean cloth.
Don't be harsh while washing or cleaning your skin.
Take mixed face mask and apply it on eczema affected areas.
Allow it to dry naturally for 15-20 minutes and then rinse it off with water.
Note: Limit the use of lemon juice if you've sensitive skin; excess use of lemon can irritate your skin.
#4 Avocado, Grapeseed Oil and Honey
Vitamin A and E are housed in avocado helps to avoid dry itchy patches with its hydrating your skin. These vitamins can regulate sebum production and promote collagen production.
Honey, which is prominent for its healing and cooling abilities, can soothe your inflamed eczema flare-ups.
Take ½ fresh avocado and mash it into smooth paste.
Add 2 tablespoons of honey and 1 tbsp of grapeseed oil to it.
Apply the paste on your prewashed face.
Allow it to dry naturally for 15-20 minutes and then rinse it off with normal water.
#5 Argan Oil and Grapeseed Oil
Extracted from the argan tree, this natural ingredient is packed with vitamin A, E and fatty acids.
These nutrients can reduce inflammation and lighten the appearance of eczema scars.
Mix 3 tbsp of grapeseed oil with equal amount of argan oil.
Optionally, add 1 teaspoon of vitamin E oil to it.
Apply the obtained solution on your face and then rinse it off with water after 20 minutes.
#6 Grapeseed Oil for Scalp Eczema
Hydrating ability packed in grapeseed oil can reduce itchy patches on your scalp. Nutrients in the oil can effectively heal eczema patches.
Mix vitamin E oil with grapeseed oil and apply it on your prewashed scalp.
Make sure that the oil reaches hair root.
Apply it before going to sleep and rinse it off in the morning.
Important Tips (You Must Read)
There are many positive reviews of grapeseed oil on eczema patches. However, other ingredients used in the recipe may irritate your sensitive skin. So, patch test before applying it on the skin.
Chemical incorporated creams promoted by media aren't good for your skin. Repeated application of these creams can make your skin lose its elasticity.
Avoid scratching eczema flare-ups as it can irritate your skin and results burning sensation.
Apart from topical application, internal consumption of vitamin rich diet is important.
There are few foods that can trigger eczema, so avoid them.
If you ever used grapeseed oil to treat eczema, then share your experience in comments.