Are your cheeks, nose and forehead turning rosy red? Then you might have rosacea. Read this article to know how to use grapeseed oil for rosacea.
Redness, inflammation, swelling and acne like break-outs can be seen if you've rosacea. Official reports say that 16 million Americans suffer from this chronic skin ailment.
Though you can't cure rosacea permanently, using home remedies like grapeseed oil, vitamin E oil and hemp seed oil you can reduce symptoms of rosacea.
Benefits of Grapeseed Oil for Rosacea
Grapeseed oil is obtained by cold-pressing process of grape seeds. Vitamin E, proteins, calcium, potassium, beta-carotene, fatty acids, selenium, magnesium and minerals are housed in it.
This oil is prominent for its moisturizing benefits. Emma Stone, Hollywood actress stated in an interview that she uses grapeseed oil for her beautiful skin.
Anti-inflammatory activity of the oil reduces rosacea inflammation and redness over the skin.
Linoleic acid housed in the oil can help to moisturize and improve elasticity of the skin.
Astringent property helps to cleanse skin and shrink large skin pores.
Linoleic acid also helps to avoid break-outs over the skin.
Antioxidant agents guards skin cells from free radicals and avoid oxidative stress.
Unlike cosmetic creams, grapeseed essential oil will not clog skin pores.
How to Use Grapeseed Oil for Rosacea?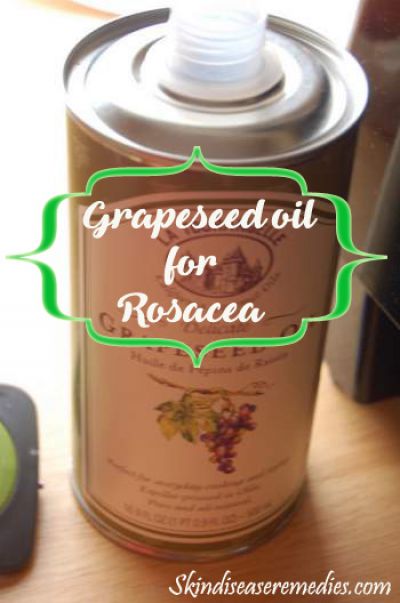 Also known as adult acne, redness and break-outs of rosacea can be reduced by repeated application of grapeseed oil.
To reap all vitamins and minerals from this essential oil, buy organic or pure grapeseed oil. You can use it morning and before going to sleep.
Wash your face with water to cleanse impurities and pat dry with soft cloth.
Take 1-2 drops of grapeseed oil and apply it over rosacea affected area.
Leave it dry naturally.
Nutrients listed above penetrate into your skin and stimulate healing process. But, this alone will not reduce rosacea. You must avoid foods that trigger this ailment and include vitamin rich diet. (Check list of foods that may trigger rosacea.)
To make it more effective you can blend argan oil, honey and lemon with grapeseed oil. But, make sure you aren't allergic to any of these ingredients.
Save