Being the largest organ, skin needs your attention. Grapeseed oil for psoriasis is a natural remedy that can't be ignored.
You're not alone, according to official reports approximately 7.5 million people in USA are affected with psoriasis. Its main cause is unknown, however immune system and genetics are held responsible for psoriasis.
Dry and scaly patches appear on different parts of the body including knees, scalp, elbows, fingernails, toenails and genitals.
Researchers state that immune system triggered by T-cells results in rapid growth of skin cells. As your skin fails to shed them dry itchy patches are formed.
Doctors and dermatologists state that repeated use of cosmetic creams strip natural oil from the skin and leads to premature aging wrinkles.
Natural home remedies on other hand aren't associated with any serious side-effects and are packed with effective nutrients.
Grapeseed Oil for Psoriasis
Like other natural oils, grapeseed oil has essential vitamins, omega -3&6 fatty acids and astringent properties. This essential oil is derived from seeds of grapes.
Hydrating properties packed in the oil hydrates dry scaly patches and helps to shed dead skin cells.
Omega -3&6 fatty acids with its anti-inflammatory and moisturizing properties hydrate the dry patches and reduce inflammation caused by psoriasis.
Nutrients residing in grapeseed oil repair damaged tissues and make the skin moist.
Vitamin C and E improves elasticity of the skin, lighten the appearance of psoriasis patches and guards skin from harmful UV rays.
Linoleic acid exhibits anti-inflammatory properties that help to treat psoriasis.
Beta-carotene, vitamin C, D, E and other assorted nutrients together aids to treat psoriasis and promote supple skin.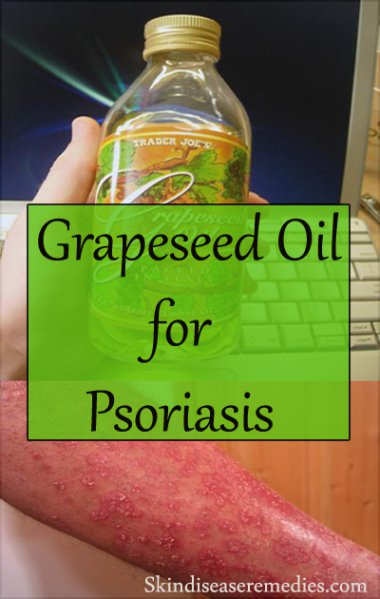 How to Use Grapeseed Oil to Treat Psoriasis?
Psoriasis can't be treated permanently; however using natural remedies and steroid creams you can reduce its effect.
For severe psoriasis, consult dermatologist. These simple home remedies can be helpful for mild or semi-moderate ailments.
Initially, cleanse the dead cells piled over the skin with water.
Don't use warm water, as it triggers itching.
Pat dry using soft cloth.
Take pure grapeseed essential oil and gently spread it over psoriasis affected area.
Leave it to dry naturally.
Avoid moisture (water) over the skin, use cotton ball or soft cloth to pat dry.
Argan oil and grapeseed oil
High concentration of essential oils can irritate your sensitive skin, so it's recommended to blend argan oil or any carrier oil with grapeseed oil.
Take 3 tablespoons of grapeseed oil and 3 tablespoons of argan oil in a bowl. Optionally, add 1 teaspoon of vitamin E oil to it and apply it over prewashed skin.
Honey, lemon and Grapeseed Oil for Psoriasis
Unlike cosmetic creams, you can blend other innate ingredients with grapeseed oil depending on your skin type.
Take required amount of raw honey, 1-2 drops of lemon juice and 2 tablespoons of grapeseed oil in a bowl.
After mixing thoroughly, apply the mask over prewashed skin and leave it to dry naturally.