It's extremely sad that after a long battle with acne breakouts, the healed bumps leave red or brown spots over the face. Acne scars are formed due to the damage of skin's upper structure leaving it jagged.
Roughness of the skin texture makes it difficult to heal. Skin lightening creams that reduce melanin production claim to fade acne scars, but they fail to work on red or pink scars as they aren't related to melanin. But, people with dark skin tone may find it helpful.
However, the chemicals used in these creams may trigger allergic reaction. (1)
You must pamper your skin, as it plays a vital role for your enticing appearance. And I don't see any other option than natural remedies for that. Unfortunately, there is no strong scientific evidence to prove the assumption that rosehip seed oil can fade acne scars. But, those who tried found it helpful with zero side-effects.
Because of its alluring nutritional properties, cosmetic industries incorporated rosehip oil in their products. Just have a glance over the ingredients list on beauty products and you'll come across this name. Australian model Miranda Kerr revealed that she would like to wear rosehip oil before going to bed.
Rosehip Oil for Acne Scars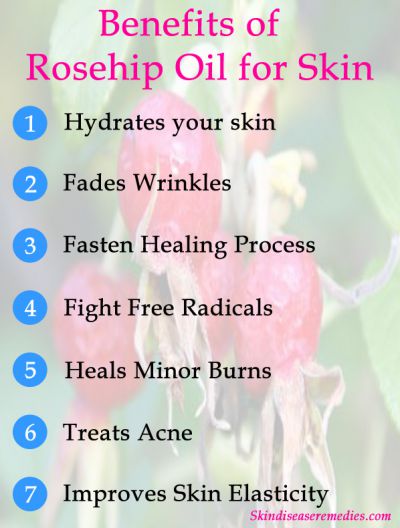 This oil is extracted from the seeds of wild rose bush. For hundreds of years people from Chile used rosehip oil for cosmetic purposes.
Nutrients like vitamin C, A, antioxidants, lycopene and fatty acids combine to rejuvenate and enhance healing process of your skin.
Dr. Ariel Ostad says that assorted properties in rosehip oil can reduce scars, fine lines, fade dark spots, moisturize and rejuvenate the skin. He adds that its non-greasy property makes it perfect mask for sensitive skin.
Anti-inflammatory agents housed in this oil can effectively reduce acne inflammation. Apart from this, the moisturizing activity can relieve you from itching and dry skin.
Free radicals in cell membrane can damage it and lead to premature wrinkles. Antioxidant agents can effectively restrain these radicals and save your cell membrane.
P.acnes bacteria that are responsible for acne lesions are restrained by anti-microbial property of rosehip seed oil. Along with this, other nutrients can promote production of new healthy cells. Rosehip seed oil can fade acne scars, treat acne, fade wrinkles and exfoliate your skin.
But, wonder how to use it over my face?
Initially, exfoliate dead skin cells piled over your face. You can use natural exfoliators like oatmeal or just wash with lukewarm water.
Using a soft cloth to pat dry your face and apply rosehip seed oil on acne scars when the skin is still damp.
Leave it to dry naturally, and then rinse it off.
I personally recommend trying this oil for 2-3 weeks to see positive results. Along with it, you must regularly wipe impurities and dead cells off the skin, have fiber rich diet and do regular exercise.
Important Points
Continuous exposure to sunlight will darken the acne scars.
Repeatedly washing with soap may irritant your skin and reduces elasticity.
Don't scratch scars, bacterial infection may lead to larger scar.
Will you try rosehip seed oil for acne scars? Or are you already tried?