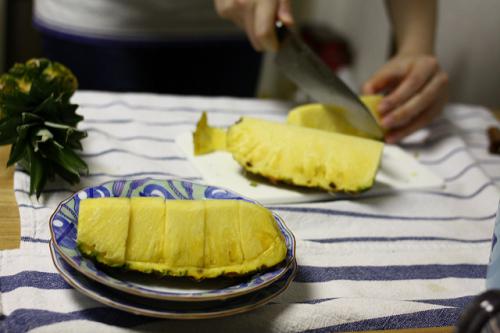 You'll ditch those pricey cosmetics by the end of this article. Well, don't go on my words literally.
I never shared a healthy or delicious relation with pineapple, but as they say, time changes everything and here am writing this article about benefits of pineapple face mask.
It was its tart taste and the fact that they eat you back, which isolated me from enjoying this fruit. However, things aren't same when you use it over the skin. Nutrients packed in this fruit can treat acne, fade wrinkles, enhances collagen production, help to get rid of warts and the list goes on.
Before you jump to conclusion that this is an excellent facial mask, let me give few more reasons on why you must use pineapple facial.
You can skip this and head to the recipe here.
What Are the Benefits of Pineapple Face Mask for Skin?
Like other natural remedies, pineapple is stuffed with vitamins that guard your skin against ailments and make them supple.
Vitamin C and potassium crammed in this fruit exhibit antioxidant activity, which helps to thwart free radicals that damage cell membrane.
Bromeliad is an enzyme in pineapple that can cleanse impurities and dead skin cells accumulated over the skin.
Anti-inflammatory property helps to reduce inflammation caused by minor ailments.
Treats acne blemishes. Vitamin C stimulates healing, while anti-inflammatory agents reduce further acne lesions.
Antibacterial and anti-fungal properties are essentially important to treat skin ailments, which are housed in this homemade pineapple facial mask.
It also hydrates your dry skin and forms a protective layer.
Nutrients in this fruit help to reduce dark spots, fine lines and lighten the appearance of acne scars.
Vitamin C, which enhances collagen production help to retain the elasticity of your skin making it look young.
Bromelain improves your skin complexion and makes it firm. You can expect a clear and fairer skin.
The exfoliating ability of this face mask is excellent, dead cells and pollutants can be easily cleansed.
DIY Pineapple Face Mask Recipes
Being happy and stress-free is the secret ingredient of homemade facial recipes. Try to make this recipe on holidays, so that you'll really enjoy turning your home to a spa.
Before applying the face mask, make sure you cleanse the impurities and pat dry with soft cloth.
If you've acne or blackheads, exposing your face to steam can do wonders.
#1 Papaya and Pineapple Face Mask
Papain is an enzyme crammed in papaya that helps to exfoliate dead cells. Both pineapple and papaya combine to hydrate your skin and make it clear.
Ingredients:
Pineapple – 1
Ripe papaya – ½
Honey – 1 tablespoon
You can skip using honey.
Peel the skin of papaya and pineapple.
Blend both fruits in with a juicer, till you obtain thick paste like consistency.
Wash your face as mentioned above and apply the facial mask evenly all over the face.
Avoid applying around the eye, instead, place two sliced cucumbers on eye lids.
Leave it to dry naturally for 20 minutes and then rinse it off.
#2 Homemade Pineapple Facial
This quick and instant recipe needs not more than 1 minute to use.
Peel pineapple skin and slice them into pieces.
Wash your face and pat dry with a cloth.
Take 1 sliced piece of pineapple and gently rub over the face.
Leave for 5-10 minutes and then wash with cold water.
Optionally, moisturize your face with olive oil or rose water.
#3 Honey and Pineapple Face Mask for Dry Skin
Religious and historical books documented benefits of honey. So, there is no need for me extol its uses.
Healing, antibacterial, anti-inflammatory, antiseptic and moisturizing ability of raw honey is something that entices me a lot. I prefer raw honey to treat minor ailments.
Mash fresh pineapple pieces and add honey to the paste.
To make it smooth, you can add olive oil.
Now, after mixing thoroughly apply the mask over prewashed face.
Rinse it off after 15-20 minutes.
Also read: Kiwi fruit face mask
Scientific research states that regular consumption of green tea can reduce inflammation over the skin. Vitamin C, antioxidants and anti-inflammatory activity of green tea can effectively treat skin ailments.
To reap all these benefits, you can use it topically.
Mash pineapple and papaya pieces to obtain a thick
Now add honey and green tea (after brewing tea) to the paste.
Cleanse your face and apply the mask evenly.
#5 Pineapple and Gram Flour Mask for Acne
Gram flour or besan is extensively used to cleanse impurities and dead cells. It can also treat oily skin, acne and fade dark spots.
Peel and slice the fresh pineapple into pieces.
Grind these small pieces to a smooth
Add 2 tablespoons of gram flour to the pulp and mix thoroughly.
Wash the skin with water and pat dry using a clean cloth.
When the skin is still damp, apply the mask evenly and allow it to dry naturally.
Also read: 7 Homemade Face Mask for Glowing Skin
#6 Sandalwood and Pineapple Face Mask
Sandalwood powder is extensively used for religious purposes. Nutrients in this innate ingredient can treat acne, fade stretch marks, reduce dark spots, tighten skin and help to obtain glowing face.
Take 3 small pieces of sliced pineapple and mash into a smooth
Add 2 tablespoons of sandalwood powder and apply it over acne affected the skin.
You can also use this mask as a spot treatment.
#7 Pineapple and Strawberry
The rich concentration of vitamin C in strawberry helps to nourish skin, treat blemishes, control excess sebum production and revitalize skin.
Vitamin C also improves the elasticity of your skin.
Grind 1 strawberry and 2 sliced pineapple pieces to form a smooth
Optionally you can add a little water to make the paste smooth.
Now, apply the mask on the face and around the neck.
#8 Aloe Vera Gel and Pineapple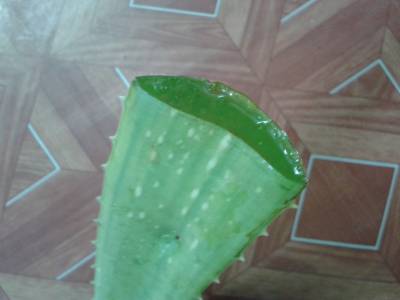 This sticky gel is known for its healing properties. You can actually ingest this gel to reap its healing ability. It does taste good, but you can blend it with orange juice.
For topical application, peel its skin and rub the gel over the face.
Mash or grind both pineapple cubes and aloe vera gel into a smooth
This face mask may not smell good because of aloe gel, but benefits can't be ignored.
Now massage gently in circular motion over the face.
#9 Cucumber, Pineapple, and Milk Cream
Cucumber is renowned for its hydrating and cooling ability. Have you ever been to a spa? Two sliced cucumbers are placed over eyes for cooling effect.
To get benefited from this ingredient, you can just rub sliced cucumber over the skin. Leave for few minutes and rinse it off.
Make a smooth paste by grinding small pieces of pineapple and cucumber.
Once you get a thick paste, add 1 tablespoon of fresh cream and mix thoroughly.
Apply the mask over prewashed face and leave it to dry naturally.
#10 Egg White, Honey and Pineapple Mask
Egg white can help to remove blackheads, treat acne and shrink large skin pores.
Remove egg yolk and collect egg white in a bowl.
Place 3-4 sliced pieces of pineapple in food processor.
Grind to smooth paste.
Add egg white and raw honey to it and blend once more.
Now, ask your partner to apply this natural homemade facial mask to apply over the skin using a brush.
Important Tips on Using Homemade Facials
As eating raw fruits are good for your overall health, similarly applying fresh fruits will benefit your skin.
You'll not experience overnight results from the homemade face mask, but surely vitamins and minerals stuffed in these recipes will penetrate deep into the skin to enhance its functioning.
Initially, start the face mask recipe once or twice in a week.
What worked for me may or may not work for you. So, papaya and pineapple recipe didn't work, then try honey and pineapple face mask.
Avoid ingredients that may irritate your skin.
In case, if any face mask recipe is making your skin dry, then avoid its use.
Drink enough water, ingest vitamin rich diet and do regular exercise.
Wear sunscreen cream while going out and also avoid harsh chemical filled soaps.
Long exposure to mobile phones, computers, and TV screen may result in dark spots.
Just using pineapple face mask will not do wonders, as mentioned ingest nutritious diet.
Avoid stress, stay happy and stay beautiful. 🙂
Save