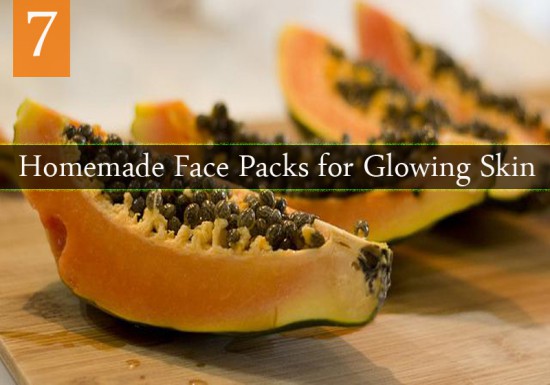 Every women dream to have glowing flawless face, but that can't be achieved with dry skin. Dry winds in summer strip natural oil around the skin making it open for various ailments. Fortunately, homemade face packs for glowing skin help to retain the lost moisture and make the skin radiant.
Blazing heat and impurities in summer makes you exhaust. If not taken care, dark patches, fine lines and sun burns stay for the rest of the year.
Regular cleansing is the most important aspect of this remedy. Though there are many face wash products, who claim to remove impurities, experts recommend to stay away from them because of the chemical ingredients included in them. To increase the shelf-life of the product, manufacturing industries use preservatives and processed items.
Natural remedies are filled with vitamins and minerals, which can lock the moisture, acts as sunscreen and makes you look youthful.
There is a huge list of homemade face packs to obtain glowing skin and you can't expect them in one article. Keeping the heat and dry winds outside, I selected few exceptional natural remedies below.
7 Top Homemade Face Pack for Glowing Skin
Two important aspects for glowing skin according to me are, one is to exfoliate dead cells and impurities off the skin, next is to keep your skin well hydrated internally and topically. You must consider drinking enough water and vitamin rich diet to keep skin supple from inside.
Coming to topical application, as said there are bunch of remedies which can remove impurities and hydrate your skin at the same time.
#1. Cucumber & Lemon Juice Face Pack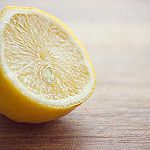 Slice the cuke in pieces and rub over the skin. This is the most easiest and inexpensive way to keep dry patches at bay. But, your skin may need something more effective. Apart from eating as salads with meals, blend cucumber pieces with few drops of lemon juice to improve healthy functioning of the skin.
You can replace lemon juice with glycerin or turmeric powder if you've acne lesions. Like cucumber, glycerin is renowned for its moisturizing and healing properties.
Blend cucumber juice or paste with few drops of lemon juice.
Optionally, add turmeric powder and glycerin.
Wash your face with water and pat dry.
Ask your partner to evenly apply the face mask and leave it to dry naturally.
Note: Its recommend to apply essential oil mixed with any carrier oil before going to bed.
#2. Banana and Almond Face Pack
Assorted nutrients in banana and almond powder restrain dryness and enhance the skin texture. You can replace almond powder with oatmeal to exfoliate impurities.
Mash ripe banana using spoon and add required amount of almond powder or oatmeal.
Add rosewater if required to make the paste.
Cleanse your face with water and apply the face pack.
Leave it for 15-20 minutes and then rinse it off.
#3. Honey and Milk Face Pack for Glowing Skin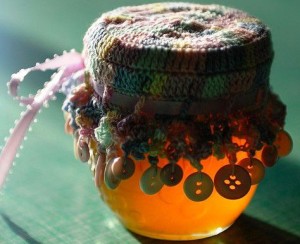 Both the ingredients are prominently used for medical and culinary purposes. Humectant property in honey locks the moisture and thwarts infectious bacteria. Milk on other hand reduce wrinkles, heals minor sun burns and pamper your skin with essential nutrients.
Mix teaspoon of raw honey with 2 teaspoon of raw milk in a bowl.
Apply this lotion over prewashed face.
Let the vitamins in honey and milk start affecting on skin for 20-30 minutes.
Rinse it off wither cold water.
Don't apply cosmetic creams after using this natural remedy, because the ingredients in the product block skin pores. Instead use rosewater or rosehip oil for natural glow.
#4. Papaya Face Pack
Not just hydrating, Papain an enzyme in this fruit enhances skin whitening, fade sun burns and treat other ailments. Regular use of papaya face mask will fade wrinkles and exfoliates dead cells. Vitamin A and C helps to enhance collagen production and postpone premature aging wrinkles.
Take required amount of peeled papaya and slice into small pieces.
Add raw honey and blend or mash into smooth paste.
Remove impurities by washing your face with water.
Apply the face pack evenly and leave it to dry.
You can place two sliced cucumbers to get that spa experience.
#5. Potato and Lemon Face Mask
Acidic activity of lemon juice will lighten dark spots and removes impurities. But if you've extremely dry skin, don't use this face pack. Excess use of lemon juice will make your skin dry. However, you must apply natural oil to moisturize after this face mask treatment.
Vitamin C, B6 and potassium in potato juice heals sun burns, lighten dark patches and fights free radicals with its antioxidant property.
Slice half potato into pieces and blend it to make smooth paste.
Add few drops of lemon juice to it.
Apply the face pack over skin and leave it dry.
Easiest way to use potato is to rub the skin with sliced potato pieces. Other ingredients that you can add in potato include honey, yogurt, multani mitti and cucumber.
#6. Mint and Turmeric Face Pack for Glowing Skin in Summer
With lovely fragrance, mint face pack gives your skin cooling experience. It can moisturize, cleanse and shrink larges skin pores. Salicylic acid in mint helps to treat acne blemishes. To make it more effective and suitable for your skin type, you can add other innate ingredients to it.
Blend fresh mint leaves to make smooth paste.
Add pinch of turmeric powder to it.
If you've acne, wash your face with lukewarm water. Pat dry using soft cloth and apply the face mask.
After 15-20 minutes, rinse it off.
#7. Gram Flour Face Pack for Pimples
Besan or gram flour is known for its excellent property of absorbing excess oil and treating acne. If you've oily or acne prone skin, try this remedy.
Dry people must stay away from this face mask. Only if you want to try, use natural moisturizer after using this face mask.
Take required amount of gram flour in a bowl.
Add water to it and mix well to obtain paste like consistency.
Wash your face and apply this face mask.
For dry skin people, I'd recommend to replace water with raw honey.
Benefits of Using Homemade Face Packs for Glowing Skin
Natural massaging improves blood circulation, which makes you look young and refresh. Studies show that regular use of cosmetic products can make your skin lose its elasticity. Instead, use natural homemade face packs for glowing skin.
Other than glowing skin, these natural ingredients keep ailments at bay and protect your skin from external factors.
As mentioned, you must change your lifestyle to see positive change. Drink enough water, choose water rich vegetables and fruits, stay away from makeup and creams, sleep well and do regular exercise.
Image source: 1,