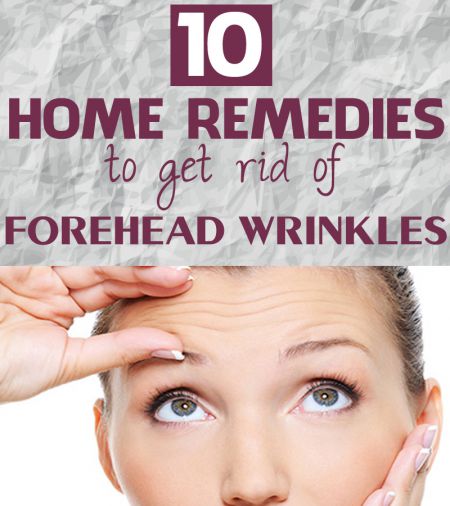 With hectic work schedule, stress and low nutritious diet, forehead wrinkles or frown lines can appear even in youngsters. In this article, you'll learn ways to get rid of forehead wrinkles without using botox.
Aging signs like wrinkles and grey hair were regarded as experience, honesty, and authority. Not anymore; with increasing media promoted products, everyone now desires to have a smooth skin.
Before you scroll to check ways to get rid of frown lines, let me list out few notable things.
Jump to: Home Remedies
What Causes Forehead Wrinkles?
None of us want to look older. But it happens to everyone and no one can stop it. However, there are few factors that damage your skin with which even youngsters may experience premature wrinkles.
Excess sun exposure is one of the important factors that influence collagen fiber in your skin. Oxidation process triggered by solar radiation results in wrinkles.
Aging makes your skin lose its elasticity and collagen. With loss of these proteins, fine lines, frown lines or laugh lines appear on your skin.
Repeated facial movement like smiling and frowning also results in wrinkles. Facial expressions make forehead move and due to loss of collagen, your skin fails to spring back to its original state.
Free radicals, smoking, and pollution are also held responsible for premature aging wrinkles.
Is Botox Safe for Forehead Wrinkles?
Apart from using cosmetic creams and natural remedies, most people are now looking towards surgery to get rid of deep forehead wrinkles.
According to Medicalnewstoday.com 6 million people get botox treatment every year. (1) Botox involves injecting of botulinum toxin, which is very dangerous.
Now-a-days, the treatment is performed with very high safety profile. So it's safe for forehead wrinkles.
Anyways, not all would like to try this toxic over their skin. Home remedies are one of the best ways to prevent wrinkles.
How to Get Rid of Forehead Wrinkles without Botox
This cosmetic concern may seem to be immovable, but with patience and right home remedy you can treat them. Beauty creams claim to be more effective, but as they are incorporated with chemical ingredients it's not safe for your skin.
Below listed are home available ingredients that can treat forehead wrinkles.
#1 Castor Oil for Forehead Wrinkles
Regular massaging with castor oil will improve blood circulation and reduce wrinkles.
Ricinoleic acid packed in this oil help to hydrate your skin.
Antioxidant activity exhibited by castor oil prevents oxidative stress and thwarts free radicals.
Assorted nutrients in the oil penetrate deep into the skin to enhance collagen and elastin production.
Hydrating ability of this folk remedy help to reduce wrinkle and frown lines.
How to Use:
Wash your skin and pat dry with soft cloth.
Take 1-2 drops of pure castor oil and gently massage over the forehead.
Leave it to dry naturally.
#2 Flaxseed Oil for Forehead Wrinkles
Fatty acids residing in this oil help to moisturize and tighten the skin. Antioxidant agents housed in flaxseed oil thwart free radicals and reduce wrinkles.
Omega-3 fatty acids residing in flaxseed oil exhibit antioxidant property.
How to Use:
Internal consumption of this oil can be able to thwart free radicals.
Grind 1 teaspoon of flaxseed into a smooth
Add 3 teaspoon of distilled water to the paste.
Now, apply the mask evenly all over the face and rinse it off with water.
#3 Coconut Oil for Forehead Wrinkles
Vitamin A, E and essential nutrients in coconut oil promote production of collagen and elastin.
Medium chain triglycerides and lauric acid residing in coconut oil guards your skin against UV rays and repair it.
Emollient ability of this oil locks moisture over the skin.
Antioxidants packed in it thwart free radicals that damage cell membrane.
How to Use:
Mix 1 teaspoon of organic coconut oil, raw honey, 1 tablespoon of milk with 1 egg white.
Apply the thoroughly mixed mask over prewashed face.
Rinse it off with water after 20 minutes.
Milk consists of lactic acid that helps to tighten your skin and remove impurities.
#4 Jojoba Oil for Forehead Wrinkles
B-complex vitamins and vitamin E residing in this liquid wax help to heal minor burns and reduce wrinkles.
Vitamin E housed in it protects your skin from UV rays and reduce oxidative stress. Gamma linoleic acids along with other essential fatty acids promote collagen production to make your skin firm.
How to Use:
Take 3 teaspoons of aloe gel and mix 1 teaspoon of jojoba oil to it.
Wash your face and apply this mask evenly all over the face.
Allow it to dry naturally for 20 minutes and then rinse it off.
#5 Almond Oil for Forehead Wrinkles
Antioxidants and vitamin E residing in almond oil can effectively fight wrinkles and thwart free radicals.
Omega-3 fatty acids housed in this oil hydrates your skin, which is essential to prevent wrinkles. Assorted nutrients in almond oil promote collagen production make your skin firm.
How to Use:
Wash your face to remove impurities and pollutants.
Take few drops of pure almond oil and start gently rubbing it over the skin.
Allow it to dry naturally.
Best time to try this recipe is before going to bed.
#6 Egg White for Forehead Wrinkles
Protein packed in egg white improves the elasticity of your skin. It's cleansing ability help to remove excess oil and dead cells from the skin.
Albumin and magnesium in egg white reduce wrinkles and slows down the aging process.
How to Use:
Add 1 egg white, 1 tsp of glycerin and 1 tablespoon of gram flour.
Whisk the mixture till you obtain a smooth
Now apply this mask on prewashed face.
Rinse it off with water after 20 minutes.
#7 Aloe Vera Gel for Forehead Wrinkles
Aloe gel is packed with vitamin A, B, C and E. This sticky gel is prominent for its healing and cooling properties.
Antioxidant ability of aloe gel reduces oxidative stress to prevent wrinkles. Malic acid in this gel can improve the elasticity of your skin and its topical application can lock moisture over the face.
How to Use:
Take 2 tablespoons of aloe gel and 1 egg white.
Mix them thoroughly and apply the mask on prewashed face.
Allow them to dry naturally for 15-20 minutes.
Rinse it off with lukewarm water.
#8 Petroleum Jelly for Forehead Wrinkles
Renowned for its moisturizing abilities, petroleum jelly is found in every home. According to University of Maryland Medical Center, topical application of Vaseline will not erase wrinkles but reduce its visibility.
How to use:
Take required amount of petroleum jelly and apply it on the forehead.
Massage gently so that your skin can absorb it.
Leave it to dry naturally.
#9 Manuka Honey for Forehead Wrinkles
Prominent for its healing and humectant abilities, manuka honey is derived from flowers of manuka tree.
Antioxidant, anti-inflammatory and assorted vitamins packed in manuka honey make it an effective remedy to prevent wrinkles.
How to Use:
Wash your face with lukewarm water or expose your face to steam. So that blocked skin pores open up.
Pat dry and apply few drops of manuka honey on your face.
Allow it to dry naturally for 20 minutes.
# 10 Yogurt for Forehead Wrinkles
In this forehead mask, you can add brown sugar, vitamin C powder, and aloe gel.
Yogurt is an alpha hydroxy acid and effectively cleanses dead cells. Brown sugar is also known for its exfoliating ability.
Vitamin C in this recipe promotes collagen production, which is essential for elasticity.
How to Use:
Take 6 tablespoons of plain yogurt, 3 tbsp of brown sugar, 2 tbsp of vitamin C powder and 2 tbsp of aloe gel.
Mix all these ingredients and gently apply it over prewashed face.
Massage in circular motion for exfoliating your skin.
Allow the mask to dry naturally for 15-20 minutes.
Rinse it off with normal water.
Important Tips on How to Get Rid of Forehead Wrinkles without Botox
Botox is costly and everyone can't afford it. Home remedies are the best way to prevent wrinkles.
However, these recipes alone can't help your skin. You must change your lifestyle and supply enough nutrients to your skin internally.
Drink enough water regularly to hydrate your skin from inside.
Avoid beauty creams with the excess chemical component.
Ingredients that irritate your skin must be avoided.
Ingest vitamin rich foods and fruits.
Avoid excess exposure to sun rays, wear sunscreen or cover your face with a cloth.
Do regular exercise to improve overall health.
Avoid stress, as it results in skin ailments.
Consult a dermatologist for suggestions.
Apart from natural remedies, you can try chemical peels at home to prevent forehead wrinkles.