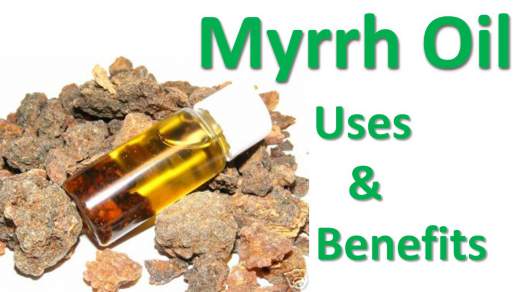 Who doesn't want to look younger and own a bright, clear, and an acne-free skin?
If you are reading this article, I bet you are in search of a miraculous remedy that can trash away the acne marks, fight pimples, and make your skin wrinkle free. Here you'll learn about benefits of myrrh oil for skin.
Well, ladies, we've got you covered with an excellent solution to your acne problems. You can actually fight acne by using natural ingredients and look younger just by sneaking some ingredients out of your kitchen shelves.
Well, before we dive into listing wonderful recipes, let me ask one question; Have your heard of myrrh essential oil?
If yes, you already have dug a treasure, and if not, you're one step away of learning about the best ever anti-acne and anti wrinkle oil.
Myrrh has been used traditionally as an antiseptic, toothpaste, gargle, mouthwash etc. It also has some liniment and healing properties and can be proved effective in wound healing.
Myrrh Oil is holy and traditional oil with very important medicinal properties. It has been in use for different purposes for a very long time. This important oil might be very helpful in a lot of diseases and skin-troubles like acne-fighting and wrinkle removal.
It can help you get back an acne free skin if you include it in your daily regimen. But before we scan through the homemade recipes of myrrh oil for acne, let's know more about this oil.
10 Benefits of the Myrrh Oil for Skin, Acne & Wrinkles
#1 Anticancer Property
Some recent studies and researches are claiming that Myrrh Oil probably have some anticancer attributes. According to some well-known researchers, during different clinical researches, Myrrh Oil was found reducing the replication as well as proliferation of human cancer cells.
These are the initial claims and more researches are in process. But any sort of hint of being an anticancer can be very helpful for the future of cancer treatment.
#2 Antibacterial, Anti-fungal and Anti-Parasitic
Myrrh oil has been used traditionally to treat wounds and has been proved as an excellent antibacterial and anti-fungal.
There are some external medicines made using myrrh oil and are able to decrease some parasitic infections.
Also read: 17 Benefits of Moringa Oil for Skin & Acne
#3 Useful for Fighting Acne Breakouts
Direct application of myrrh oil on the skin can cure a lot of skin problems from soothing cracked skin to moisturize the dry skin. It can be proved handy to prevent ageing of the skin.
#4 Prevention of Oral Infections
Myrrh oil also have anti-inflammatory properties and can reduce the various types of inflammation including inflammation of the gums. Its antibacterial properties can also cure mouth ulcers.
#5 Provides strength to different internal and external organs of the body
Being an astringent, it strengthens the different parts and organs of the body like muscles, gums, intestines, also smoothen the skin.
It can also prevent hair loss by providing strength to the roots of the hair. Its direct application on the wound can reduce the flow of blood to a great extent.
#6 Reduces the severity of cough
Myrrh oil is also very effective in cough and cold. Its ability to fight the viral infections & more importantly, the ability to cease the causes of the infections makes it effectively curable in cold and cough.
#7 Stimulation of the Nervous System
It is capable to stimulate the nervous system. Helps to keep the nervous activities in balance. And hence is very useful in the treatment of nervous patients. Myrrh oil can be proved handy to keep you active and alert.
#8 Anti- Catarrhal Ability
It has the capacity to control the excess secretion of the mucus and phlegm. Excessive mucus secretion may be associated with some serious troubles like breathing disturbance, congestion of respiratory tract and chest, heaviness of the chest and cough. Myrrh oil reduces the mucus secretion and therefore very essential for all kinds of respiratory problems.
#9 Improves Perspiration
The process of sweating or perspiration is very important for being healthy.  With this process, some unnecessary substances along with toxins get out of the body.
Due to some factors, the process of perspiration gets disturbed. Myrrh oil removes these factors and works as a cleansing agent and hence it increases the process of perspiration.
#10 Stimulation of Blood Circulation
Due to its cleansing property, Myrrh Oil removes all the impurities from the blood and makes sure the proper oxygen supply to the blood and hence improves the blood supply to all parts of the body.
Also read: Home Remedies for Glowing skin in Summer
How to Use Myrrh Oil for Skin, Acne & Wrinkles?
Due to its incredible history and some extraordinary properties, Myrrh Oil can be very useful for different health purposes. In this segment, you will get some ideas about the recipes of Myrrh Oil and their proper uses.
Myrrh Oil for Acne:
Myrrh oil has been used to treat skin problems for a long time now. It is very handy to treat wounds, scars, skin irritations, acne and eczema. It's anti-inflammatory and anti-bacterial properties makes it a great remedy for acne.
If you want to get rid of acne permanently, use Myrrh Oil as told in the recipes above. Myrrh essential oil for skin can treat acne in quick time and increase the tonicity of the skin.
#1. Rollerball to remove pimple marks
Ingredients:
3 Drops of Myrrh Oil
2 Drops Peppermint Oil
3 Drops Lemongrass Oil
3 Drops Clove Oil
2 Drops Frankincense Oil
2 Tbsp. Coconut Oil
Peppermint and Frankincense oil have vitamins A and C as well as some minerals. Clove has been in used for various medicinal purposes. Lemongrass is another amazing herb with lots of medicinal qualities.
How to use:
Mix the oils mentioned above properly.
Transfer them in a bottle having rollerball top.
Add a little quantity of coconut oil again.
Use the rollerball to apply the mixture over the scarred area daily for surprising results.
#2. Acne Relief Balm
Ingredients:
6 Drops Myrrh Oil
10-12 Drops Lavender Oil
25-30 ml Almond oil (Olive, Coconut, Jojoba can also be used) as a carrier oil
Extracted from certain lavender plants, Lavender oil have some exceptional health benefits. It can eliminate acne scars, improve blood flow, and treat skin troubles. Due to its antibacterial quality, it can heal the acne skin in quick-time.
How to use this recipe in injury:
Mix the Myrrh and Lavender oil properly in a bottle.
Add the carrier oil in balanced quantity.
Shake the bottle well to mix the solution properly.
Now apply directly on the acne prone area.
Related post: Best Skin Care Tips for 40 Year Old Woman
#3. Oil Mixture for treating Acne Scars
Ingredients:
5 Drops Myrrh Oil
10-12 Drops Helichrysum Oil
6 Drops Lavender Oil
8 Drops Lemongrass Oil
4 Drops Patchouli Oil
Helichrysum Oil is extracted from medicinal plant Helichrysum. Due to its anti-inflammatory and antioxidant properties, it is very beneficial in a lot of health problems. Patchouli Oil can be very handy in lots of health related problems due to its properties as an antidepressant, antiseptic, astringent, deodorant and much more.
How to use:
Take a suitable carrier oil in a small dropper.
Add all the oils mentioned above one by one.
Shake the bottle slowly and steadily for a couple of minutes.
Apply directly on scars for surprising results.
#4. A solution for acne breakouts
Ingredients:
15-20 Myrrh Oil
2 Vitamin E Capsules
15-20 Lavender Oil
Known as fat soluble vitamin, Vitamin E have numerous benefits. From being an antioxidant, to prevent free radical damage and naturally slowing ageing, it is a much needed vitamin for us.
How to use:
Add myrrh and Lavender Oil in a small dropper.
Empty the vitamin E capsules into it.
Add any carrier oil.
Shake well before use and apply the solution over the face.
#5. Myrrh oil with Rose water
Ingredients:
7 Drops Myrrh Oil
9 Drops Rose Water
Approx. 1 cum Almond Oil.
Rose water has a pleasant fragrance. Its anti-inflammatory property can reduce the redness of irritated skin, can be a good treatment for acne, dermatitis and eczema.
Almond is known for its anti-fungal, diuretic, antiseptic and sedative properties. It also improves the health of heart, also known for stimulating libido.
How to use:
Mix all the liquids properly in small bottle.
Add almond oil to fill it.
Shake the bottle gently to mix the ingredients.
Place the bottle in a dark place for a day.
Apply it over the acne marks or pimples every night.
#6. Myrrh Oil for Wrinkles
Anti-ageing is the best quality of Myrrh Oil. It can be extremely handy to remove the wrinkles and very helpful in reducing the speed of ageing. The main cause of premature ageing, some other factors like imbalance of proteins within the skin.
Myrrh Oil, due to its antioxidant properties can treat wrinkles greatly and can be proved more than handy to prevent ageing.
Must read: Is Castor Oil Good for Wrinkles?
#7. Myrrh oil with Beeswax
Ingredients:
5 Drops Myrrh Oil
5 Drops Lavender Oil
½ Cup Almond Oil
2 Tbsp. Beeswax
Lavender oil is very healthy because it contains unsaturated fats. Almond Oil is very important to keep skin healthy. It gently removes the debris from inside the skin and keeps it healthy. Beeswax is a great skin ointment. Its direct application on the skin maintains the tonicity of the skin.
How to use:
Melt the beeswax properly on low flame.
Add all the ingredients to heating beeswax and keep aside for a couple of minutes.
Store in a fresh glass container and keep aside for at least 2 hours.
Apply under your eyes and to your entire face.
#8. Myrrh Oil with Frankincense Oil
Ingredients:
1 Cup Myrrh Oil
1 Cup Frankincense Oil
4 Cups Carrier Oil
Frankincense oil has some amount of Vitamin E and is known to be a great anti-ageing oil. It removes free radicals from the body and hence can slow the ageing process.
How to use:
Mix the oils in a jar and let sit for a few hours.
Shake the jar once in a few minutes.
Store the mixture in a colored bottle
Apply directly to your face.
#9. Myrrh & Glycerin Soap
Ingredients:
2 Cups Glycerin Soap Base
2 Tbsp. Myrrh Oil
2 Tbsp. Frankincense Oil
Soap Mold
A couple of thin Gold Leaves
Glycerin is a great medication used to moisturize the skin. Glycerin when used with Myrrh oil can prevent the dryness and roughness of the skin and also restore elasticity of the skin. Application of myrrh oil for skin can reduce a lot of skin related problems including wrinkles.
How to use:
Place the soap base in the mold.
Keep the mold in a heat proof container.
Melt the mold in microwave.
Add 5 drops of Myrrh and Frankincense oil.
Add the gold leaves.
Transfer the mixture in another mold and keep in a cool place.
#10. Myrrh Anti-wrinkle Face Cream
Ingredients:
3 drops Myrrh Oil
5 Drops Frankincense Oil
½ Cup Coconut Oil
¼ Cup Vitamin E Oil
1 Tbsp. Beeswax
A very important part of Ayurveda tradition, Vitamin E oil can be very helpful in fighting pimple marks. It also have some extraordinary medicinal properties. The wonderful Coconut Oil benefits the skin and removes toxicities.
How to use:
Whip the coconut oil properly for a couple of minutes.
Make sure that coconut oil is not melted.
Mix all three oils properly.
Add melted beeswax and continue to whip until it is mixed properly.
Apply a small amount of cream on your face for a taut and wrinkle free skin.
#11. Myrrh oil with Cedarwood Oil
Ingredients:
5 Drops Myrrh Oil
5 Drops Frankincense Oil
5 Drops Cedar Wood Oil
5-8 Drops Orange Oil
Cedarwood oil  is used widely in aromatherapy and herbal medications for its antispasmodic, anti-inflammatory, sedative, diuretic, and antiseptic properties.
How to use:
Mix all the oils in a 2 ml dark glass bottle.
Roll the bottle between your palms to mix them thoroughly.
Add the mixture to a spray bottle.
And spray it over your face daily to get younger skin.
Myrrh Oil Side Effects
Experts have listed dozens of surprising myrrh oil benefits. Despite of all the great qualities of Myrrh Oil, it also have some side effects like most of the medicines and you must consult your physician before starting its usage.
May Upset Stomach
Due to internal use, it may upset the stomach and cause diarrhea. Diarrhea is not a serious issue, but if not treated properly, it may go to the chronic stage and may cause dehydration. Loss of body fluid can be very harmful especially for children and old age people.
Cardiovascular Troubles
Myrrh Oil sometimes can decrease the blood pressure, especially after overdose. Lowered blood pressure can cause some serious problems like weakness, endocrine problems, low blood sugar level, dehydration etc.
May Cause Uterine Contractions
It is not suitable for pregnant women, because it may cause the uterine contractions. The shortening and tightening of the uterine muscles can be proved dangerous, especially during labor. It also can be disturbing factor during the child birth.
Interaction with anticoagulants
People using anticoagulants should avoid the usage of Myrrh Oil as it has great interaction with them and can cause serious trouble. Diabetic patients taking medications for diabetes should also avoid the Myrrh Oil. If you still want to use the Myrrh Oil, you must consult your physician before starting its usage.
Can be proved harmful just after a surgery
Myrrh Oil have the ability to affect the blood glucose levels. Blood glucose control during and after the surgery is very important. It may hamper the blood sugar level during that period and may cause some serious trouble.
What is Myrrh Oil?
Myrrh is an aromatic gum resin having a slightly bitter pungent taste collected from a tree called Commiphora abyssinica (from the family Burseraceae & native to eastern Africa and Arabia).
This oil is of great value in history and tradition and has been in used as incense, perfume, and medicine. One can have an idea about its importance in the history from the fact that it was mentioned in Bible for as many as 152 times!
There have been continuous clinical researches about this oil because it has some properties which are giving some sort of hints that it may become a great remedy to treat cancer. Being a great antioxidant, it can also very useful in parasitic infections.
Now that we've got you covered with all benefits, possible side-effects, and recipes of using myrrh oil for skin, it's on you to choose the most suited recipe. Do try them and let us know about your experience in the comments below.