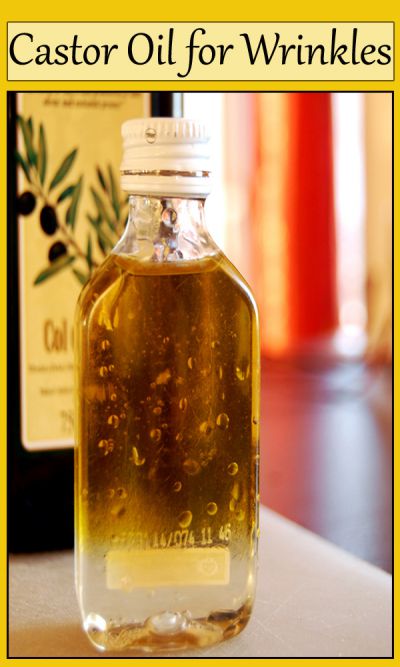 Many things join you as you become older. Few things are admirable and other things ignorable. This write-up is about using castor oil for wrinkles.
With age inner layers of the skin shrink and become thinner. Eventually fine lines appear when your skin starts losing elasticity and firmness. Natural ingredients come as a saver to retain the lost flexibility and make the skin supple.
Unfortunately, many people turn towards expensive beauty creams to fight under eye and forehead wrinkles. Not just being expensive, these cosmetic products can irritate your sensitive skin.
There are many anecdotal reports claiming that repeated use of beauty products resulted in dependency and they lost natural elastin of the skin.
However, there are few stores bought cosmetic products with good reviews.
What Causes Wrinkles Under Eyes & Forehead?
Apart from aging, you may develop premature wrinkles that ruin your aesthetic look.
Repeated facial expressions like frowning and smiling may result in fine lines. Mayo Clinic further states with every facial muscle movement, a groove forms under the skin surface.
In younger people the skin springs back, but as you grow older it loses its elastin and result in permanent grooves.
There are many internal and external factors like UV rays, pollutants, smoking, alcohol consumption and low vitamin diet can results in wrinkles on forehead, neck and under eyes.
Before you dwell on the exact process of using it over the skin, let me highlight its nutritional bounty.
Must Read: Is Olive Oil Good for Wrinkles?
Is Castor Oil Good for Eye Wrinkles?
Wrinkles under eye or forehead make you look older. You can't blame age for everything. Sadly, many youngsters face this cosmetic issue.
Beauty experts hold smiling, smoking, muscle movement, sun damage, injury, surgery, and acne as common causes of wrinkles. Genetics and hereditary also impact the formation of aging wrinkles. (1)
Topical application of castor oil will help to penetrate deep into the skin to stimulate collagen production and encourage elastin formation, which in turn will help to reduce wrinkles.
Hydrating property residing in castor oil helps to lock moisture in the skin.
Due to its unique property, this yellow colored oil easily penetrates into the skin to enhance collagen production, which improves skin's elasticity. (2)
With regular application, fatty acids packed in it lighten the appearance of dark spots and scars.
Healing properties housed in this natural oil reduce inflammation and protects your skin from harmful UV rays and impurities.
Nutrients in castor oil reduce the appearance of forehead wrinkles and fine lines under eyes.
Ricinoleic acid residing in this thick oil help to restrain acne infection. This ability helps to relieve your skin from chronic skin ailments.
As mentioned above, fatty acids present in castor oil hydrates your skin and eliminate common ailments that are associated with dry skin.
Regular application of castor oil can help to prevent stretch marks, as it improves your skin's elasticity.
Omega-3 fatty acids in it stimulate regeneration of healthy tissues to make the skin supple and flawless.
Fatty acids housed in this folk remedy helps to fade scars and wrinkles by promoting healthy tissues.
The skin under eyes is very thin and fragile. So it's no surprise that wrinkles or fine lines appear due to various factors.
Some people may think about safety before using castor oil for eye wrinkles. It's good, as there are some toxins in it that can be fatal.
However, you can use it internally and under eyes safely. (Check with your doctor before ingesting if you're pregnant)
Historians state that castor oil has been used for healing and cosmetic benefits by Egyptians. It has been claimed that famous beauty Queen Cleopatra used castor oil to enhance her beauty. (3)
How to Use Castor Oil for Wrinkles?
Unlike your fragrance incorporated beauty creams, castor oil has a smoky odor. However, benefits of this oil extracted from beans of castor can't be ignored.
You can directly apply this thick oil over the face or dilute it with a carrier oil to make it easy for topical application.
Below given are different methods to use this home available remedy. Pick the one that works best with your skin.
#1 Castor Oil to Cleanse
We all knew that our skin is being exposed to many impurities and pollutants. Apart from that, your skin sheds thousands of dead cells. This is why exfoliating is an important aspect of skin care.
Take required amount of castor oil and apply it over the skin. After few minutes, gently rub using a cotton ball and rinse your face with water.
You can apply rose water to get rid of the odor.
#2 Coconut Oil and Castor Oil for Under Eye Wrinkles
Vitamin A and E packed in coconut oil enhance collagen production that makes your skin firm.
Emollient property of coconut oil helps to moisturize dry skin and prevent sagging skin.
Like castor oil, coconut oil protects your skin from harmful UV rays.
Mix 2 drops of castor oil with few drops of pure coconut oil.
Wash your face with water and pat dry.
Using your clean fingers apply the mask under eyes and leave it to dry naturally.
Make sure, that mask doesn't enter your eyes.
#3 Lemon, Honey, and Castor Oil
Topical application of diluted lemon juice can help to tighten skin pores and reduce the appearance of fine lines.
Vitamin C packed in it promotes the production of collagen to improve elasticity, which further helps to make the skin firm.
Bleaching property and acidic activity of lemon juice lighten the appearance of dark spots, wrinkles and cleanse your skin from impurities.
Honey, is prominent for its healing benefits. Even religious scriptures and historical books back honey for its exceptional nutritional benefits. Topical application of honey can make your skin youthful.
Mix 1 tablespoon of raw honey with the required amount of castor oil.
Add few drops of lemon juice to the solution.
Mix thoroughly and apply it over prewashed face.
Make sure you apply it on the forehead, under eyes, and around the neck.
Rinse it off after 15-20 minutes.
#4 Turmeric and Castor Oil for Forehead Wrinkles
Antioxidants agents in turmeric powder help to thwart free radicals that may result in wrinkles. (4)
It also helps to remove impurities and provide your skin with essential nutrients.
Take 1 tablespoon of castor oil and add a pinch of turmeric powder to it.
Wash your face and pat dry as usual.
Now, gently apply this mask over the forehead and over the face.
Rinse it off with water for 15 minutes.
Note: Turmeric leaves yellow stains on your face, which fades in few hours. So start with a small amount.
#5 Castor Oil and Aloe Vera
Moisturizing, collagen building and healing properties of aloe vera gel can reduce wrinkles.
Topical application of this gel helps to remove impurities and enhance the elasticity of the skin. Vitamin A, B, and C housed in aloe promote youthful and radiant skin.
Take one fresh aloe vera leaf from the garden or borrow from a neighbor.
Peel its skin and collect the gel.
Mash the gel to make a smooth
Now add castor oil to the gel and apply it over prewashed face.
#6 Castor Oil and Egg Yolk
Vitamins and minerals present in egg help to enhance collagen production and albumin in it prevent wrinkles.
Take 1 teaspoon of castor oil and mix it with 1 egg yolk.
Mix the mixture thoroughly and apply it over the face.
Leave for 10-15 minutes and then rinse it off.
You can apply rose water to get rid of the foul smell on the face.
#7 Castor Oil for Moisturizing
Renowned for its hydrating properties, mix pure castor oil with olive oil and apply it over the face.
Add this natural remedy to your beauty regimen and apply it before going to bed.
People with dry skin can try 6 drops of sesame oil with 2 drops of castor oil.
Oily skin people are advised to use 2 drops of castor oil with 6 drops of jojoba oil.
You can replace olive oil with grapeseed oil.
#8 Vitamin E Oil with Castor Oil
Antioxidant ability exhibited by vitamin E oil helps to reduce oxidative stress that further contributes to thwart free radicals.
A journal published on 2015 states that oxidative stress plays major role in aging your skin.
So, topical application and internal consumption of vitamin E supplement can effectively reduce wrinkles.
Mix 1 tablespoon of castor oil with one vitamin E oil capsule.
Wash your face to remove impurities and pat dry.
Now, apply the obtained mask on your skin in circular motion and then leave it to dry naturally.
#9 Potato and Castor Oil for Neck Wrinkles
You can use this recipe on forehead and under eyes too.
We all know about the delicious dishes that can be made from potatoes. But, very few of among us knew about its cosmetic benefits.
Potato is packed with essential compounds that are needed for youthful skin.
Starch effect of this vegetable can lighten the appearance of scars and its vitamins promote healthy skin.
Also read: Is Potato Face Mask Good for Skin?
Blend or mash potato and obtain its juice.
Mix 1 tablespoon of potato juice with 1 tablespoon of castor oil.
Apply thoroughly mixed ingredients on your face, forehead and on around neck.
Allow it to dry naturally for 15-20 minutes and then rinse it off with water.
Tips on Using Castor Oil for Wrinkles Under Eyes and on Forehead
Make sure you aren't allergic to castor oil.
It's recommended to patch test before applying over the face.
Use sunscreen cream of SPF 15 while going out in sun.
Avoid smoking, alcohol and long exposure towards TV or computer screens.
Prefer only pure castor oil to reap all nutritional benefits listed.
Pregnant women must consult a physician before ingesting this natural oil.
Apart from topical application, drink enough water and ingest vitamin rich diet.
Did you ever use castor oil for wrinkles? Share your recipe in comments.