Who doesn't want to own a radiant and blemish free face? Read on this article to know uses of lemon essential oil for skin lightening.
It's almost every woman's dream to have a healthy, glowing, and crystal clear skin, which is why they are tempted to use a variety of cosmetic products for beauty enhancement.
But are they really worth it?
Of course, NOT!
The harsh truth is that most of these beauty creams and cosmetic products have plenty of side effects, and temporary results.  If you want to naturally brighten your skin for a lifetime, then lemon essential oil is a big solution for you.
Lemon is always known for treating with skin problems. It contains various nutrients which are very helpful in solving our skin problem. Lemon, the yellow fruit is awesome for skin and best for its bleaching properties.
The essential oil is always better than other natural oil as they don't contain a fatty acid, unlike other oils. They have antimicrobial anti-inflammatory property, and cast long-term effect on the skin complex.
Stay with me, for we will cover up the solution of your problem and reveal how lemon essential oil is best for skin lightening.
Also read: Does Turmeric Lighten Skin?
7 Culprits that Causes Dark Spots
Whether you name the dark patches on your face as dark spots, or give this process a term called hyperpigmentation, one thing that is certain is that nobody fancies their appearance on their face.
Spots and blemishes can be of various types, resulting either due to acne or sunburn. Let's see what the main causes of dark spots or hyperpigmentation are.
1. Sunburn – When you leave out without putting a sunscreen on your skin on a bright sunny day, the melanin production increases on exposure to sun, which is the most important causes of hyperpigmentation.
Sunburn also causes age spots and freckles on the skin. It is one of the main reasons for uneven patches and dark brown patches.
2. Medications – There are certain medication which causes dark spots on a human body. These medications make our skin so sensitive that our skin starts forming pigmentation even in rare sun exposure.
Even some medicines also make dark spots without sun exposure. These medicines can cause photosensitivity and discolorations. These medicines are like estrogen, tetracycline, sulfonamides, phenytoin, nystatin, minocycline and chloroquine.
3. Pregnancy-   Pregnancy is a beautiful phase of every woman's life but as the gestation period progresses; the blemishes and dark spots cover the skin. These marks of pregnancy are known as chloasma.
Mostly marks are visible on the abdomen, other than, dark spots also appears on the forehead, face underarms etc.
The reason behind these marks is it as during pregnancy time our body produces more hormone which leads pigmentation. However, these dark patches fade away naturally after few months but it's not necessary for every time and with everyone.
4. Disease- When our adrenal gland unable to produce enough amounts of aldosterone and cortisol hormone, our tissue and organs are affected. It results in dark patches start appearing on our skin.
This disease is known as Addison disease other than this, autoimmune disease, gastrointestinal disease are also responsible for dark patches.
5. Pollution– When we live in the polluted environment, our skin produces too much melanin to fight for this pollution, it can cause reddish-brown spots on our skin. Especially air pollution irritates our skin.
6. Acne –Generally acne marks fades away naturally but some acne leaves strong marks on the skin. These marks are brown or black in color.
7. Genetic– Hereditary factor is also responsible for dark spots on the skin. They affect melanin production of our skin.
Is Lemon Essential Oil Good for Skin Whitening?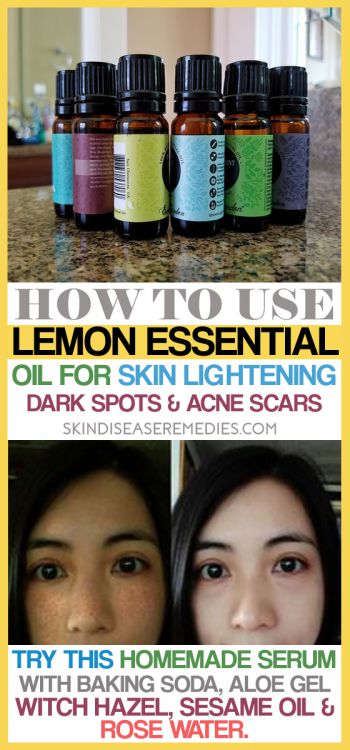 Lemon has long been known as a natural skin bleaching element as it contains important ingredients, citric acid, limonene, vitamin C, photochemical as tannins and polyphones.
These elements are enough for solving dark spots problems of skin. It makes our skin brighten and lighten. So by knowing the property of lemon juice we can understand what essential lemon oil can do.
Essential lemon oil is made up of fresh peels of lemon. Cold pressing method is used for making it.
Lemon essential oil has anti-inflammatory and antiseptic properties which are helpful in reproducing damaged melanin cells.
These oils have Vitamin C, an element beneficial for healing of the skin. It removes rough patches from the skin.
These are known for removing extra oil from the skin. Lemon essential oil has astringent property which prevents excess sebum production and makes skin fresh.
Lemon oil acts against premature skin ageing. Components like Vitamin C and citric acid remove the free radicals of skin.
Lemon essential oil is very helpful in blood circulation in the skin. And it also helps in the production of collagen.
Lemon essential oil also fights against acne spots.
It has antioxidant properties to help the acne scars fade away.
It also helps for toning of the skin.
Must read: Ayurvedic Beauty Tips for Glowing Skin?
How to Use Lemon Essential Oil for Skin Lightening?
The regular use of lemon essential oil can give you a blemish-free face and a radiant face. There are several homemade methods which can be used for skin care. Have a look how Lemon oil can be used to lighten skin.
#1 As a Face Mask
Yogurt contains lactic acid which has bleaching property while orange peel and lemon essential also have same bleaching property. They also contain vitamin c which is very beneficial for skin lightening. One of very trendy DIY is below:
Take one teaspoon of orange peel powder, 2 teaspoons of thick Greek yogurt and 4 drops of lemon essential oil
Mix these ingredients.
Stir it well. Mask is ready.
Now apply this mask to your face.
Leave it for 10 minutes and then rinse off with clean water.
Use this mask twice in a week for better results.
Don't miss this: Is Yogurt Good for Skin Whitening?
#2 As a Moisturizer
One can lighten their skin tone and get rid of dark spots by adding lemon essential oil in their daily moisturizer.
Add one drop of lemon essential oil on your regular moisturizer.
Add this method to your beauty regime.
If you want more easily other then this we can add 10- 15 drops of lemon essential oil on 100 ml moisturizer and use it daily.
This mixture is really a soothing moisturizer. It whitens the skin as well as moisturizing it at the same time.
#3 As a Face Toner
Toner is an important part of our beauty regime as it cleans our skin. It shrinks all the small and big pores of our skin and removes the oil from our skin. 
During winters, when your skin becomes dry and dull, don't forget to use lemon essential oil for skin whitening. Using lemon essential oil as a facial toner will not only lighten your skin but also clear away all the dirt
Moreover, this facial mist rehydrates the skin and makes it supple. Here's how you can make a skin toner at your home:
Take half cup of rose water and a half cup of witch hazel.
Mix both ingredients well.
Now add 10 drops of lemon essential to it.
After face wash, apply the toner on your face with the help of cotton pad.
You can store this toner by using amber glass bottle which should be sterilized.
#4 As a Face Wash
If you really want to get the best out of lemon essential oils, try using them as your morning face wash.
Put one drop of lemon essential oil on your face wash gel.
Mix it well.
Rub this mixture gently on your skin.
Rinse with clean water.
Use it daily to lighten your skin
#5 As a Scrubber
Baking powder is an excellent face exfoliator, which removes dead and dry cells off the face. It is also known as a very popular scrubber.
Add 2 drops of lemon essential oil on 1 teaspoon of baking soda.
Mix these ingredients well.
Apply it to your wet face and scrub with it by 20 minutes.
Then Rinse off with warm water.
Related: Coffee Grounds to Lighten Skin.
#6 As a Social Mist
Aloe Vera is a most versatile anti-ageing natural agent that has long been known for soothing, healing and moisturizing the skin
Take half cup of rose water, 2 teaspoons of Aloe Vera Gel.
Mix both of these ingredients well.
Add 20 drops of lemon essential oil to this mixture.
Take one spray bottle and put the mixture in this.
Shake it well.
Use it many times on a day for making skin fresh and lighten.
#7 As Facial Steaming
Steaming is always helpful for opening the skin pores and removing the dead cells from the face. After adding lemon essential oil in hot water, it also helps to lighten the skin shade.
Add 2-3 drops of lemon essential oil in 4 cups of steaming water
Take a stream.
#8 As a Serum
To lighten scars, use sesame and lemon oil for skin lightening.
Sesame oil is very beneficial for skin nourishing as it is rich in antioxidants. Sesame oil and lemon oil is an awesome combination.
Take half cup of sesame oil.
Add 20 drops of lemon essential oil in it and stirs it well.
Use this serum daily for increasing your beauty.
Above mentioned recipes and their effective results are the proof that lemon essential oil can significantly help in skin lightening. So, add lemon essential oil in your daily beauty regime to make your skin clear, clean and charming.
Share with us your experience of using lemon essential oil for skin lightening in the comment section below.