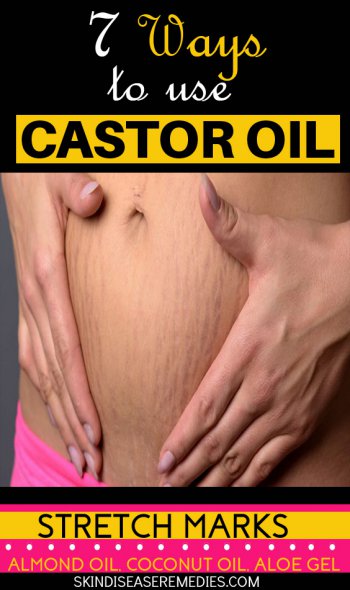 8 out of 10 women will get striae at some point of time. In this article, you'll know how to use castor oil for stretch marks.
Your skin stretches due to puberty, pregnancy or sudden weight gain, which results in breakage at different places.
Red colored vertical lines or marks can be seen over epidermis. But, as the time passes stretch marks turn silver white. These annoying scars though aren't associated with any health ailment people want to get rid of them out of cosmetic concern.
Before you proceed, one thing you must know that you can't permanently treat stretch marks. Using media promoted cosmetic products and home available natural remedies you can lighten their appearance.
How Do You Get Stretch Marks?
Like I mentioned above, due to some factors like pregnancy, puberty, sudden gain or loss in weight and hereditary, with this rapid growth dermis layer fail to stretch accordingly to meet the pace.
Thus, it breaks at different places, which you can be visible on the upper layer of the skin.
Place where stretch marks occur include tummy, breasts, thighs, shoulders, and buttocks.
The rapid growth of skin is the main reason why you skin tears. Dermis layers, which is strong and inter-connected with fibers stretch as your skin grows. But, in case of rapid growth, it fails to expand accordingly leading to breakage. (1)
Is Castor Oil Good for Stretch Marks?
Most of us are exposed to media promoted beauty products, who claim to treat most of over skin ailments. But, as they also include chemical ingredients that can do more harm than good, beauty experts prefer natural homemade recipes.
Does castor oil work on old stretch marks?
Yes, repeated use of this oil can show you some positive results.
Castor oil has abundant benefits for health, eyes, hair, and skin. Except for its smell, I love to use castor oil on my hair and skin, as it's packed with essential nutrients.
Let's now dwell into its benefits for the skin.
Ricinoleic acid housed in castor oil exhibits anti-inflammatory, antiseptic and moisturizing properties.
This sticky oil has fatty acids that can improve the elasticity of the skin and prevent breakage of dermis layer.
Essential fatty acids penetrate into deeper layers of the skin and enhance the growth of broken tissues.
Renowned for its hydrating property, topical application of castor oil forms a protective layer over the skin and banish wrinkles.
Experts say that ricinoleic acid is the main ingredient in castor oil that can fade stretch marks and improve your skin texture.
Antibacterial and antiseptic abilities housed in this folk remedy can thwart bacterial infection present in stretch marks.
Assorted nutrients in this oil help to make your skin firm and make it supple.
Not just stretch marks, this natural oil can reduce wrinkles, treat acne, reduce minor sunburns, fade scars, improve skin tone and enhance collagen production.
Also read: How to Get Rid of Stretch Marks Using Rose Oil?
How to Use Castor Oil for Stretch Marks?
Don't expect overnight results. Unlike cosmetic products, innate ingredients go deep into the skin and supply essential vitamins.
The excellent thing about these homemade recipes is that you can include or exclude other ingredients depending on your skin type.
#1 Castor Oil
Let's start with this simple recipe.
Heat castor oil up till becomes lukewarm.
Wash the affected part with a wash to cleanse impurities and topically massage the oil.
Leave it to dry naturally for 30 minutes and then rinse it off.
Wrap your skin with an unused cloth to avoid stains on clothes.
#2 Aloe Vera and Castor Oil
Aloe gel is renowned for its humectant and healing properties. Rich concentration of vitamins in aloe gel helps to lighten the appearance of scars, stretch marks, and cuts.
Vitamins in this home available ingredient can promote elastin and collagen production.
Application of aloe gel will rejuvenate your skin and make it supple.
Peel aloe vera skin and mash its pulp to form a smooth paste.
Add castor oil to it and mix thoroughly.
Heat the mixture until it becomes lukewarm.
Apply the mask over prewashed stretch marks.
Allow it to dry for 15-20 minutes and then rinse it off with water.
#3 Castor Oil for Stretch Marks After Pregnancy
As mentioned by researchers, 8 of 10 pregnant women develop stretch marks after and during pregnancy.
As the skin grows at a rapid pace, dermis layer tear at different places.
It is really hard to avoid them, but you can give it a try to minimize these vertical lines.
Here you'll need coconut oil and castor oil.
These ingredients promote elastin and collagen production. As the skin grows, dermis layer expands without breakage.
However, it's recommended to consult a physician before applying it on the skin.
Take required amount of coconut oil and castor oil in a bowl.
Wash the skin and pat dry.
When the skin is still damp, apply the oil mixture evenly over the skin.
After 30 minutes rinse it off and pat dry.
While vitamin E promotes healing of scars, monosaturated fats residing in coconut oil strengthen cell walls. Vitamin C also enhance collagen production.
Assorted vitamins and minerals in coconut oil prevent wrinkles and make your skin firm.
#4 Potato and Castor Oil
Though anecdotal reports claim potato juice can lighten the appearance of stretch marks. Experts say that it has very low impact on your skin. (2)
However, they also state that potato contains rich amount of vitamins that may help to reduce scars.
Well, you can give it a try, as they aren't associated with any serious side-effects.
Extract juice from potato by blending or grind it.
Now, add its juice with castor oil and apply on stretch marks.
Allow it to dry naturally for 20 minutes.
Rinse it off with water.
#5 Castor Oil and Almond Oil
Several anti-inflammatory and cell regenerative properties are packed in almond oil, which can help to get rid of stretch marks.
Some them include vitamin E, A, F, B2 and unsaturated fatty acids.
Mix 1 tablespoon of castor oil with 2 tablespoons of almond oil.
Cleanse the affected skin and pat dry.
Apply the mixed oil on the skin and allow it to dry naturally for 15-20 minutes.
Else apply before bedtime and rinse it off in the morning.
#6 Castor Oil and Oatmeal
Oatmeal is prominent for its exfoliating properties and cell regenerative abilities. Topical application of this mask can treat skin ailments and make the skin supple.
Mix 1 teaspoon of uncooked oatmeal with 2 tbsp of olive oil and 1 tbsp of castor oil.
Apply the obtained paste on your skin and allow it to dry naturally.
After 15-20 minutes, rinse it off with water.
#7 Castor Oil and Tea Tree Oil
Rich in vitamins and nutrients tea tree essential oil promotes collagen production and restrains infectious bacteria.
Also, add jojoba oil to dilute tea tree EO. Jojoba oil is known for its unique ability to unclog skin pores and trick skin to regulate sebum production.
Mix 1 tbsp of jojoba oil with ½ tbsp of castor oil.
Also, add few drops of tea tree essential oil.
Wash your skin and pat dry.
Apply this mixed oil on stretch marks and allow it to dry naturally.
Tips
If you experience irritation or mild allergic reaction after topical application of these recipes, then stop using it.
Avoid applying the oil on cuts and injuries.
Use only cold compressed castor oil, as it will be more effective on your skin.
Ingest vitamin-rich diet to improve elastin internally.
Omega-3 supplement can help you to improve skin functioning.
Drink enough water to hydrate your skin from the inside.
Did you ever use castor oil for stretch marks? Share your recipe and experience in comments.
Save