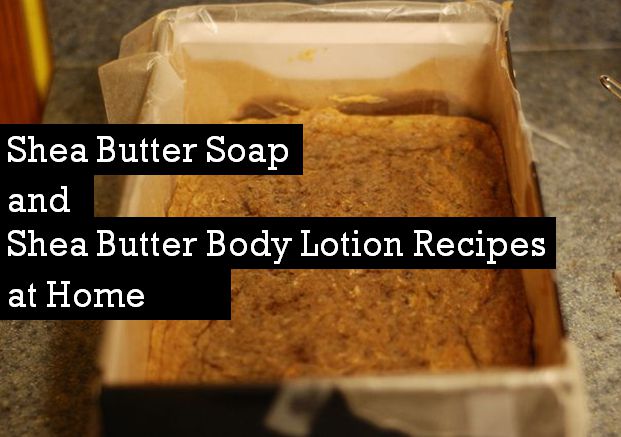 All over the cosmetic world praises for shea butter are sung because of its fascinating moisturizing and healing ability. Moisturizing elements in shea butter which are identical to elements in sebum penetrates into skin and hydrates it from the inside. Along with face shea butter lotion can topically applicable on other parts of the body.
While vitamin A, E enhances fast healing, antioxidant and anti-inflammatory properties in shea butter aids to treat acne, eczema, psoriasis, stretch marks and other skin diseases. It is non-comedogenic; mean it doesn't block pores, thus making it favorable for oily skin. Beauty experts suggest raw or unrefined shea butter, as refined shea butter has less healing properties.
Also read: Shea butter for Stretch marks
Shea butter is ivory colored fat derived from nuts of karité tree. Unrefined form is a bit strong and may hard to apply it over skin. For easy use, it's recommended to add essential oil or base oil and whip. There are numerous shea butter lotion recipes available over web and you can make your own recipe by blending your favorite oils.
How to Make Shea Butter Lotion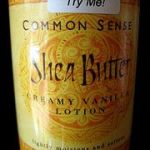 To make shea butter body lotion at home, you need shea butter, essential oil and an electric whipper. (Here we're sharing most simple recipe keeping all our users.)
Things you'll need
Raw shea butter – 1 lb or 0.45 kg
Essential oil (grape seed oil or virgin coconut oil) – 3 ounce (or 88.7 ml)
Vitamin E oil – 1 ounce (or 29.5 ml)
Fragrance oil and preservatives (optional)
Procedure to make shea butter lotion at home
Put a bowl on heat (microwave) and pour all ingredients, includes essential oil or base oil (vitamin E oil) and shea butter.
Don't make ingredients heat, we just want to melt slightly for easy blending.
Remove from heat and whip with electric whipper for about 1 minute.
Now add distilled water to it make lotion. Again whip it for 3 minutes. Then let it cool.
You'll get a thick cream, add fragrance or preservatives (not recommended) optionally.
Now it's ready, before applying it over prewashed face or skin, whip it for easy application.
Note: Overheating ingredients makes them lose healing properties
Don't miss : DIY Guide to make Shea Butter Face Mask
How to Make Shea Butter Soap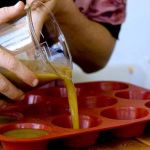 Because it rejuvenates skin, most people prefer shea butter soap; with this you can make your skin supple and inflammation free. It's simple to make your own shea butter soap at home.
Things you'll need
Castile soap – 1
Raw shea butter – 2 tbsp
Almond oil – 1 tbsp
Water and double boiler
Procedure
Fill half of the double boiler with tap water and grate your castile soap in inner double boiler.
Heat to melt the soap completely; now add almond oil and raw shea butter. Stir thoroughly.
Now pour the mixture in small plastic box to dry for several hours.
Obtained shea butter soap should be placed on dry rack for 3 weeks, turn regularly to avoid warping.
Wrap it in a plastic cover to preserve it for future use.
Share your views about this shea butter lotion and soap recipes in comments.
Image source , 2, 3