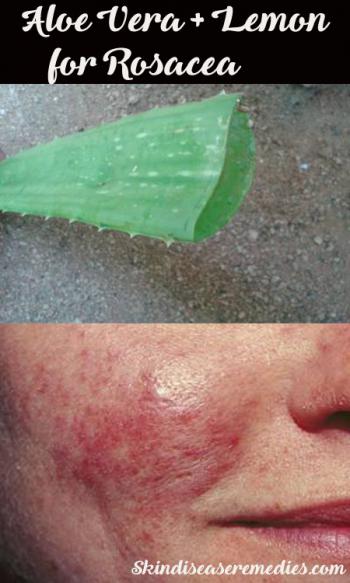 Rosacea is a skin ailment that commonly develops at the age of 20, but severe signs can be seen after 30 years. Redness, large bumps and in some cases visible blood vessels are seen on the skin.
Though there is no permanent cure for this chronic skin ailment, using aloe vera for rosacea will reduce flushing and restore skin barriers.
Jump to: Aloe vera and Rosacea
What Causes and Who Gets Rosacea on Face?
According to the US government people who've rosacea are mostly between the age group of 30 to 50.
Fair skinned people are prone to this ailment. People with another skin complexion may also experience these symptoms.
The main cause of rosacea is unknown. But studies show that genetics, immune system, stress, excess exposure to sunlight and infectious germs can trigger this ailment. (Source)
You may wonder why I shouldn't use cosmetic creams.
Media promoted cosmetic products include chemical preservatives along with natural extracts. In some cases, these harsh chemicals may actually aggravate rosacea condition.
If the products are more organic and include mild preservatives that go well with your skin, then you can use it. However, patch test before using it.
And if you're a natural lover, opt for aloe vera gel.
Related: How to Use vitamin e oil to treat rosacea
Benefits of Aloe Vera Gel for Rosacea (Why I should use it?)
Due to its immense nutritional value aloe plant has been prized to be effective healing remedy. Use it topically or ingest its gel with any juice, nutrients in this plant will leverage overall functioning of your skin.
Anti-inflammatory and soothing property exhibited by this gel will relieve inflammation and redness over the face.
The moisturizing ability of aloe gel will reduce dryness and sensitivity caused by this skin ailment.
Renowned for its healing properties, topical application of this gel will restore your skin barrier and treat rosacea symptoms.
Vitamin C and E housed in this natural remedy will have the ability to lighten blemishes, reduce aging and enhance collagen production.
When mixed with lemon juice this home remedy can lighten scars and large bumps left by rosacea.
Assorted nutrients in this gel will accelerate healing of rosacea flare-ups and reduce redness.
Antioxidant agents residing will thwart free radicals that can damage skin cells.
Add this safe and effective home remedy to your beauty regimen.
Note: Treating rosacea varies based on its triggers. Aloe gel may reduce or even cause an allergic reaction in some people, patch test before using it on the face.
How to Use Aloe Vera for Rosacea?
Simply peel aloe's leaf with a knife and rub gently over rosacea-affected skin.
Seems very simple?
To make it more effective you can blend other natural ingredients.
Aloe Vera Gel and Olive Oil
This moisturizing pack will hydrate, reduce inflammation and lighten redness over the skin.
Blend 1 teaspoon of aloe gel with ½ teaspoon of extra virgin olive oil.
Add 1 teaspoon of oatmeal and mix the ingredients thoroughly.
Wash the affected part with water to cleanse impurities.
Evenly massage the mask over the skin and leave it for 20 minutes to dry.
You can rinse it off after that.
Aloe Vera Gel and Lemon Juice for Rosacea
Antibacterial, bleaching, and other nutrients in this homemade mask will reduce bumps and stimulate cell growth.
Take fresh aloe gel and mix 3 drops of lemon juice it.
Gently massage the gel on the face.
Alternately, you can blend both ingredients and apply the paste on the rosacea affected
Vitamin E Oil, Witch Hazel, and Aloe Gel
This particular recipe is to protect your skin from harmful UV rays. Excess exposure to sunlight may trigger rosacea as mentioned above.
Mix required an amount of witch hazel, vitamin E oil and aloe gel paste in a bowl.
Apply it over prewashed face and rinse it off after 20 minutes.
Aloe and Honey
The combination of these both ingredients will effectively bring all necessary vitamins to your skin.
Swelling, itching, inflammation and redness can be reduced by this innate recipe.
Blend both ingredients and apply it over the rosacea-affected skin.
Soothing Moisturizer
Hydrating your skin is an effective way to treat skin ailments. With natural moisture, your skin will be able to thwart infectious germs and form a protective layer.
Mix almond oil, jojoba oil, aloe vera gel and other essential oil (few drops) in a bowl.
Apply the mixture over the skin and leave it dry for 20 minutes.
Green Tea and Aloe Vera Gel for Rosacea
This herbal tea can be used topically and it works great to reduce rosacea symptoms.
Blend water, green tea and some aloe gel to tighten skin pores, reduce redness and to get rid of acne like bumps.
Where to Buy Aloe Vera Gel?
To reap all benefits listed above, experts recommend opting for a fresh aloe plant in your garden.
If in case you don't have one, borrow it from your neighbor.
Else try these aloe vera gel products – Aubrey organics pure aloe gel, Ocean potion skin care aloe gel and Fruit of the earth aloe vera gel.
Factors that Trigger Rosacea Flare-ups
Foods include: Liver, yogurt, vanilla, avocados, citrus fruits, soy sauce, chocolates and eggplant must be avoided.
Hot baths, overheating, excess exposure to sunlight and saunas can trigger this skin ailment.
Stress, anxiety, frequent flushing, alcohol, chemical filled creams, certain medications and other factors can trigger this skin ailment.
Aloe Vera Side Effects
Excess use or in hypersensitive people ingredients in aloe gel can trigger an allergic reaction.
Anthraquinone is a compound found in the gel that can cause diarrhea, stomach cramps and dehydration if ingested. Other symptoms like hives, rashes and swollen skin can be experienced in some cases.
Important Points
Don't expect overnight results with aloe gel.
Along with this remedy include vitamin rich diet and avoid foods that can trigger rosacea.
Wear natural sunscreen cream while going out.
Avoid using chemical filled creams that may irritate your skin.
Drink enough water and consult a doctor to treat rosacea.
Did you ever use aloe vera for rosacea; share your recipe in comments.
Save
Save
Save