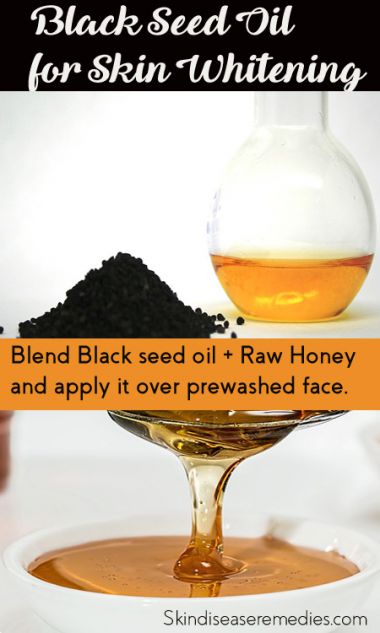 Its immense nutritional benefits are backed by religious and historical books. Ingest its seeds or topically use black seed oil for skin whitening; you'll be benefited with its nutrients.
Without any side-effects, this natural remedy has sustained its position in treating health and skin ailments.
Regularly chew its seeds with honey to treat various health ailments. For cosmetic benefits, you can topically apply its oil.
Day to day more and more women are experiencing the beauty perks by natural remedies.
Expensive cosmetic creams, unfortunately, don't fulfill their claims. Though they incorporate natural ingredients to allure customers, chemical preservatives may strip natural oil over the skin.
Why Do Dark Spots Appear on the Face?
Your skin gets its color from a pigment called melanin. When some external and internal factors influence the production of this pigment dark patches/spots, discoloration are formed.
Apart from dark spots; freckles, acne scars, discoloration, age spots and other ailments ruins your appearance.
Skin bleaching is a cosmetic approach to reduce these dark patches and obtain a flawless skin. Natural remedies got significant exposure in media because of its exceptional nutritional benefits.
Benefits of Black Seed Oil for Skin Whitening
When you ingest vitamin rich diet, they reflect over the skin.
Vitamin C, E, A, fatty acids, antioxidants and other nutrients enhance the healthy functioning of the skin.
Fortunately, black seed oil is packed with all these essential nutrients.
A study states that nutrients in black seed oil can inhibit melanin production, which helps to obtain glowing skin. (1)
Vitamin A and amino acids packed in this oil reduce scars and dark spots.
Anti-inflammatory properties exhibited by black seed oil can heal minor burns and strengthen the immune system.
Antioxidant agents housed in this oil thwart free radicals that damage cell membrane.
Assorted vitamins in this natural ingredient stimulate cell regeneration; enhance collagen production, fades scars and dark spots.
Linoleic acid present in the oil helps to hydrate your skin and protects it from impurities.
How to Use Black Seed Oil for Skin Whitening?
Don't expect overnight results. Natural ingredients penetrate deep into the skin and restore its normal functioning.
You can simply use black seed oil over prewashed face regularly before going to bed. To make it more effective, beauty experts recommend blending other innate ingredients with it.
Black Seed Oil and Honey Face Mask
Honey is prominent for its humectant and healing activity.
I personally use raw honey to treat cough. Though it's discussed in historical books and religious scriptures, use of honey will not bring instant result on the same day. It took few days or 2 weeks to treat the ailment for me. But, the effect was long lasting.
Take heated and grounded black seeds in a bowl.
Add raw honey to it and apply evenly all over the face.
Leave it to dry for 20 minutes and then rinse it off.
If you don't want to use honey over the skin, mix black seeds with honey and ingest regularly.
In case you don't have black seeds, add black seed oil with honey and apply it over the skin.
Apple Cider Vinegar and Black Cumin Seeds
ACV is renowned for treating various ailments. Apply few drops of ACV over acne lesion or wart to treat them.
To reap benefits from black seed oil ground slightly heated black cumin seeds and mix it with required amount of ACV.
Stop using ACV if your skin gets irritated.
Sesame Oil and Black Seed Oil
Vitamin E residing in sesame oil acts as a sunscreen. Sesamol housed in this oil exhibit antioxidant property that can reduce wrinkles and fine lines.
Mix required an amount of sesame oil with black seed oil.
Prior to that, cleanse your face with water or mild cleanser to remove impurities or cosmetic cream.
Pat dry with a soft cloth and apply the mixed solution over the face.
Allow it to dry naturally.
Lemon Juice and Black Seed Oil for Skin Whitening
Bleaching and acidic property of lemon juice are renowned. However, excess use of lemon juice may make your skin sensitive to sunlight.
Add few drops of lemon juice to black seed oil and massage it over the skin.
After 15-20 minutes, rinse it off with water.
Black Seed Oil Side Effects
Though there are no serious ailments linked with its use, few women claim that it result in issues during menstruation and pregnancy.
Excess use may be problematic for you. So initially patch test before using it over the face and don't exceed the dosage level while ingesting this oil.
Important Points
This fantastic natural remedy can elevate overall functioning of the skin. But, do consider changing your lifestyle.
Avoid smoking, alcohol and cosmetic creams that include harmful chemical ingredients.
Drink enough water, do regular exercise and ingest vitamin rich diet.
As mentioned earlier, what you eat will reflect on your skin.