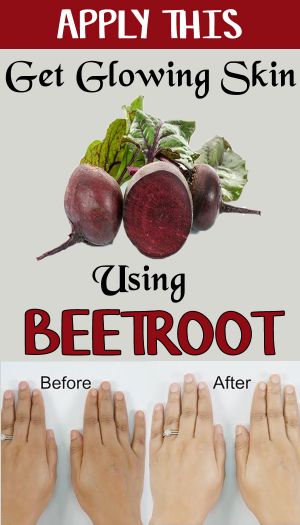 Good looks is always related to your confidence and personality. If you feel that you are looking good, you feel a lot of confidence and courage inside you. In this write-up you'll learn about the use of beetroot for skin whitening.
People feel right about those who have an attractive and appealing personality. You can easily find a lot of people around yourself who are able to get the attention of surrounding people just because of their look and personality. It is always amazing to try different looks and different attires in order to look different every day.
One should always try to celebrate the natural beauty gifted by the nature to us. Every skin color is unique, every face is unique. It is very hard to find 2 identical faces, that's how every look and every face is unique in its own way. Glowing or bright skin is something almost every woman wants to have.
Numerous brands around the world are continually trying to manufacture different types of beauty products. All of them are claiming that all these products are pretty useful for getting the shiny, bright and glowing skin. But natural substances like different types of vegetables, fruits, juices, different parts of the plants etc. are more than just suitable for our body including skin.
The most attractive thing about these natural substances is that they doesn't have any poor effect on our body. We are going to learn about beetroot face pack for skin whitening. After going through different parts of this article, you will understand appropriately about magical effects of beetroot on the skin beauty and whitening.
What Causes Hyperpigmentation?
Why we tend to lose the natural glow of the face? There are different reasons behind it, and one of the most common reason is hyperpigmentation. So, what is hyperpigmentation and what are its causes? Before understanding the causes of hyperpigmentation, we need to learn what hyperpigmentation is.
What is hyperpigmentation?
Hyperpigmentation is the combination of two words- "Hyper" and "Pigmentation" which means excessive pigmentation. The coloring of the skin is called pigmentation. Melanin pigment is produced by melanocytes cells.
Melanin is deposited in the skin and causes pigmentation- coloring of the skin. When the release of melanin pigment increases abnormally, this condition is called hyperpigmentation.
Causes of Hyperpigmentation:
There are a lot of causes of hyperpigmentation. We will only focus on the most common ones.
Inflammation due to sunlight:
All of us are aware of the effects of ultraviolet rays on the skin. The skin produces an inflammatory response just after getting exposed to sunlight, the response is, and therefore it goes unnoticed. Constant exposure of the skin to sunlight can increase the levels of inflammation.
When the intensity of inflammation increases, our body starts producing inflammatory mediators. Inflammatory mediators cause different types of responses in the body including activation of melanocytes. Prolonged exposure to sunlight can increase the process of activation of melanocytes, there will be an automatic increase in the release of melanin, and hence there will be the hyperpigmentation.
Any skin damage:
When our skin is damaged due to any reason including any cut, pimple or any other abnormal skin condition, our body starts producing inflammatory responses. Again the melanocytes of the skin get activated, and release of melanin also gets increased which causes the hyperpigmentation.
Different types of Medications:
Constant medication is another cause of hyperpigmentation. Medicinal substances like antibiotics, topical retinoid, hormone medication, anti-seizure drugs, chemotherapeutic drugs and non-steroidal drugs are known for causing hormonal imbalance in the body.
Hormonal imbalance might also activate melanocytes cells and subsequently can cause hyperpigmentation.
Genetics:
Another fundamental reason of hyperpigmentation is the genetic imbalance. If someone in a family is suffering from the severe type of hyperpigmentation, there are higher chances that the next generation might suffer from it as well.
Generally, hyperpigmentation is hereditary and can even skip one or two generations. People who are inclined to have hyperpigmentation due to genetic reasons can have this condition even due to slightest of skin reactions or allergies.
Must read: Foods to Lighten Your Skin
Is Beetroot Good for Skin Whitening?
Getting rid of hyperpigmentation or getting brighter and clear skin is not a big deal. You can get naturally brighter and bright skin by using some very simple and easy to get natural substances.
In this segment of the article, we are going to talk about the effects of beetroot and its role in the skin whitening. The best way to use beetroot for the skin is to use it in the form of juice. So, we are going to talk about the role of beetroot juice in skin whitening.
#1 Very useful in acne and pimples
There are plenty of nutrients found in the beetroot juice which are known for enhancing the skin. Acne and pimples generally occur on the oily skin. Due to its anti-inflammatory properties, beetroot juice helps to reduce the oil from the skin and can be very handy to prevent acne and pimples.
#2 Beetroot can prevent blemishes and dark spots
Blemishes and dark spots can also be common causes of hyperpigmentation. Applying beetroot juice with a little tomato juice on the black spot can give you surprising results. You can use beetroot with clay mask as well.
Proper and constant use if beetroot can help you to get rid of any black spot in rapid time. Beetroot is also known as an excellent blood purifier. So, it can also reduce the cause of dark spots from inside the body.
#3 Light skin complexion with beetroot
Using different types of creams or masks can harm your skin because of the presence of chemical contents. Beetroot can one of the best way to reduce the unhealthy darkness from the skin and can bring naturally healthy and light skin back on your face.
You can use the little amount of beetroot juice with 2 tbsp. Lemon juice and can apply on your face every night before sleeping. Constant use of this mixture can give you some excellent results.
#4 Helps to get rid of dark circles
So many reasons for dark circles and a straightforward solution- Beetroot! Insufficient sleep, lack of proper diet, imbalanced daily routine, etc. can cause puffy eyes and dark circles around them. Applying beetroot juice regularly can help you to get rid of dark circles as well as puffy eyes. Use it with some patience and wait for the magic.
#5 A great moisturizer
You will hardly find a moisturizer like a beetroot. Winter season brings the dryness of the skin which can be very annoying. Application of different types of moisturizing cream hasn't been much successful.
Because the effect of moisturizing cream doesn't last for enough time. Application of beetroot juice or even drinking beetroot juice can be beneficial to moisturize the overall skin. Skin can absorb the beetroot juice easily and can get moisturized internally in a proper way.
#6 Wrinkle-free skin
Due to different types of factors, after crossing 30 years of age, wrinkles start to cover your skin. This is called premature aging. If you are feeling that your skin is getting wrinkled, you can start using beetroot juice.
Its proper application on the face with drinking juice at least four glasses per week can help you to increase the tonicity of your skin.
Also read: 20 Best Skin Whitening Juice to Drink
How to Use Beetroot Face Pack for Skin Whitening?
Some essential and useful recipes of Beetroot and their uses:
#1 Easy to prepare instant mask
Add two tbsp. Beetroot juice with a tbsp. of honey
Mix them well in a bowl.
Take a cotton ball and apply appropriately on the face as well as neck.
Leave the mask for 20-30 minutes.
Clear the surface using a wet towel.
Benefit: This is an excellent mask for getting rid of the dull and dry face. You will also get rid of wrinkles and will be able to get an ageless skin in very short duration.
#2 Skin-Whitening Mask
Take a tbsp. of plain yogurt, one tbsp. Baking flour and one tbsp. Beetroot.
Make a proper blend of this mixture.
Add a tbsp. Powdered rose petals.
Apply the mixture correctly on your face as well as on neck.
Let the mask sit for about 30 minutes.
Wash the face with lukewarm water.
Benefit: Natural yogurt contains a lot of protein, and it is a great moisturizer as well. It will undoubtedly work like magic with beetroot. This mixture will keep your face moisturized for a more extended period.
#3 Mask for Blemish
Take a tbsp. of clay and a tbsp. Of beetroot.
Mix them well to make a paste.
Apply appropriately on face and neck.
Keep it until the paste gets dry.
Apply some water on your face.
When the mask starts loosening, scrub it with your hands and wash appropriately with clean water.
Benefit: Clay is known as an excellent solution for all types of skin related problems. Simple mask of clay can help you to get rid of a lot of problems related to your skin and face. Using it with beetroot will only increase its effectiveness. This is one of the best mixtures for the removal of blemishes.
#4 Dark Circle Mask
Take two tbsp. Of beetroot juice and 4-5 drops of almond oil.
Mix it well with a spoon.
Massage the area under your eyes.
Leave it for 30 minutes and then wipe it with a wet towel.
Wash the eyes with cold water properly.
Keep the mixture away from your eyes.
Benefit: Almond oil alone can fight with a lot of skin related problems including hyperpigmentation. It is very light in texture and so mild as well. Due to its hypoallergenic properties, it can work amazingly with beetroot and can help you to get rid of dark circles.
Read this: Is Almond Oil Good for Skin Whitening?
#5 Mask for oily skin
Take a small piece of beetroot and cut it into small pieces.
Boil the pieces of beetroot for 10 minutes.
Grind the boiled beetroot and convert it into a smooth paste.
Mix 1 tbsp. Of Multani mitti to the paste.
Mix it well until it becomes smooth.
Apply a thin coat on your face and neck.
Leave it for an hour and then wash appropriately with clean water.
Benefit: Multani mitti or Fuller's earth has been in use for centuries. This mineral-rich clay material has a lot of benefits for the skin and can be an excellent remedy for all types of skin related problems.
Mixing it with beetroot is only going to work wonders for your skin. Beetroot and multani mitti together will absorb extra oil from your skin and convert it into a naturally beautiful and glowing face.
Tips to Obtain Light Skin
Add natural ingredients in your face pack: Ingredients like beetroot, cucumber, yogurt, almond oil, honey, etc. to your daily using face pack. All of these ingredients are great for skin and have their benefits.
Try to cover your face when you are out in the sunlight: Ultraviolet rays from the sun can cause a lot of damage to your face and skin. Avoiding sunlight as much as possible can help you to keep your skin and face healthy and natural.
Drink a lot of water every day:  Drinking enough water is always an unusual habit. Lack of water inside your body can cause a lot of health problems including indigestion. Lack of water can also increase the dryness of your skin. So, drinking enough 5 to 7 liters of water every day can help you to keep your skin healthy.
Add green vegetables and salads in your meal: Green vegetables and salads have their benefits. Eating green vegetables and salads daily can improve your overall health including face and skin. You can add beetroot as well with other vegetables in your salad.
If you ever used beetroot face pack for skin whitening, then share your recipes in comments.