Vitamin E is a group of fat soluble vitamins that exhibits antioxidant ability. Both vitamin E oil and its supplements are benefits for your skin and health.
However, this write-up is all about topical application of vitamin e oil to treat eczema.
According to experts at Medicalnewstoday.com, vitamin E oil is different from vitamin E supplement. Anyway, there are people who puncture vitamin E capsule to apply its oil on the skin.
Packed with healing, moisturizing and soothing abilities, this oil can be found in various cosmetic creams.
Though it has extolling benefits, few people may experience allergic reaction upon its application. So, it's recommended to patch test before applying it over the face.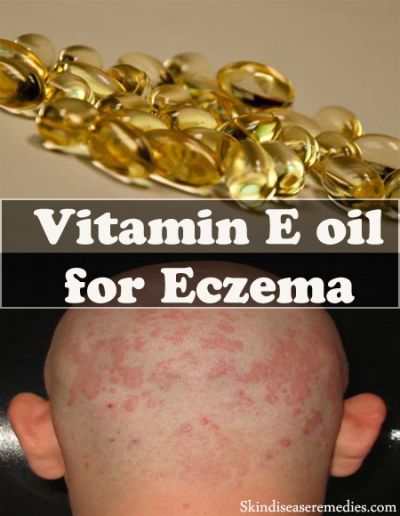 Coming to eczema…
This chronic skin ailment can't be treated permanently.
Dry itchy patches with burning sensation are one of the common signs of eczema flare-ups.
However, mere cause of this skin ailment is unknown, researchers hold immune system, hereditary, food and other irritates to trigger eczema.
Topical application of steroid creams prescribed by physician and home remedies discussed here can just reduce signs but can cure the chronic skin ailment.
Is Vitamin E Oil Good for Eczema?
Scientific study reports that including vitamin E rich diet regularly can prevent eczema condition. To reap nutritional benefits of vitamin E, beauty experts recommend consuming vitamin E rich food and topically massaging with the oil.
One study state that vitamin E supplement can significantly reduce symptoms of atopic dermatitis.
Moisturizing property packed in this vitamin helps to get rid of itching and soothe dry patches.
A research claims that ingesting vitamin E supplement can promote the healing process.
Antioxidant activity of this vitamin thwarts free radicals that damage cell membrane and protects your skin from harmful UV rays.
Anti-inflammatory activity of this oil can reduce inflammation caused by eczema patches.
Helps to fade scars and stretch marks.
Antioxidants agents can reduce dark spots and help to obtain glowing skin.
Emollient activity of vitamin E helps to wipe impurities and locks moisture over the skin.
Topical application of this oil can reduce itching as it hydrates your skin.
Vitamin E supplement can protect your skin from harmful UV rays and prevent cancer.
Application of this oil on your skin will not just treat eczema but reduce psoriasis.
Assorted nutrients in vitamin E can prevent fine lines, reduce wrinkles and protects your skin from sunlight.
Experts recommend blending other natural ingredients like olive oil or vitamin C with vitamin E oil to make it more effective and safe.
How to Use Vitamin E for Eczema?
As mentioned you can take orally or use it topically to treat eczema. Let's start with topical application.
As, experts recommend topical application to soothe inflamed patches.
Wash eczema affected area with water and pat dry gently using a soft cloth.
Take vitamin E oil in your clean palm and massage it over the skin.
Leave it to dry naturally and then rinse it off in the morning.
Simple, isn't it?
Regularly apply the oil before going to sleep.
As beauty experts recommend blend olive oil or vitamin C with vitamin E oil.
#1 Avocado and Vitamin E
Researchers state that people with contact dermatitis have low levels of fatty acids, which are responsible for hydrating your skin.
Fatty acids packed in avocado can moisturize and treat skin ailments like eczema. Cold pressed avocado oil is more likely to reduce the symptoms of this skin ailment.
Mash fresh avocado into paste and add vitamin E oil to it.
Wash your skin and apply the mask evenly and leave it to dry for about 15-20 minutes.
You can also mix required amount of avocado oil with vitamin E oil and apply it on your skin.
#2 Vitamin E and Honey
Antibacterial, anti-inflammatory properties in raw honey are beneficial for healthy functioning of the skin.
Humectant ability of honey can lock moisture on your skin and can effectively relieve you from itchy patches.
Mix 1 teaspoon of honey with required amount of vitamin E oil (warm it).
Apply the mask on prewashed skin after cooling.
#3 Vitamin E Supplement
Puncture a hole in vitamin E capsules and collect its oil in your palm or bowl. Add vitamin C or olive oil to it and massage it over the skin.
Why you should opt for supplement? Can't you directly ingest foods that are rich in vitamin E to combat the ailments?
"d-alpha-tocopherol" is the natural form of vitamin E found in foods. But, eczema suffers find it difficult to absorb, so its important that they prefer supplements.
Consult your physician for dosage.
Adult eczema sufferers: 40mg
5-17 years: 20mg
1-4 years: 10mg
Note: If you're taking medication then consult physician before opting for vitamin E supplement.
Foods that are rich in vitamin E
Sunflower oil, cabbage, sweet potato, prawns, grilled salmon, soybeans, chickpeas, tuna oil, carrots and leeks.
#4 Aloe Vera Gel and Vitamin E
Aloe gel is renowned for its soothing, healing and hydrating properties. Its cooling ability relieves you from inflamed patches.
Extract aloe gel from fresh aloe plant and mix it with vitamin E oil.
Mix thoroughly and then apply it on prewashed face.
Allow it to dry naturally for 15-20 minutes.
#5 Glycerin and Vitamin E Capsule
Glycerin is prominent for its hydrating and healing properties. Topical application this color less liquid will help to soothe inflamed patches.
Mix 1 tsp of glycerin with 1 teaspoon of rosewater and 1 vitamin E capsule.
After mixing all the ingredients apply it on your prewashed face.
Allow it to dry naturally for 15-20 minutes.
#6 Papaya and Vitamin E to Treat Eczema
Skin whitening, healing and moisturizing abilities housed in papaya can treat eczema and lighten the appearance of its scars.
Mix 2 teaspoon of papaya pulp with 1 teaspoon of rosewater.
Add 1 vitamin E capsule to above mentioned paste.
Mix thoroughly and apply it on prewashed face.
Rinse it off with water after 15-20 minutes.
Important Tips
To treat eczema, just topical application of vitamin E oil isn't enough.
You must stay away from foods and irritants that trigger this skin ailment.
Apart from ingesting vitamin rich food as listed above, avoid stress and depression.
Hydrate your skin from inside by drinking enough water.
Avoid scratching as it may trigger the ailment.
Ingredients that irritate your skin must be avoided.
Use of chemical incorporated creams strip natural moisture from your skin. So, limit its use.