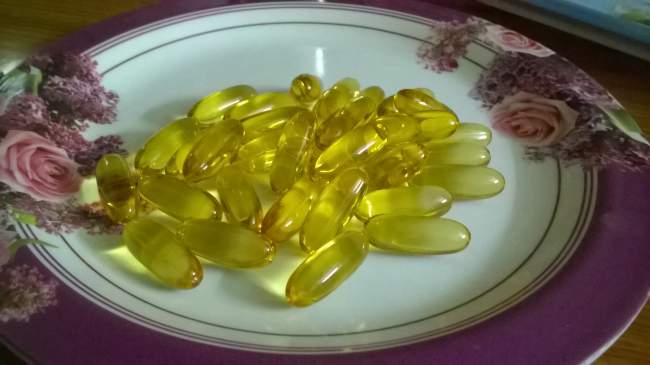 Can vitamin E oil prevent stretch marks?
70% of girls and 40% of boys develop stretch marks during puberty. It isn't associated with any ailment, but certainly it's a cosmetic concern. In this article, you'll learn how to use vitamin E oil for stretch marks.
According to researchers, you can't permanently get rid of these narrow streaks. However, regular application of cosmetic creams, natural home remedies, and nutritious diet can lighten their appearance.
What Causes Stretch Marks?
As you grow, connecting fibers in the dermis layer stretches slowly. With sudden weight gain or loss, these fibers stretch beyond its limit resulting in breakage.
The tear can be seen through upper layer as red or purple lines, which turn to silver white with time.
Puberty, pregnancy, the sudden gain in weight, hormonal change, alcohol consumption, genetics and other factors result in these long narrow streaks.
Does Vitamin E Oil Help to Get of Stretch Marks?
Why should I go for vitamin E oil when there are many cosmetic creams that claim to treat stretch marks?
Media promoted beauty creams are incorporated with chemical preservatives that can irritate your sensitive skin. (Source: 1, 2)
Homemade remedies are safe because you make it. You can avoid ingredients that can stimulate allergic reaction on your skin. Apart from this, an innate ingredient like vitamin E oil is packed with lots of beauty benefits.
Important Note: There is not strong evidence to support the benefit of vitamin E for stretch marks. However, there are anecdotal reports claiming to be effective.
Benefits of Vitamin E Oil for Stretch Marks
Immense uses of vitamin E oil include boosting the immune system, preventing cardiovascular problems, avoid skin cancer, heal minor burns and treat cystic fibrosis in babies.
To reap its exceptional nutritional value, even cosmetic creams incorporate them. Without any ado, let check what it has for your stretch marks.
Moisturizing is the prominent property of vitamin E oil, which helps to get rid of dry skin. Enough moisture allows skin to heal stretch marks.
National Institute of Health Office of Dietary Supplements states that antioxidant activity of this oil thwarts free radicals that damage cell membrane.
With its antioxidant agents, vitamin E can efficiently lighten scars, stretch marks and flush away free radicals.
Assorted nutrients residing in this oil promotes healing of broken tissues underneath the skin.
Regular massaging with the oil mixed with other oils improves blood circulation in that part of the skin.
Vitamin E oil penetrates deep into the skin and enhances collagen production to improve skin's elasticity, stimulate cell regeneration and makes your skin soft.
Anti-inflammatory activity of this oil inhibits platelet aggregation.
Blocks free radicals that result in stretch marks by its antioxidant activity.
Beauty experts recommend blending other antioxidants or vitamin C with vitamin E oil to prevent any side-effects, because heavy antioxidants in vitamin E oil may result in breakouts if you've acne prone skin.
How to Use Vitamin E Oil to Prevent Stretch Marks?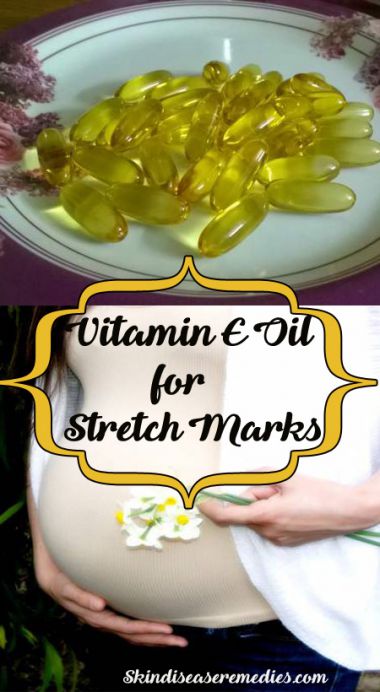 There are many ways to use this oil. If your skin goes well with cosmetic cream, select the one which includes vitamin E.
Note: Patch test before using pure vitamin E oil over the skin.
Topical application of vitamin E oil or other creams may improve your skin's elasticity, but stretch marks can also be caused by hormonal imbalance. For which topical application has no effect.
So, beauty experts also recommend ingesting nutritional diet to make your skin healthy. These measures can prevent stretch marks at-least to some extent.
#1 Pure Vitamin E Oil for Stretch Marks
You can get vitamin E lotion from a local drug store or get vitamin E capsules. Puncture the capsules and massage the oil over stretch marks.
Pure vitamin E oil is very effective according to few anecdotal claims. However, you must patch test before using it.
#2 Vitamin E Oil and Vitamin C
Dr. Broumand says that blending vitamin C with vitamin E oil shown excellent benefit for your skin.
It can moisturize, protect your skin from UV rays, lighten the appearance of stretch marks, reduce wrinkles and thwart free radicals.
Wash your skin with water to cleanse impurities and dead skin cells.
Pat dry using a soft cloth.
Mix required amount of both oils in a bowl and gently massage in circular motion over the skin.
Leave it to dry naturally.
To avoid greasiness, it's better to apply it at night.
#3 Vitamin E Oil and Olive Oil
You can replace olive oil with a carrier oil. The thickness of vitamin E oil may trigger acne breakouts, so it better to blend other oils with it.
Break vitamin E capsule and add it to required amount of olive oil.
Apply the lotion over prewashed skin.
Leave it to dry naturally.
Vitamin E Oil for Stretch Marks During Pregnancy
Though there are no strong studies to back the claims of vitamin E oil use for stretch marks. One study showed significant benefit for reducing stretch marks.
Stretch marks are not solely caused by stretching; hormonal changes also result in these lines. Topical application of vitamin E oil may or may not affect stretch marks.
But there are anecdotal reports backing the claim that this oil can lighten the appearance of stretch marks.
Before using this oil over the skin, you must consult your doctor. Few people may be hypersensitive towards ingredients in the lotion.
Blend vitamin E oil with vitamin C or olive oil as mentioned above and gently massage over the body.
You can also use cosmetic creams that are incorporated with vitamin E.
Some beauty bloggers also suggest ingesting vitamin E oil capsules. But, pregnant women must avoid it and discuss with the doctor.
Vitamin E Oil with Body Moisturizer
You can just add some vitamin E oil to your favorite body lotion and regularly massage over the skin.
You can get vitamin E cream for stretch marks over the drug store.
Side Effects of Vitamin E Oil
Even home remedies may trigger a reaction if they don't go well with your skin.
Skin inflammation, itching, and rashes over the skin have been reported with topical application of vitamin E oil. Oily skin people may experience acne breakouts with excess use of this oil.
However, people who're sensitive to vitamin E are very rare.
Conclusion
Like other home remedies, this recipe also has no scientific proof to back the claims. However, anecdotal reports claim to be effective.
Blend vitamin E with vitamin E oil for stretch marks. Don't use it regularly if you've oily skin.
Share your best homemade recipe to prevent stretch marks.
Save