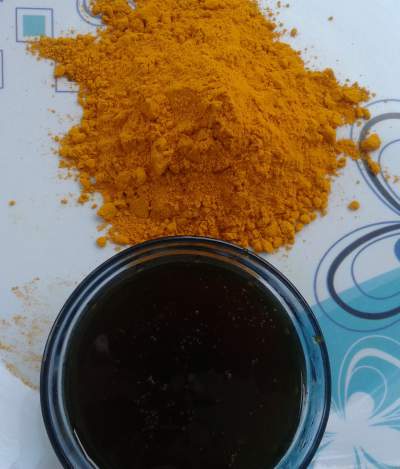 Asians have been using turmeric for face from centuries. It has got some special importance in marriage ceremonies. Renowned for its exceptional anti-inflammatory properties, as an India first thing strikes me when I get injured is turmeric powder.
Women, here in India are known to use turmeric face pack/mask for glowing skin. Mostly Hindus use it as a ritual. Now after scientific research, it has been proved that out grannies who were extolling benefits of turmeric face mask aren't telling tails.
[Jump to: Face Mask Recipes]
Benefits of Turmeric Face Mask (Nutritional Profile)
From hundreds of years Indians used turmeric as a spice and medical herb. Anyhow, westerns aren't aware of its benefits.
Research concludes that turmeric contains a compound known as curcumin, which has strong anti-inflammatory effect and is antioxidant agent.
Acne or pimples are mainly caused due to inflammation. (1) Anti-inflammatory properties in turmeric face pack help to reduce pimples and also fade acne scars. Anti-inflammatory affect of curcumin is as strong as drugs.
Antioxidant agents in this powder, not only thwarts free radicals but increases or boosts antioxidant capability of your body. (You can swallow it, like Thandie Newton)
Assorted properties in turmeric powder removes dark spots and treats hyperpigmentation.
As mentioned, historically it has been used to treat minor cuts and injuries because of its antiseptic and antibiotic properties. (2)
DIY Turmeric Face Mask Recipes
Powder raw turmeric (or get turmeric powder) and pour rosewater to it. After mixing it thoroughly topically apply over the face, avoid eye area. Then wipe it off with warm cloth. Anyhow, you can try adding different natural remedies to it.

1. Turmeric with Honey for Face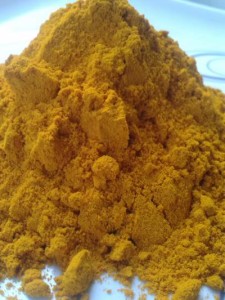 Things you'll need
Turmeric powder -1 tbsp
Raw honey – 1 tbsp
Milk – 1 tbsp
Mix all ingredients in required quantity. Milk is used to make the paste; you can add flour to make it thick, in case if you poured excess milk.
Prepare your face
Turmeric stains, so wear loose clothes or T-shirt that you're not too attached to. Wash your face or cleanse it, remove the make-up.
Also band your hair and pat dry your face with soft cloth.
Turmeric face mask application
Apply the face mask evenly over face, avoid eye area but if you've dark circles, then apply it under eyes.
Leave it for about 15-20 minutes, so curcumin start affecting your face.
When the face pack is dry, wipe it off using unused warm cloth.
Don't worry if you see stain over face, it fades in few hours.
After face mask application, topically apply any natural moisturizer.
Also read: Honey and Lemon Face Mask
2. Neem and Turmeric Face Pack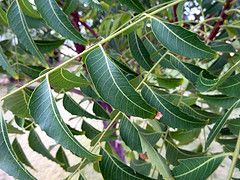 Neem is a tree and its bark, leaves and seeds are used to make medicine. (3) Regularly using neem water over acne blemishes will treat them and also fade scars. Properties in neem help to treat hyperpigmentation, wrinkles, dark circles and psoriasis.
Things you'll need
Neem leaves paste – 1 tbsp
Turmeric powder -1 tbsp
Honey – 1 tbsp
Sandalwood powder -1 tbsp (for acne scars)
Neem water
Procedure
Initially mix sandalwood powder and turmeric powder in a bowl. Then add neem paste and honey. To make smooth paste, you can add neem water. Apply it on prewashed face and wipe it with warm cloth after 15-20 minutes.
3. Turmeric and Sandalwood Face Pack for Acne Scars
Assorted properties like antiseptic, anti-inflammatory, astringent and healing agents are housed in sandalwood powder. It's claimed to treat acne and fade acne scars.
Things you'll need
Sandalwood powder – 1 tbsp
Turmeric powder – 3 pinches
Milk – 1-2 tbsp
Procedure
Just like above mentioned turmeric face masks, mix all ingredients and apply it over prewashed face. Apply it when the skin is still damp. Rinse it off with water or wipe it with cloth, then apply moisturizing cream.
4. Turmeric and Milk
Things you'll need
Milk powder – 1 tbsp
Turmeric powder – 1 tbsp
Rose water – required amount
Yogurt or oats – 2 tbsp
Procedure
Mix oats with milk powder in a bowl, then add turmeric powder. Pour rosewater in required amount. After mixing it thoroughly topically apply over face. Alternatively, you can add sandalwood powder. Rinse it off after 15 minutes. If you've dry skin, then use jojoba oil post application.
5. Turmeric and Olive oil Mask for Skin Whitening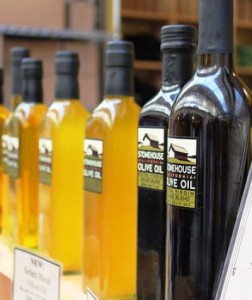 Things you'll need
Turmeric powder – 1 tbsp
Olive oil – 1 tbsp
Flour – 2 tbsp
Procedure
If you've oily skin then replace olive oil with yogurt.
Mix listed ingredients in required amount and apply the face mask topically over cleansed face.
Leave it for about 15 minutes, and then rinse it off with water.
After washing, when the skin is still damp apply moisturizer.
6. Turmeric Face Pack for Fairness
Things you'll need
Turmeric powder – 1/4 tbsp
Gram flour – 4 tbsp
Milk
Procedure
Gram flour or besan is used to remove oiliness and to fight dark spots. Here in this face pack it's used for skin lightening. Take gram flour and mix it with turmeric powder in a bowl. To make sticky thick paste, add milk. When you obtained fine paste apply it over your face.
Rinse it off after 15 minutes. Regular application is recommended to obtain fairness.
7. Turmeric and Yogurt
Known as a delicious and healthy food, yogurt can be added to your skin care regimen. Renowned for its moisturizing agents, yogurt can effectively hydrate and refrain itching. Antibacterial and anti-fungal properties residing in yogurt will help you thwart infectious bacteria like P.acnes.
Add some olive oil to yogurt and it turns out into an anti-aging face mask. Apart from enhancing healthy skin, yogurt can be used to fasten the healing of minor burns.
Along with turmeric, which is packed with antiseptic and anti-inflammatory properties, yogurt face mask/pack will effectively treat acne; fade wrinkles and helps in skin whitening.
Take 1/2 tbsp of turmeric powder in a clean bowl and add 2-3 tbsp of yogurt.
Mix the ingredients well using spoon.
Before applying this mask wash your face and pat dry.
Now, topically apply the mixed turmeric and yogurt face mask over the face.
After 15 minutes rinse it off.
Also read: Turmeric for Stretch Marks
Bonus: Manuka Honey and Turmeric Face Mask for Acne and Acne Scars
Unlike normal honey, manuka honey is packed with exceptional properties. Yes it's expensive compared to other types of honey, but you'll get for what you paid. Well known for treat acne and acne scars.
Things you'll need
Turmeric powder – 1/4 tbsp
Manuka honey – 1 tbsp
Procedure
You're free to add other innate ingredients to this face mask. Mix it thoroughly and keep aside. Now, prepare your face by cleansing it with warm water or exposure to steam and pat dry with soft cloth. Then evenly apply manuka honey and turmeric face pack over skin. Don't press pimples, smoothly massage over the skin.
Leave it for about 20 minutes and wash it off. If you see stains over face, take warm cloth and remove stains. Follow with moisturizer.
As you can see there are various combinations you can use in turmeric face pack/mask. Share your favorite ingredients in comments.