It takes some pain to remove pomegranate seeds and obviously everyone wants to devour these delicious seeds as soon as they come out. But, did you ever wonder about its cosmetic benefits?
You'll be glad to know that you can use pomegranate face pack to whiten your skin. These red seeds are loaded with essential vitamins and minerals that your skin needs.
Is Pomegranate Seeds Good for Skin?
With increasing impurities and unhealthy lifestyle, your skin is piled with dead cells and pollutants. Beauty products though claim to cleanse these impurities; they strip natural moisture from the skin.
Natural remedies like pomegranate juice can effectively remove and supply your skin with essential vitamins.
Beauty experts recommend homemade pomegranate face pack as they are free from refined ingredients and aren't associated with any side-effects.
1. Anti-oxidant Ability
Powerful antioxidants packed in pomegranate juice can nourish the skin, prevent aging and thwart free radicals.
It also reduces oxidative stress and avoids premature aging wrinkles.
2. Hydrates Your Skin
Your skin needs natural moisture to protect itself from harmful irritants. Hydrating ability packed in this face pack can lock moisture on your sensitive skin.
It helps to get rid of dry skin and fill your skin with phytochemicals.
3. Exfoliates Your Skin
As mentioned above, your skin is piled with impurities and pollutants. Exfoliating property exhibits by this homemade face pack helps to remove dead skin cells and wipe impurities.
4. Tighten Your Skin
Vitamin C residing in this fruit can enhance collagen production and improve skin's elasticity. Thus, makes your skin healthy and flawless.
It also helps to make your skin firm.
5. Anti-inflammatory Ability
Fatty acids and anti-inflammatory compounds help to moisturize the skin and reduce inflammation.
Topical application of this facial mask can give instant relief from inflamed blemishes.
6. Reduce Scars
Regular application of this face mask will fade scars and lighten the appearance of stretch marks. Cell regeneration activity helps to build new cells and fasten the healing process.
Excellent thing about this fruit is that it works with all skin types. Its small molecular structure penetrates into deeper layers of the skin and stimulates healthy functioning.
10 Homemade Pomegranate Face Pack Recipes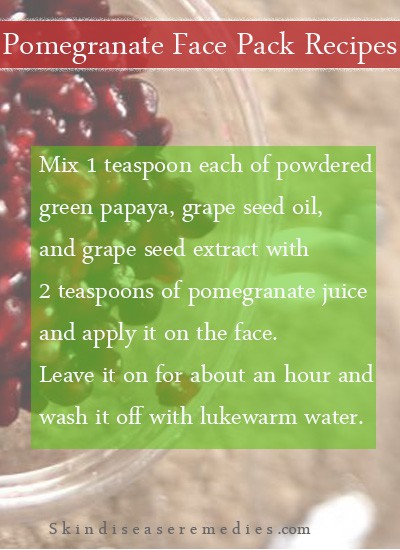 Regularly drink its juice or topically apply it over the skin, either way you'll get benefited by its exceptional nutritional properties.
To make it more effective, beauty experts recommend blending other natural remedies with pomegranate juice.
#1 Pomegranate Juice and Bentonite Clay
Clay helps to remove impurities and it also helps to treat skin ailments. Instead of adding distilled water add pomegranate juice.
Wash your face initially and pat dry.
Take required amount of bentonite clay and add pomegranate juice to make thick paste.
Apply the mask evenly on the face and leave it to dry naturally.
Rinse it off with water.
If you've extremely dry skin, apply jojoba oil or rosewater after this face mask treatment.
#2 Pomegranate Face Pack for Wrinkles
Dry skin and loss of moisture leaves your skin with fine lines.
Remove pomegranate seeds and blend them to obtain its juice.
Drink it regularly or apply it using cotton ball on prewashed face.
#3 Pomegranate for Skin Whitening
You can use above mentioned recipes to cleanse impurities. Another way is to grind pomegranate seeds and massage slightly on face.
Punicalagins compound present in pomegranate inhibit melanin production and makes the skin glow naturally.
Take a half pomegranate and remove its seeds.
Blend 2 teaspoons of almond oil and ½ tablespoons of raw honey to it.
Apply it over prewashed face and rinse it off with water.
Anthocyanins and hydrolysable tannins present in pomegranate juice prevent skin cancer.
#4 Pomegranate and Yogurt Face Pack
Plain yogurt is renowned for its skin lightening abilities. Lactic acid present in this ingredient lighten the appearance of scars and stretch marks.
Additionally, this face mask can make your skin soft and bright.
Take handful of pomegranate seeds and mix it with 2 tablespoons of greek yogurt.
Blend the ingredients to form paste like consistency.
Wash your face to remove impurities and then apply the obtained face pack on your skin.
Allow it to dry naturally for 15-20 minutes and then rinse it off with water.
#5 Lemon and Pomegranate Face Pack
Prominent for its skin whitening abilities, lemon juice can also remove dead cells and dark spots on your face.
Its antibacterial properties are beneficial if you're struggling with skin ailments like acne.
Take required amount of pomegranate seeds and grind them.
Add 5 drops of lemon juice to it and then mix thoroughly.
Now apply this natural toner on your skin using cotton ball.
Let it dry naturally for 20 minutes and then wash it off with clean water.
#6 Pomegranate and Green Tea Face Mask
It is known for its weight loss abilities, however, green tea can be used to treat skin ailments and to obtain glowing skin.
Topical application of this facial mask can rejuvenate your skin and lighten the appearance of scars.
You just need to brew 1 tbsp of green tea and add it with grinded pomegranate seeds.
Optionally, you can add honey or yogurt to this facial mask.
Now, apply the paste on your face and let it dry for 15 minutes.
#7 Cocoa Powder and Pomegranate Face Pack
Cocoa powder is also loaded with enticing cosmetic benefits. Its topical application will remove dead cells and prevent premature aging wrinkles.
Start by grinding pomegranate seeds and add 1 tbsp of cocoa powder to it.
Apply the mixed paste on your prewashed face.
Rinse it off after 15-20 minutes.
#8 Oatmeal and Pomegranate Facial Mask
Renowned for its exfoliating abilities, oatmeal can also used to lighten your skin and reduce inflammation.
Add 2 tbsp of oatmeal powder to already grinded pomegranate seeds.
Also add honey and buttermilk to make it more effective.
Apply this facial toner on your face and around your neck.
Leave it to dry and then rinse it off with water.
#9 Rice Flour, Almond Oil and Pomegranate Seeds
Rice flour is known for its skin whitening and anti-aging abilities. Washing your face with rice water can remove all impurities and prevent aging wrinkles.
This simple yet effective remedy isn't associated with any serious side-effect.
Add 1 tbsp of rice flour with pomegranate seeds and blend both to form smooth paste.
Add few drops of almond oil and mix rigorously.
Wash your face and pat dry.
Apply this facial mask and rinse it off after 15-20 minutes.
#10 Pomegranate, Fuller's Earth and Rose Water
Rose water is packed with hydrating, skin whitening and acne fighting abilities. You can use this effective ingredient twice or thrice regularly to improve your skin texture.
Fuller's earth or multani mitti is prominent to remove impurities and dead cells accumulated on your face. It can prevent oily skin and acne prone skin.
Its soothing property can reduce inflammation and lighten your skin.
Take 2 tbsp of fuller's earth and mix it with required amount of rose water.
Also, add pomegranate juice or its paste.
Mix the ingredients thoroughly and then apply it on your face.
Let it dry for few minutes and then rinse it off with water.
If you ever used pomegranate face pack to whiten your skin or to treat any skin ailment, please let us know in comments.
Save
Save
Save