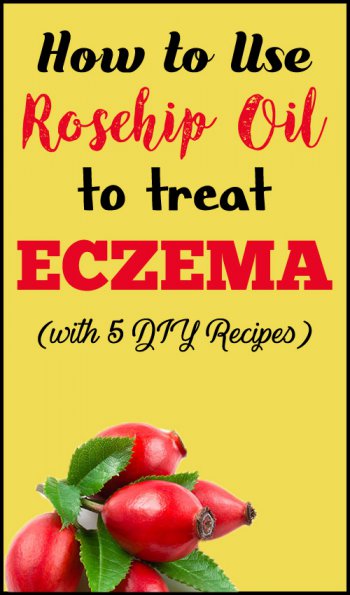 Like you I too experienced severe itchy and inflamed skin. The never-ending battle of itch-scratch makes you embarrassed and isolates you from social life.
Fortunately, benefits of rosehip oil for eczema come as a saver.
Top celebrities like Victoria Beckham, Miranda Kerr, Duchess of Cambridge and Gwyneth Paltrow, all commonly use rosehip oil for their beautiful skin. (1)
Antioxidant, anti-inflammatory and cell rejuvenating abilities residing in this oil help to treat skin ailments and enhance skin texture.
Who Gets and What Causes Eczema?
Most people are aware of its symptoms. Dry itchy and flaky patches appear over different parts of your body.
It's very common. According to National Eczema Association, there are about 30 million Americans with this chronic skin disorder.
Mere cause of eczema is unknown, anyhow, scientist hold hereditary/genetics to be the main culprit behind the ailment.
Unfortunately, you can't treat eczema permanently.
Home remedies and steroid creams can only relieve you from its inflammatory condition. But when you come in contact with irritants, the itch-scratch cycle starts again.
So, make sure you avoid using or eating things that trigger dermatitis.
Now, let's check out about rosehip oil.
Is Rosehip Oil Good for Eczema?
When petals of specific rose plant drop, the left behind fruit is used to extract rosehip oil.
Its renowned healing and moisturizing benefits enticed cosmetic and beauty experts. Many beauty industries started incorporating this natural ingredient into their products.
Anti-inflammatory activity of rosehip oil reduces eczema inflammation and pain.
Dry skin triggers itching; the moisturizing ability of this innate oil can hydrate dry patches and relieve from rigorous itching.
Exceptional healing properties residing in this essential oil fasten the healing process of bumps, itchy patches, and flare-ups.
Vitamin A and C, in particular, enhance collagen production, which reduces wrinkles, restores elasticity and rejuvenates skin.
Essential fatty acids like gamma linoleic acid, oleic, palmitic and linoleic acid fasten the healing of eczema flare-ups.
Antioxidant agents residing in the oil fight free radicals that damage cell membrane.
Though its assorted properties are alluring, you must patch test before using it over the skin.
How to Use Rosehip Oil to Treat Eczema?
Initially, you must understand the difference between dry skin and eczema. In this chronic skin ailment, the outer layer of the skin loses moisture, so does its deeper layers.
OTC creams moisture outer layer, but fail to reach deeper layers of the skin, which is the root area.
Now, you may think to over moisturizing. There are cases where repeated application of moisturizing cream resulted in inflamed skin. This is why most people introduce natural remedies into the play.
Natural ingredients hydrate outer layer and penetrate deep into the skin to moisturize inner layers of the skin. Simultaneously, it restrains infectious bacteria and fastens the healing process.
To make it more effective and to increase shelf-life, rosehip oil is often mixed with vitamin E oil. Also, a high concentration of essential oil will not irritate you, if you blend it with other oils.
#1 Direct Application
No need to dilute. Just take few drops of rosehip oil and gently apply it on the prewashed skin.
However, I personally recommend patch testing before applying it to your skin.
Cleanse eczema affected skin with water to remove dry patches.
Pat dry using a soft cloth.
Now, take 3 drops of rosehip oil and gently apply it on the affected skin.
Allow it to dry naturally.
#2 Shea Butter and Rosehip Oil to Treat Eczema
Shea butter and rosehip oil are prominent for hydrating the skin and stimulating the healing process. Dead Sea salt helps to remove dry skin patches and exfoliate the skin.
Fatty acids and essential vitamins residing in shea butter help to treat eczema, hydrate your skin, fade scars and fight infectious bacteria.
Anti-inflammatory ability of shea butter helps to reduce inflammation triggered due to rigorous itching.
Cleanse or wash eczema affected area with water.
Pat dry using a soft
Don't scratch while washing the area. Be gentle.
Take one part of rosehip oil, 3 parts of shea butter and required an amount of Dead Sea salt in a bowl.
Apply the mixed mask over the affected area and leave it to dry naturally for about 15-20 minutes.
#3 Facial Mask to Treat Eczema
For this recipe, you'll need shea butter, lavender essential oil, and rosehip oil.
The ability of shea butter to treat eczema is discussed above.
Antiseptic, anti-inflammatory and hydrating ability of lavender essential oil can effectively treat eczema flare-ups.
Known for its aromatic smell, lavender essential oil can reduce stress.
Mix 2 tbsp of shea butter, 2 teaspoons rosehip oil with 12 drops of lavender essential oil.
Thoroughly mix these ingredients well in a bowl.
Cleanse your face and pat dry.
Apply this combined cream on eczema affected skin before going to sleep.
Rinse it off with water in the morning.
Optionally, moisturize your face and eczema affected skin with rose water.
#4 Yogurt, Honey, and Geranium Oil
These ingredients are loaded with antibacterial, anti-inflammatory and hydrating abilities.
Honey is renowned for its healing and antiseptic properties. It locks moisture on eczema-affected skin.
Lactic acid housed in yogurt can lighten the appearance of eczema scars and make your skin radiant.
Nutrients in coconut milk whiten your skin and make it firm.
2 teaspoons of Greek yogurt (or coconut milk)
1 tbsp of rosehip oil 1 teaspoon of honey
3 drops of geranium essential oil
A pinch of turmeric powder
Mix all listed ingredients in a bowl.
Wash your face and apply this mixed paste on eczema-affected skin. Don't be harsh while applying the face mask.
Leave it to dry naturally for 15 minutes and then rinse it off with water. (Source)
#5 Pomegranate Seed Oil, Vitamin E Oil, and Rosehip Oil
For this recipe you'll need:
Pomegranate seed oil – 1 teaspoon
Rosehip oil – 1tsp
Vitamin E oil – ½ tsp
Argan oil – 2 tbsp
Lavender essential oil – 2 drops
Carrot seed essential oil – 3 drops
Geranium essential oil – 3 drops
Instead of mixing all the listed ingredients, for a simple recipe just mix vitamin e oil with rosehip oil.
You can exclude all essential oils and replace them with lavender or geranium oil.
Mix the ingredients and apply it to eczema affected skin using a soft cloth. Allow it to dry naturally for 15-20 minutes.
Important Tips
First thing, don't scratch. It's tough but you must avoid it.
Foods that trigger eczema must be avoided.
To avoid itching, hydrate eczema affected skin with jojoba oil, rosehip oil or aloe vera gel.
To avoid irritation or allergic reaction, patch test before applying rosehip oil on your skin.
Hydrate your skin internally by ingesting water-rich foods and drink enough water.
Avoid stress; studies state that stress can trigger eczema flare-ups
Rosehip oil for eczema is an excellent remedy, as the oil gets absorbed quickly by your skin.
Important Note: the Just topical application will not help; you must change your diet and lifestyle to relieve eczema.