Not only common people even the rich, famous celebrities will also cannot escape from this skin condition called eczema, which has no complete cure till today.
Eczema makes our skin look dry, appear red patches, cracks and becomes lethargy, and chronic and common skin disease. According to NHS 1 in 12 adults has eczema. And eczema is a name given to a group, where atopic eczema is most common type, it is not considered as a single disease.
We often try many skin care products to mask this condition on our skin. Even though, it's not contagious we all put some conscious effort about the condition when we are among people.
Imagine! How celebrities have spotlighted in many areas and manage the inflammatory skin condition.
7 Celebrities With Eczema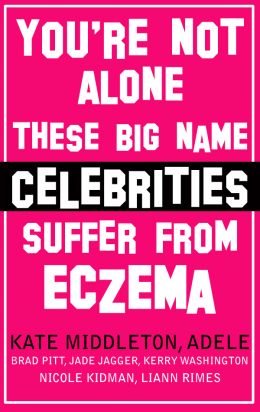 #1 Liann Rimes
This American pop singer also was the victim of eczema in her childhood and she tried her best to hide her situation. She also faced many bullying from her friends and they used to call her" scaly Girl".
She used to remain in home to hide her eczema as well as to keep away from the trigger that could keep away from burn ups.
She shared her experience in an interview that "my parents had used topical steroids all over her body morning and night" to make her feel alright.
#2 Jade Jagger
Jade jager is a famous model and jewellery designer, blamed herself for eczema. She said but now after 25 years of life with eczema she says "After 25 years of living with eczema I actually find that a happy, healthy lifestyle of good food, fresh air, swimming, yoga, great sex and, if possible, sunshine is the best cure."
#3 Kerry Washington
Actress Kerry has terrible eczema since from 8 years old. She said " I work with nutrition list because according to  me beauty is inside out thing , I take fish oil pills, drinks lots of water and try to eat dairy products in my regular diet all these things will help me lot to protect my skin in all the ways I can".
She learned to manage it from the childhood it seems.
#4 Adele
The super star and singer adele is very down to earth and honest. So, immediately after receiving the golden singer award for her best original song for bond sky fall, she whisked away to conference room to discuss her win.
At the same time she also concluded herself as eczema sufferer, she said "I am exhausted that's how changed me, I have eczema from boiling bottles".
#5 Nicole Kidman
The Hollywood actress Nicole has very sensitive and fair skin and that's the reason she always end up with skin allergies.
She also spotted with eczema in London with red color and cracked skin in the night. This is the confirmation that she is fighting against severe eczema in her life.
#6 Brad Pitt
This guy may be heart throb actor for Hollywood and also hotties get eczema. After completing a film called "the curious case of Benjamin button" he covered his skin through makeup for overall shooting.
He said "Angelina help me with the properties and creams to mask this condition in the shooting".
#7 Kate Middleton
Shocked! Yes the duchess of Cambridge also has eczema. She has suffered with eczema in her teenage which appears like red and flaky skin.
She not only battled against with irritated skin, she also went through bullying by her friends in her school for many days.
So you're not alone. No need to worry when you hear people saying eczema don't have permanent cure. When these actresses can live with eczema why you can't? All you need to do it practice good hygiene and try natural remedies to soothe eczema.