Having itchy lips is a real discomfort and you must get rid of it. Below listed are home remedies for itchy lips.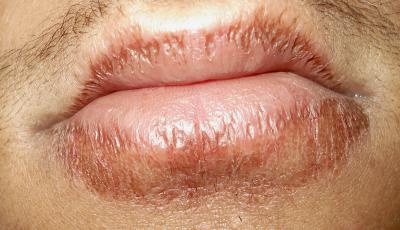 Everyone including women and men desire to have good looking lips, as it enhance the appearance. But some internal and external factors results in itchy lips.
Burning itchy lips are common and aren't associated with any serious health ailment. However, in case of an allergic reaction symptoms may spread to other parts of the skin.
What Causes Itchy Lips?
Dry, chapped and burning itchy lips are caused by various factors. Dryness results in itching and inflamed lips. No surprise you may also see small blisters around lips.
Dry weather: I personally experienced dry and inflamed lips in winter. According to experts this is due to lack of moisture that irritates the sensitive skin resulting in chapped lips.
Allergic reaction: If you immune system is hypersensitive to certain food substances or cosmetics, it releases IgE antibodies to combat them resulting in itchy, inflamed and burning lips.
Excess exposure to sun light: This results in peel and itchy lips, because in some cases sunlight may trigger allergic reaction resulting in chapped lips.
Vitamin Deficiency: Deficiency in B-complex vitamin may results in ailments like Cheilitis.
Infection: Kawasaki syndrome and herpes simplex are ailments that also results in itchy lips.
Insect Bites also causes in itchy and swollen lips.
Cosmetics and repeated lip licking: Apart from lipstick and other beauty products, lip licking or biting results in dry and irritated skin around lips.
Cancer and physical trauma: Oral cancer also results in serious signs like swelling, bleeding and chapped lips. Denture also led to itchy burning lips in some lips.
7 Home Remedies for Itchy Lips
Before you proceed with any natural home remedy, you must get diagnosed with physician to determine the allergen. Severe signs like bleeding and blisters need immediate medical attention.
#1 Exfoliate Lips (Sugar or Brush)
Our skin naturally get healed quickly, all you need to do is give some time and avoid irritants that results in chapped lips.
Take some sugar and start rubbing gently over your dry lips. This simple remedy will remove dry patches and allow lips to heal naturally. Optionally, you can try below mentioned remedies after exfoliation.
Another simple way is to take smooth bristled tongue brush and rub gently over lips. Apply honey or coconut oil after cleansing.
#2 Rose Oil and Almond Oil
These two essential oils are packed with hydrating and antibacterial properties, which can help to get rid of dryness and itching. Anyway, you must patch test to make sure you aren't allergic to these ingredients.
Wash your lips with water to remove dead cells and other impurities. You can use cotton ball to cleanse. Blend required amount of rose oil and almond oil, optionally dilute with base oil. Now, gently apply over your lips and leave it to dry.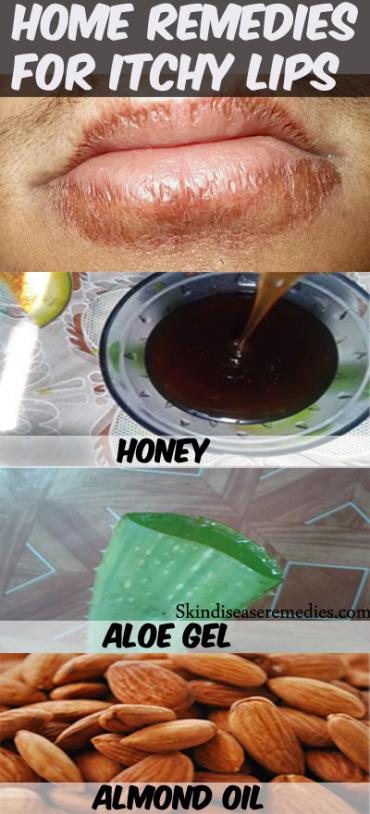 Other natural remedies that you can apply over lips include grapeseed oil, avocado oil, black seed oil, vitamin E oil and honey.
#3 Coconut Oil
This home available ingredient is packed with lots of essential nutrients, which can hydrate your lips and thwart infectious germs.
There is a misconception that coconut oil results in dark lips. No, you can use this natural oil for skin whitening. But, you must stay inside after applying the oil. Impurities and other pollutants accumulate over the skin.
#4 Raw Honey
Humectant activity of honey is renowned, which locks the moisture. Antibacterial and anti-inflammatory properties reduce inflammation and fight bacteria.
Apply this yummy ingredient with coconut oil or use it directly over prewashed lips. Leave it for 20-30 minutes and rinse it off.
#5 Aloe Vera Gel
It may seem difficult to apply this bitter tasting gel over lips. But, it is prominent for healing and hydrating properties.
Take aloe leaf and wash it. Peel the skin and gently rub the gel over exfoliated lips. For better taste, add honey to aloe gel before rubbing it over lips.
#6 Avoid Excess Exposure to Wind
Dry wind makes your lips dry and inflamed lips. Wear lips balm or aloe gel in cold weather. Rubbing your lips with fresh mint leaves also avoid dryness.
#7 Avoid Cosmetic Products
Few beauty products include allergic causing substances. These chemical preservatives strip moisture and its chemical composition irritates your sensitive skin.
Read ingredients before applying it over lips. Don't use old cosmetic products that you have not been used for 3 months.
Important Note
List doesn't end here. Many home remedies are still available, but these home remedies lone can't treat itchy lips. You must internally take vitamin rich diet and avoid smoking.
Take water rich fruits and vegetables. Drink enough water to hydrate the skin from inside.
Overview
Itchy burning lips are caused due to various factors, which include ailments, allergic reaction and weather. For acute symptoms exfoliate the lips and apply almond oil regularly.
Let us know your home remedy for itchy lips.
Save