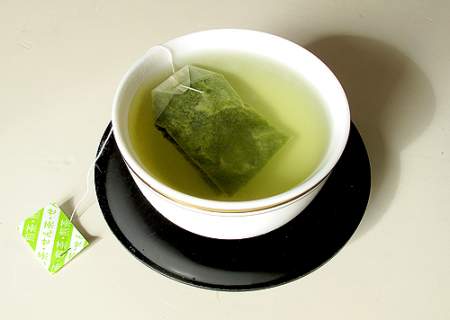 Herbal remedies are prominent for their nutritional value. You can use green tea for rosacea treatment. Both internal and topical application of this herbal tea will improve your skin texture.
High concentration of antioxidants, amino acids, phytochemicals and vitamins residing in green tea are really enticing for beauty lovers.
Coming to rosacea, redness on nose, cheeks, swelling, acne like break-outs, visible blood vessels and small bumps may appear on the skin. (1)
What causes this skin ailment is still unknown. However, researchers hold hereditary, overreaction of immune system, bug infection and certain proteins to trigger the ailment.
Fair-skinned people between 30-50 years of age are more likely to get rosacea. According to US Officials, about 14 million people are affected with this skin ailment in US alone.
Why Is Green Tea Good for Rosacea?
Drink it or make a facial by blending it with some water, this herbal ingredient can benefit your skin.
But, let me confess that chronic skin ailments like eczema, rosacea and psoriasis can't be cured permanently. However, you can reduce their symptoms with natural remedies or steroid creams.
Anti-inflammatory and anticarcinogen activity exhibited by green tea can efficiently reduce rosacea inflammation and redness.
Assorted nutrients in green tea can protect your skin from harmful UV rays.
Topical application will reduce bumpy texture and reveal your skin from inflammation.
A study conducted on women with rosacea showed 70% improvement in the condition, when compared to placebo. (Source: WebMD.com)
Professor from University San Francisco, Calif. says that green tea extract as anti-aging and anti-acne properties.
Further experts say that soothing ability exhibited by this herbal remedy can reduce redness caused due to rosacea.
Apart from regular application of this green tea facial, you can improve skin complexion, prevent aging signs, treat acne and improve your skin tone.
How to Use Green Tea for Rosacea?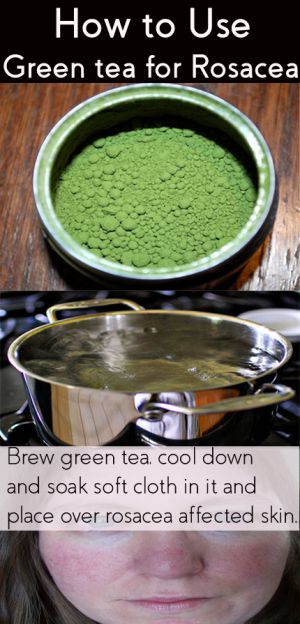 As mentioned internal and topical use of this herbal remedy will do wonders on your skin.
Replace your tea or coffee with this herbal tea every morning and enjoy the change.
All you've to do is to drop fresh green tea when the water starts boiling. I prefer few drops of lemon or fresh peppermint leaves with green tea. (Source)
#1 Green Tea to Reduce Redness
Brew green tea as usual and refrigerate it for about half an hour.
Soak a soft cloth in this cold tea for few minutes.
Now place the cloth over rosacea affected skin.
Leave it for about 20 minutes.
Practice this remedy twice per day.
#2 Olive oil and Green Tea Mask
To make the mask more effective, you can blend olive oil with this herbal ingredient.
Known for moisturizing and anti-inflammatory properties olive oil can lock moisture over the skin. Vitamins residing in this oil will penetrate deep into the skin to improve its texture.
Blend required amount of green tea powder with olive oil.
Mix the paste thoroughly and apply it over prewashed skin.
Leave the mask for about 10-15 minutes and then rinse it off.
Don't expect overnight results with any home remedy. Add this to your beauty regimen and it will slowly improve your skin.
#3 Green Tea Cream for Rosacea
I personally avoid beauty creams because they refine natural extracts. But, if you're lazy or don't have time to make your own facial every day, try beauty products that include green tea extracts. Check the list here.
Avoid them if you experience irritation.
#4 Rice Flour, Lemon Juice and Green Tea (Oily Skin)
Lemon juice is known for its bleaching properties. However, it can make your skin sensitive towards sunlight. So, avoid its use if you've sensitive skin.
Rice flour is packed with exfoliating ability. All these ingredients have ability to make your skin radiant and remove excess sebum.
Mix all these ingredients in required amount in a bowl and apply it over prewashed face.
Leave it to dry naturally for 15-20 minutes and then rinse it off.
#5 Green Tea and Honey Mask
This is an ultimate mask for all skin disorders. Rosacea, eczema and psoriasis can be reduced by this homemade facial.
Antibacterial, anti-inflammatory ability of raw honey can reduce rosacea effectively.
Mix 1-2 teaspoons of brew cooled green tea water with 2 teaspoons of raw honey.
Soak a soft cloth or cotton ball in the solution.
Place the cloth over rosacea affected skin for few minutes.
Instead, you can also mix green tea powder with required amount of honey to make thick paste. Apply this paste on the skin and leave it for few minutes.
Drinking or Facial Application?
Though both ways you reap nutritional benefits of green tea, experts recommend topical application as it directly affects the skin.
Or you can just try both.
Read this tips before using green tea for rosacea.
Foods like liver, chocolate, avocados, spicy food and yogurt that trigger rosacea must be avoided. (Source)
Repeated application of chemical filled creams will damage elasticity of your skin, stay away from them.
Change your lifestyle by including vitamin rich food and drink enough water.
Consult physician if problem persist.