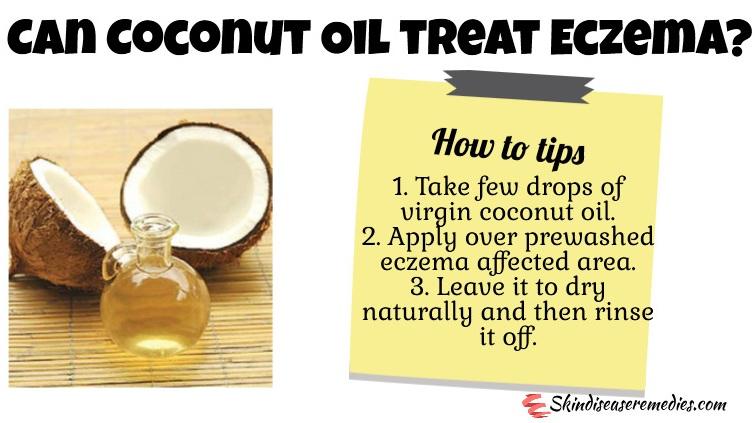 As most of are aware of this chronic skin disease, eczema starts from childhood and unfortunately there is no permanent cure for this disorder. But no need to worry you can reduce eczema flare-ups using natural remedies and steroids if you prefer.
According to patient.co.uk, moisturizing elements can effectively decrease eczema. Because, dry patches appeared over different parts of the skin will stimulate itching, resulting in serious wounds. Moisturizers hydrate your skin and restrain itching. Coconut oil is the most common and most useful natural remedy according to me, as it's affordable and we all have it.
Is Coconut Oil Good for Eczema?
Yes. This home available oil has emollient agents that hydrate your skin from outside. Its absorbing property helps to enter deeper layers of the skin and enhance collagen production.
Same goes for psoriasis, you can't permanently treat it, and good news is you can reduce itchy patches completely. Your skin secrets natural oil called sebum to keep itself hydrated, when it fails because of dehydration or some other hormonal problem dry skin appears leading to itching.
You can't resist yourself from scratching, can you? Topically apply coconut oil for eczema and psoriasis will give you instant relief from itching and assorted properties housed in coconut oil will fight bacteria and restrain its growth.
But, remember that coconut oil can't treat eczema or psoriasis permanently. So you must stay away from eczema triggers, mean avoid eating or wearing substances that may trigger eczema and psoriasis.
Related Post: Shea Butter to Treat Eczema and Psoriasis
How to Use Coconut Oil for Eczema?
To reap all innate properties residing in coconut oil, experts suggest selecting unrefined or virgin coconut oil for eczema and other skin diseases.
Wash the eczema affected area with water and pat dry. Avoid scratching and stay away from hot water.
Take few drops of store bought virgin coconut oil in your left palm and with right hand fingers topically apply the oil over eczema and psoriasis affected areas.
Leave it to dry naturally.
Repeated the process daily twice or thrice depending on eczema severity.
Studies conclude that people who use coconut oil in diet stay healthy compared to others, and let me clear this to you, though coconut oil has saturated fat it doesn't clog pores and is not associated with cardiovascular problem. (1)
Alternatively you can mix other vegetable oils with coconut oil to treat eczema.
Also read: 25 Uses of Coconut Oil for Skin
1. Coconut Oil and Vitamin E Oil for Eczema
Add 2-3 table spoon of coconut oil to 2 table spoon of vitamin E oil and rosemary oil.
Mix all ingredients in a bowl thoroughly.
Wash your affected area with water.
Pat dry with soft cloth and apply this lotion over eczema flare ups.
Let it dry naturally. You can rinse it off with water later.
2. Using Coconut Oil Internally
Not just externally, you must fight eczema internally. Easiest way to do that is to take 4-5 tbsp of virgin coconut oil as supplement in your diet.
Properties packed in this oil will fight free radicals and improve your overall health.
Here goes a long list of coconut oil recipes.
3. Coconut Oil and Olive Oil Mash to Treat Eczema and Psoriasis
Olive oil is renowned for its moisturizing properties. Antioxidants agents, vitamin E and A housed in this oil will help you to fight free radicals and enhance skin texture.
On the other hand, fatty acids packed in coconut oil contain antibacterial, antiviral and anti-fungal properties that will restrain infection and hydrates the skin from outside.
Take 3 table spoon of virgin coconut oil and add 1 tbsp of extra virgin olive oil.
Optionally you can mix essential oil.
Stir thoroughly and refrigerate for future use.
There are plenty of other innate ingredients, which you can mix with coconut oil. But I personally prefer only coconut oil for my dry itchy skin.
Related : Apple cider vinegar for eczema
How to Use Coconut Oil for Eczema on Scalp?
Above I discussed on how to use coconut oil for eczema on skin and hands, both goes same. Coming to hair or scalp, itching and flaky scalp are symptoms of eczema on scalp (we call it has Seborrheic Dermatitis). It's a real discomfort and will ruin your physical appearance.
Best time to apply virgin coconut oil over scalp is before going to bed.
Wash your hands and pour few drops of coconut oil in your left palm.
Using your right hand fingers apply the oil on scalp starting from the right side of your head.
Then come to left side and then at the end make sure you evenly applied the oil.
Coconut oil now has all the night to heal eczema flare ups, in the morning take bath with a shampoo and follow with a conditioner.
Note: Consult your physician if you see increase in hair fall.
Related: Zinc oxide for eczema
Coconut Oil for Baby Eczema
Carolan from England shared her experience on baby eczema on internet. Like an average parent they visited doctor as soon as eczema flare ups appeared over her baby's cheek. Even after using creams suggested by physician, eczema never reduced. So they consulted a dermatologist, but the try went in vain.
So out of concern, Carolan started searching over internet for natural remedies and found coconut oil to be the most effective remedy and tired it for her baby. Fortunately, it worked. To help all other mothers out there who're worrying about baby eczema she shared this post over web.
Buy organic coconut oil from store and apply topically over eczema affected area.
Best time is after bath; your baby's skin is now ready to absorb the oil.
Rinse it off when the oil naturally dries up.
Regular use is important to see the change.
Must read: How to Keep the Neck of a Baby Dry
Using Coconut Oil for Scalp Psoriasis
Last month I met a student who has scalp psoriasis. Am not an expert, but based on my research and knowledge over psoriasis and skin, I recommended him to try coconut oil extensively. In a week or so, going to meet him again, then I can reveal the results.
But mean time, if you drill through properties of coconut oil, you'll find interesting thing. Emollients and antiviral agents in coconut oil can easily reduce psoriasis. Experts say, coconut oil can give relief to some extent for scalp psoriasis, but this shouldn't replace steroids.
Just like in the case of eczema, buy virgin coconut oil and apply over scalp.
And the best time is at night before going bed.
Don't bath with hot water; you can try lukewarm water, as hot water may stripe moisture.
Repeat the process daily.
Did you ever think that a simple home available remedy can treat most chronic skin diseases? What's your say on coconut oil for eczema and psoriasis?