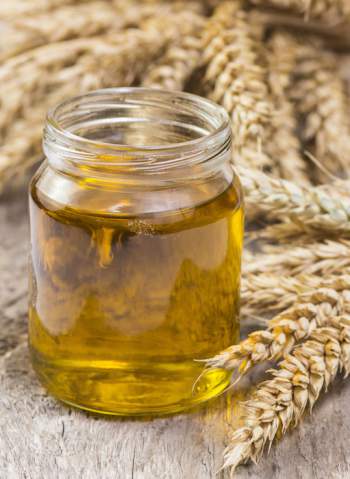 Wheat germ oil for skin lightening may sound oxymoron because we normally use facial creams and face mask recipes to whiten the skin.
Rejuvenating, cell regeneration and therapeutic properties of this carrier oil can efficiently improve your skin complexion.
Your skin gets its color from a pigment known as melanin. Some external and internal factors influence melanocytes to produce more melanin resulting in darker complexion.
UV rays, vitamin deficiency, skin ailments, chemical incorporated creams, and genetics are held responsible for hyperpigmentation. (1)
There are few cases where repeated use of cosmetic creams resulted in premature aging wrinkles and preservatives incorporated in them damaged elasticity of the skin.
Does Wheat Germ Oil Works for Skin Lightening?
Nutrients housed in this natural oil help to stimulate the overall functioning of the skin and improve its complexion.
Everyone desires to have a flawless, bright and clear skin. You'll find 3 different products for this purpose when you check beauty aisle at a local store. Luckily, wheat germ oil is packed with all these nutrients.
Vitamin C residing in wheat germ oil consists of tyrosinase, which helps to inhibit melanin production.
Vitamin E neutralized the harmful effect of UV rays and stimulate skin repair.
Vitamin A is prominent for reducing dark spots, improving skin tone and reducing wrinkles.
Amino acids packed in wheat germ oil stimulate the production of collagen thus helps to improve the elasticity of the skin.
Vitamin B1 (thiamine) in this oil guards your skin against harmful UV rays.
Antioxidant activity packed in the oil can thwart free radicals and reduce aging wrinkles.
Minerals like calcium, potassium, and iron help to shed dead cells, cleanse skin pores and saturate skin cells with oxygen.
The emollient ability of this remedy helps to regulate moisture over the skin.
Overall this magical carrier oil can reduce dark spots, reduce wrinkles, lighten the appearance of scars and protect from UV rays.
How to Use Wheat Germ Oil for Skin Lightening?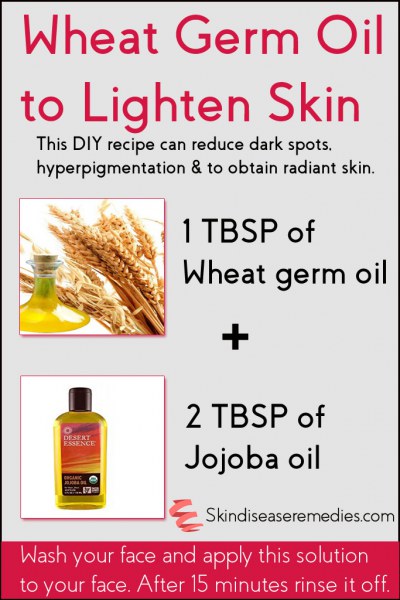 This remedy and other natural remedies can improve your skin complexion by removing impurities, protecting from UV rays and treating ailments.
Method: 1 (Wheat Germ Oil)
You can get pure wheat germ oil from a local store. Cleansing is one of the effective ways to make your skin radiant.
Remove makeup and other creams if applied over the skin.
Take few drops of wheat germ oil and rub in your hands.
Now, apply the oil gently over the face and leave it to dry naturally for 15 minutes.
Massage circularly to improve blood circulation.
If you've acne or pimples, then expose your face to steam or place a washcloth dipped in hot water (wring to remove excess water) on your face.
Exposing to steam helps to open blocked skin pores.
Method: 2 (Wheat Germ Oil and Avocado)
To make the mask more effective, you can blend another natural ingredient to it.
Grind half avocado into a smooth
Add 3 tablespoons of wheat germ oil and ½ cup of plain yogurt to the avocado paste.
Blend once again to make a smooth paste like consistency.
Wash your face with water and apply the mask evenly all over the skin.
After 15-20 minutes, rinse it off with water.
Method: 3 (Jojoba Oil and Wheat Germ Oil for Skin Lightening)
Strong aroma of wheat germ oil may irritate your skin, so beauty experts recommend blending it with a base oil like jojoba oil or carrot oil.
You can also mix sandalwood or geranium essential oil.
Cleanse the face with gram flour, as it effectively removes impurities and excess sebum.
Take required amount of wheat germ oil and mix it with jojoba oil. Gently massage the face with this mask and leave it to dry naturally.
Alternate Usage
Optionally, you can mix this oil with your favorite beauty cream. (One that doesn't include harmful chemicals)
You can ingest wheat germ seeds in a traditional way. Add 1 teaspoon of wheat germ to your salad or juice. Check this article for different ways to consume.
Best Time to Apply Wheat Germ Oil for Skin Lightening
Before going to bed is the preferred time to try this beauty regimen. However, you can try it in the morning if you've enough time.
But, make sure you don't rush outside by applying this face mask, as the oil can attract impurities over the face.
Don't use refined or impure wheat germ oil.
Drink enough water and water rich vegetables.
Include vitamin rich diet and avoid junk foods.
Wear a wide hat while going out in sun.
Have you ever used wheat germ oil for skin lightening? Would you mind to share your recipe here in comments? 🙂
Image source: 1