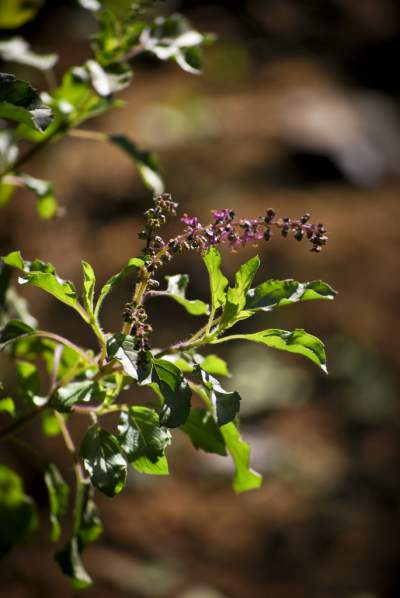 Apart from treating health ailments and purifying, you can use tulsi face pack for flawless skin.
Because of its numerous benefits, tulsi or Holy Basil is worshiped by Hindus in India. Most of them have at least one tulsi plant in their homes. Healing properties in this aromatic herb are renowned in Ayurvedic medicine. Ailments like cold, flu, inflammation, fever, malaria, cough and heart problem can be relieved by this scared herb.
Apart from health benefits, you can use tulsi for skin whitening. Its aromatic smell relieves you from stress and other assorted nutrients lighten dark spots, fade scars, eliminate acne and treat common skin disorders.
Benefits of Tulsi Face Pack for Skin
Like natural ingredients, tulsi has abundant essential vitamins and minerals that can enhance healthy functioning of the skin. Have a glance at below points; they'll blow your mind.
Impurities and dead skin cells piled over the face can be removed by cleansing ability of tulsi and besan combined.
Antioxidant agents kill free radicals that damage cell membrane and help to obtain youthful skin.
Exceptional properties in tulsi face pack can tighten skin pores and stimulate fast healing.
Anti-inflammatory activity of this herb can treat acne and reduce inflammation caused due to minor injuries.
Anti-bacterial, anti-fungal and anti-viral properties residing in tulsi can thwart infectious bacteria from the skin.
Antiseptic property in tulsi restrains infection on wounds, acne, injuries and flare-ups.
Massaging with tulsi mask will relieve from itching and irritation.
It restrains dark spots, premature aging wrinkles, scars and other chronic skin ailments.
Also read: Sandalwood face mask for skin whitening
Tulsi Face Pack Recipes
To absorb those enticing benefits of tulsi for your skin, you need few minutes and a simple recipe.
Note: Patch test before using tulsi on your face.
To make this natural ingredient more effective, beauty experts add other home available ingredients to it.
Homemade Curd and Tulsi for Skin Whitening
This simple homemade face pack will remove dead cells and impurities, which can form dark patches on the face.
Pluck fresh tulsi leaves and dry them in shade for about 3-4 days.
Grind them to form fine powder and store in a glass container.
Mix 1 tablespoon of this tulsi powder to ½ tablespoon of curd.
Wash your face or cleanse it and pat dry using soft cloth.
Apply the tulsi curd face pack on the skin and leave to dry naturally.
Tulsi and Honey Face Pack
Benefits of honey are documented in religious and ancient books. Anti-inflammatory and humectant property in raw honey can treat acne, hydrate skin and cleanse it.
Grind required amount of fresh tulsi leaves with enough water.
Collect the juice in a container by squeezing the paste.
Add besan and honey to the collected juice.
Using clean fingers spread the mask over the face.
Multani Mitti and Tulsi Face Pack
Multani mitti has great contribution in removing impurities. Regular use of this face mask will fade scars and helps to obtain radiant skin.
Grind dried tulsi leaves and mix 1 tablespoon of multani mitti to it.
Optionally add 1 tablespoon of sandalwood powder.
To make thick paste, add 4-5 drops of rose water, olive oil and water if required.
Cleanse your face with water or natural cleanser.
Pat dry and apply the mask evenly using your clean fingers.
After 15-20 minutes, rinse the face pack with water.
If you've dry skin, apply natural moisturizer like rose water after this face pack application.
Tulsi and Neem Face Pack
Neem leaves are renowned for its antiseptic and antiviral activity. You can't believe what these two natural ingredients can do for your skin. Chronic ailments and infectious germs can be restrained by this simple face mask.
However, I recommend using this mask once in a while.
Wash neem leaves and tulsi leaves.
Grind them with enough water to make thick paste like consistency.
Optionally, add 1-2 cloves to the mixture before grinding.
Wash your face and apply the mask evenly.
Rinse it off after 15 minutes.
Tulsi and Besan Face Pack
Gram flour or besan is prominent for removing impurities. Blend these ingredients and you'll make your skin refreshing.
Take 30-40 fresh tulsi leaves and grind them with required amount of gram flour.
Add few drops of raw honey to the mixture.
Wash your face with water and apply this face mask evenly.
After 15 minutes, when the mask is completely dried rinse it off with water.
Sandalwood and Tulsi Face Pack
Aromatic smell and cleansing properties in sandalwood result in skin whitening. Regular usage of this face mask will make your silky soft and improves skin tone.
Dry tulsi leaves and grind to form fine powder.
Add required amount of sandalwood powder to it and drop olive oil to form thick paste.
Alternatively, you can replace olive oil with rose water.
Apply the mask on prewashed face and rinse it off after 15-20 minutes.
Tulsi for Acne
Inflammation and excess sebum production are mere causes of acne blemishes. This doesn't mean that dry skin people will not have acne.
Anti-bacterial, anti-inflammatory and antioxidant properties residing in tulsi can effectively treat acne lesions.
Grind dried tulsi leaves into fine powder.
Add rose water and sandalwood powder to it.
Mix thoroughly and apply it over acne affected skin.
Regular usage will do wonders.
And the list goes on there are many ingredients that you can add with tulsi face pack. But, patch test before using them on the skin.