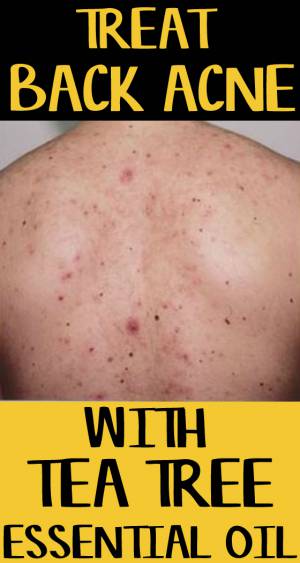 You're not the only one who is affected by acne, based on official reports 50 million Americans have this chronic skin ailment at some point in their life.
Fortunately, essential oils like tea tree oil for back acne come as a savior. Not just bacne, you can use this essential oil to fight blemishes on your face.
It's a yellow colored versatile essential oil derived from the leaves of tea tree plant (Melaleuca alternifolia), which is native to Australia. In 20th-century tea tree oil has been valued for its antimicrobial, anti-fungal, antiseptic, antibacterial and antiviral activity.
These notable properties make tea tree oil for bacne an effective and inexpensive home remedy and it also enticed cosmetic industries to include tea tree oil as an ingredient in soaps, shampoos, lotions and beauty products.
What Causes and Who Gets Acne?
You'll hardly find anyone who didn't experience acne. Apart from teenagers, even adults can get affected by this skin ailment.
Hormonal imbalance trigger excess production of sebum that clogs skin pores along with dead cells.
Sebaceous glands, which are responsible to secrete sebum, can be found throughout the skin excluding palms and soles. Few beauty experts say your back has more sebaceous glands compared to other areas.
When inflammation is triggered due to hormonal imbalance, excess sebum secreted by these glands gets clogged with skin pores along with dead cells resulting in pimples/acne.
Also referred as "Bacne", people suffering from back acne feel uncomfortable and depressed.
Apart from this, few researchers state that food you eat can trigger acne inflammation.
Though there are effective creams to instantly reduce acne blemishes, most beauty experts recommend natural remedies like tea tree oil, aloe vera, and honey, because those store bought creams are pricey and expensive. On the other hand, natural remedies are effective and inexpensive with no side-effects.
Related: How to Use Herbal Tea for Acne?
Is Tea Tree Oil Good for Bacne?
Remember, this natural remedy may not work for all skin types. But, you're free to add other innate ingredients to make it suitable and effective for your skin. Let's now put down few renowned nutritional benefits.
Controls excess sebum production: Assorted properties of tea tree oil can effectively reduce sebum production.
Fight acne-causing bacteria: Based on a study, anecdotal evidence of antiseptic and antimicrobial activity in tea tree oil has shown in treating acne and other skin disorders with fewer side-effects.
Antibacterial and anti-fungal agents housed in tea tree oil restrain bacterial and fungal infection. Chronic skin infections like eczema, yeast infection and Athlete's foot can be reduced using this oil. (1)
Terpenoids that include eucalyptol, terpinen-4-ol, nerolidol, cineole and viridiflorol in tea tree oil exhibits antimicrobial properties. Whereas Eucalyptol shows antiseptic activity.
Fasten healing process: Exceptional agents residing in this essential oil can enhance healing of acne blemishes.
Also read: Is Lavender Oil Good for Acne?
How to Use Tea Tree Oil for Back Acne?
Applying tea tree oil on back acne is not easy, as you can't reach your back by yourself. Ask your friend, partner or spouse to apply this essential oil over acne breakouts.
Consider a care taker, as evenly massaging is essential. Dilute tea tree oil with other carrier or base oils, because higher concentration of tea tree oil can irritate your sensitive skin.
Below mentioned are different recipes, choose the one that goes well with your skin.
#1. Honey and Tea Tree Oil
Honey is packed with antibacterial, antimicrobial and anti-inflammatory abilities that can effectively soothe inflamed blemishes and fasten the healing process.
Humectant property of honey can lock moisture on your skin that helps to get rid of the itchy skin.
Burning or tingling sensation on your back can be reduced by topical application of this mask.
Wash affected the area with lukewarm water and cleanse the back.
Mix 1-2 drops of tea tree oil with 1 tbsp of honey and yogurt.
With the help of your partner evenly apply the tea tree oil mask over bacne breakouts.
Leave it for 15-20 minutes, and then rinse it off.
#2. Tea Tree Oil and Aloe Vera
Mix tea tree oil and aloe vera gel in a bowl and apply it over acne blemishes. Experts recommend raw honey for its abundant nutrients; anyhow you can replace honey with aloe vera gel.
Aloe gel is prominent for its calming abilities that can reduce inflammation and heal bacne.
Like other innate ingredients, aloe gel is loaded with antibacterial and anti-inflammatory properties.
Mix 2 tbsp of aloe gel with 3-4 drops of tea tree oil.
Topically apply the obtained mask on your back.
Allow it to dry naturally for 15 minutes.
Also read: How to use aloe vera gel for pimples?
#3. Jojoba Oil and Tea Tree Oil
Both are packed with a bunch of exceptional properties that can effectively treat skin disorders like acne, eczema, and warts.
Non-comedogenic activity exhibited by jojoba oil can unclog skin pores. Apart from including essential vitamins and minerals that can treat acne, jojoba oil resembles your natural oil sebum.
Its application will trick your skin to produce less oil and prevent excess oil on your back.
Blend 1 tbsp of jojoba oil with 2 drops of tea tree oil and apply over the infected area using a cotton
Allow it to dry naturally for 20 minutes.
Rinse it off and moisturize your back with rose water or jojoba oil.
Also read: Is Jojoba Oil Good for Acne?
#4. Olive Oil and Tea Tree Oil for Bacne
Even olive oil and tea tree oil can be mixed to use it to treat acne blemishes. Regularly apply this lotion over bacne and it will help to fade acne scars to some extent.
Antioxidant agents in olive oil can lighten the appearance of back acne scars.
Vitamin E residing in extra virgin olive oil promotes collagen production and fasten the healing of acne.
Topical application of olive oil will reduce inflamed acne blemishes.
Mix 1 tbsp of tea tree oil with equal amount of olive oil.
Apply it directly on acne blemishes using a cotton ball.
You can also apply it evenly and allow it to dry for 15 minutes.
#5. Plain Yogurt and Tea Tree Oil
Though few say that consuming yogurt can trigger acne, anecdotal reports claim that topical application of this home available ingredient can actually reduce acne lesions.
Lactic acid present in yogurt can dissolve dead cells piled on your skin. Besides this, zinc, calcium and B complex vitamins fight P.acnes bacteria and trigger cell regeneration.
Mix ¼ cup of plain yogurt with 3-4 drops of tea tree essential oil.
Wash your back to remove impurities and then pat dry.
Apply the mask evenly on back acne and then allow it to dry for 20 minutes.
Rinse it off with water and moisturize with rosewater.
#6. Coconut Oil and Tea Tree Oil
Coconut oil is known for its hydrating, healing and cell regeneration abilities.
Fatty acids housed in coconut oil exhibits antibacterial, antifungal and antiviral properties that can effectively treat acne.
Add 1 tsp of tea tree essential oil to 9 teaspoons of coconut oil.
Mix thoroughly and then apply the mask to the prewashed
Ask your partner to apply this mixture evenly all over the back.
Let it dry for 15-20 minutes.
Take bath or rinse it off with water.
#7. Green Clay and Tea Tree Oil
Green clay is renowned to cleanse impurities from the skin, which includes excess sebum, dead cells, and pollutants.
Regular use of this clay will help to thwart toxins off the skin and improve your skin texture.
Take 2 tbsp of green clay in a bowl.
Add 3-4 drops of tea tree essential oil to it.
Mix thoroughly, to obtain thick paste-like
Apply it on back evenly and allow it to dry for 15-20 minutes.
#8. Egg White and Tea Tree Oil for Bacne Scars
Topical application of egg white will help reduce discoloration and remove dead cells piled on your skin.
Assorted vitamins residing in egg white helps to heal acne and lighten the appearance of bacne scars.
Add 3 drops of tea tree essential oil to 1 egg white.
Stir well and apply it on the pre-washed
Let it dry for 15-20 minutes.
Also read: How to Use Egg White for Acne?
#9. Tea Tree Oil Steam
Exposing your skin to steam will open blocked skin pores and reduce inflammation.
Add 5 drops of tea tree oil to a large bowl of boiled water.
Drape a towel over your head and lean towards the steam.
Repeat this for every 5 minutes.
#10. Tea Tree Oil Bath
This method will help to treat acne is various parts of your body.
Drop 10-12 drops of tea tree essential oil to tub warm water.
Stir and soak your body in it for few minutes.
Else you can take bath.
This will help to clear acne on back, chest, and
#11. Homemade Face Scrub
You can call it an ultimate anti –bacne remedy.
Mix 1/2cup of sugar, 1 tbsp of honey, ¼ cup of olive oil and 10 drops of tea tree oil.
Evenly apply this mixed mask on damp back.
Gently massage in circular motion for 2 minutes.
Allow it to dry for 15-20 minutes.
#12. Tea Tree Oil Witch Hazel
Excess use of this method may irritate your skin. So try this once in a week.
Mix 3-4 drops of tea tree oil with 10 drops of witch hazel.
Stir well and apply it on your back using a cotton ball.
Rinse it off with water after 15 minutes.
Important Tips
Though there is no strong scientific evidence, tea tree oil for back acne has been recommended by many beauty experts.
Depending on your skin type this innate remedy may or may not work for you, do a patch test before trying this oil.
Besides the topical application of tea tree oil, you must change your lifestyle to fight acne.
Avoid foods that may trigger chronic skin ailments like acne.
Don't squeeze or press acne lesions.
Few researchers say that stress can trigger this skin ailment. So, avoid it.
Regular application is must to fight acne blemishes.