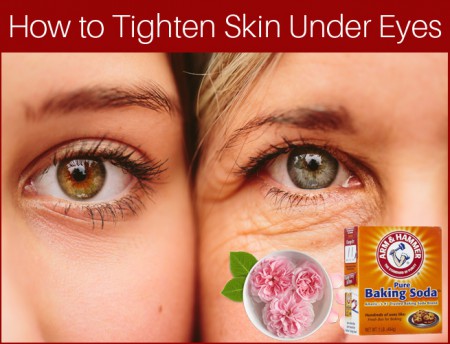 Do you desire to have that taut skin around your eyes? The firm, blemish and wrinkles free skin is a dream that every woman wants to achieve. Here you'll learn how to tighten skin under eyes.
It is really an unfortunate fact that our skin loses its natural firmness as we age. As we get older, the skin loses the elasticity, but have you ever wondered what causes saggy skin under eyes?
Why Does the Skin Lose Tightness?
The skin around our eyes are several times more sensitive to losing the elastin and collage, which is why more vulnerable to sagging, fine lines and wrinkles.
Apart from the nature's natural course, bad diet, and habits like not drinking enough water, not getting enough sleep and not following proper skin regimen are sure to speed up the natural process of losing firmness.
The skin surrounding our eyes gets sagged even faster when we repeatedly rub, tug, and massage the region.
Sun exposure, and bad eating habits are the major cause of skin damage, the UV rays are also responsible for damaging the sensitive skin area around the eyes.
What is the Best Treatment to Get Tighter Skin Around the Eyes?
When it is about eye skin care and eye health, it's safe to go with the phrase that prevention is better than cure.
As mentioned earlier, the skin around your eyes are very sensitive, and thus you need to start taking of this area way before the signs of aging appear on your skin.
Right around the period when puberty hits, start following a good skin care regimen that addresses all your skin troubles.
While there are several surgical methods that can help tighten the sagged skin and reduce wrinkles under eyes, there are some non-surgical, natural methods that can be followed to tighten the skin effectively.
The creepy, lose skin under your eyes can be treated by following proper skin care regimen.
Natural home remedies are the considered best for reducing under eye wrinkles and tightening the sagged skin. The thing is when it is about the sagged skin, all efforts are put towards stopping down the aging process of the skin.
But if you really want to know an effective and safe solution for this creepy problem, read on this article because we've got you covered with the best methods for tightening skin under the eyes.
How to Tighten Skin Under Eyes Naturally?
When signs of sagging and fine lines start to appear on your skin, and the natural aging process begins to take its toll on the sensitive skin under your eyes, you need to be vigilant about taking steps to avoid the damage.
There are a lot of remedies that can be followed to tighten the skin around your eyes.
These can conveniently be divided into two categories: Natural Remedies and Cosmetics Measures
Cosmetic Measure to Tighten Skin Under Eyes
These cosmetic measures should never be ignored if you really want to avoid the damage of your sensitive under eye skin area. Set up a skin regimen according to this and strictly follow it.
#1 Apply Moisturizing Creams to Remove Sagging Under Eyes
The Moisturizers are one of the most important parts of skin care regimen, and they play an important role in eye care as well.
Find a moisturizer that contains hydrating ingredients because they are the best and safest natural element for healthy under eye skin.
If you are looking for a natural moisturizer, look no further than almond oil because they have tightening properties and are considered best for delicate eye area.
Retin-A Cream are also recommended for creepy lose skin. The anti-aging creams with this compound can firm up and the delicate under eye skin.
Related Post: How to Get Rid of Forehead Wrinkles without Botox?
#2 Hydraulic Acid Serum to Get Rid of Saggy Skin Under Eyes
The Hydraulic Acid has long been used in skin care products because they improve skin's texture and firm up the skin around the eyes.
It works by absorbing the excess moisture from the sensitive skin, and then gradually tightens the skin.
It can also help the skin to stimulate cells to produce more collagen and thus tighten up the loose dermis layer.
Skin care specialists thus recommend applying the Hydraulic acid serum around eyes every night before going to bed.
It will not only moisturize the skin but also plump up the skin with required firmness.
#3 Wear Sunscreen When You Go Out During the Day Time
As mentioned earlier, sun exposure plays a major role in damaging the under eye skin.
Excess exposure leads to baggy eyelids and saggy under eye skin. The best option to avoid harmful UV rays is applying sunscreen every time you step out in sunny days.
Wearing sunscreen will help prevent eye puffiness, fix sagging lines, diminish fine lines and improve your complexion as well.
Home Remedies to Tighten Skin Under Eyes?
These natural remedies do not require depending on the cosmetics or artificial eye skin care products.
Most of the ingredients are available in your kitchen and these natural remedies are as effective as any expensive surgical procedure, but they show their miracle only when followed regularly.
Beauty freaks that wonder how to tighten skin under eyes, and want to try natural remedies should try at least three of these remedies and stick to religiously follow the most suitable one.
Also read: 9 Amazing Benefits of Papaya for Skin
#1 Egg Whites to Eliminate Eye Wrinkles and Saggy Skin
Egg white mask is one of the best skin tightening remedies and it is sure to bring in the result within a week.
This facial mask when applied regularly tightens the lose skin, prevents appearance of premature wrinkles and reducing fine lines under eyes.
Fresh egg whites can be directly applies around the eyes and allowed to sit for at least ten minutes.
Take egg white in a small bowl and apply it under eyes.
Allow it to dry naturally and then rinse it off with water.
It will tighten the skin, remove wrinkles, reduce the appearance of fine lines and also help you get rid of bags under the eyes.
Egg whites are composed of hydro lipids, an element that tightens the skin and makes it appear firm.
#2 Rose Water to Avoid Saggy Under Eye Skin
Rose water is one of the most loved beauty products. Regular use of rose water will not only make your skin feel fresh, reduce the sagging, but also add a radiant glow to your face.
It works like an astringent to tone the lose skin, and gradually improve its elasticity.
Just dip the cotton wool pads in the rose water, and then gently dap the rose water soaked pad on the under eye area.
Allow it to sit and repeat the process every time you go to bed.
Doing this simple process every day will help you treat both wrinkles, fine line and prevent your under eye skin to get sagged.
#3 Cucumbers to Naturally Tighten Skin Under Eyes
Cucumbers are the most widely used natural ingredient for dealing with skin care problems.
Cucumber juice is known for its refreshing properties that can tighten the pores and make your skin feel lighter and fresher.
Just dab some cucumber juice on your puffy eyes, saggy skin under your eyes or anywhere on your face.
Allow it to fry and then rinse under cool water.
You can also use cucumber moisturizing mask for they can effectively tone your lose skin and help it regain its firmness.
#4 Baking Soda to Tighten the Lose Skin Under Eyes
Is there any single thing that Baking Soda is not capable of doing?
Baking soda is one miraculous natural ingredient that can effectively improve your skin's texture.
It naturally brightens and scrubs your skin by removing the dead skin cells.
So, if you really want to taut the loose under eye skin, just make a paste of baking soda and water.
Apply this paste on the under eye skin by spreading it evenly with your fingers, and then apply it over your entire face.
Allow it to sit for ten minutes and then rinse off under running water.
#5 Use Eye Creams to Tighten the Under Eye Skin
Apart from these natural remedies, there are few eye creams that you can apply to help tighten the skin.
These creams generally tend to be costly than any other regular facial cream, but they are value for money products as they can actually slow down the aging process of your delicate under eye skin.
These eye creams can also help tighten the area by tightening the production of co
Be sure to opt for an eye cream that doesn't only have moisturizing properties but also provides SPF protection.
Apply the under eye cream every time you step out in the sun.
The best night eye cream should be the one that has restorative properties and is very potent.
These creams should rejuvenate the delicate skin around your eyes and help repair the damaged skin cell, as well as help you get rid of toxins, any free radicals and other toxic elements that might work their way to weight the skin down.
Tips
Have enough sleep. This is very important.
Drink enough water and ingest vitamin rich diet that is essential for your skin.
Hydrate your skin from inside and outside by apply natural moisturizers listed above.
Regularly massage the skin under eyes with almond oil.
Irritants that you're allergic must be avoided.
Consult physician if you experience irritation.
Did you ever use any home remedy to tighten skin under eyes? Let us know your recipe.