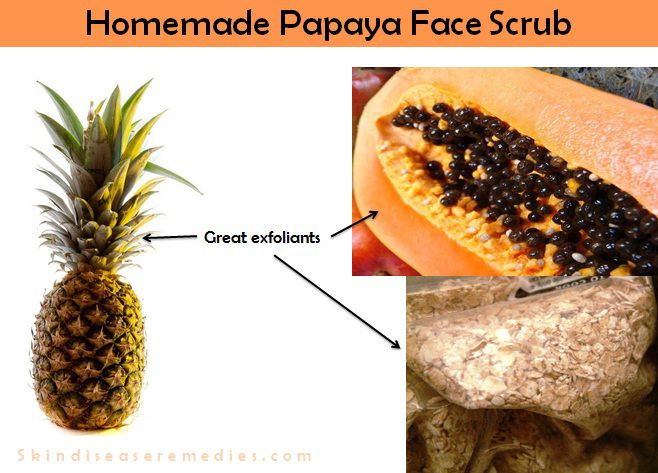 It's everyone's burning desire to have radiant and glowing skin. As skin plays vital role in looking gorgeous, it's no sin in having such desire. Anyhow, we're against chemical ingredient face creams, not because they're pricey, but they do more harm than good. Most people who love natural face creams will think twice before handing their skin to chemical creams. Pineapple and papaya face scrub is one such innate remedy to clear dead skin cells and nourish your delicate skin.
OK fine, but what the heck is face scrub?
In simple words, it's a product made to exfoliate your skin, especially on face, as the skin over face is delicate and need to be pampered unlike other parts. And process of removing top layer of the skin (dead cells) is known as exfoliation.
Now let's dwell deep, to know how to make papaya and pineapple face scrub.
Also read: Papaya face mask for oily skin
Making Papaya and Pineapple Face Scrub at Home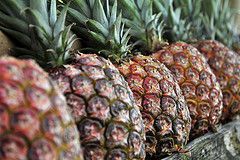 These delicious fruits are known to have abundant nutritional benefits for health as well as skin. According to About.com article, juice from both fruits has exfoliating properties.
Pineapple is filled with vitamin C that makes your skin clear and antioxidants in it thwart free radicals. Vitamin A and Papain enzyme in papaya helps to shed dead cells and breaks inactive proteins. It also reduces skin discoloration. (source)
Things you'll need
Ripe papaya – 1/4 (Peel it and slice into small pieces)
Pineapple – 1/4 (After peeling, remove the hard stems and slice the fruit into pieces)
Sugar – 2 tbsp
Manuka honey – 1 tbsp
Almond oil – 1 tbsp
Procedure
Blend sliced papaya and pineapple pieces separately.
In a bowl, add all the ingredients and mix well.
Using your fingers apply it over prewashed face. Leave it for 15 minutes.
Get warm wash cloth and press over skin to remove the scrub.
Tip: Apply homemade moisturizer after treating with papaya face scrub.
Papaya and Oats Face Scrub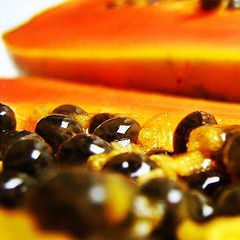 If you've no pineapple, don't worry you can try oats. As you might know, oats are slightly rough and acts as excellent exfoliants. It's also hydrates your skin from the outside just like papaya. If you've vigorous itching then this is the most recommended face and body scrub for you.
Note: If you've very sensitive skin, then replace oats with sugar.
Things you'll need
Ripe papaya – 1/4
Oats – 4 tbsp
Almond oil – 1 tbsp
Procedure
Initially peel papaya and slice it into small pieces. Then blend papaya cubes and oats.
Instead of blending both oats and papaya at a time, you can mash it separately.
Now add 1 tbsp of almond oil to the mixture.
Mix it well and apply it over prewashed face.
After 10 minutes wipe it out with warm wash cloth or like warm water.
Don't forget to use natural moisturizer after face or body scrub treatment.
Important tips
Avoid refrigerating the papaya face scrub, use it fresh.
Use spoon to take the scrub.
Drink lemon juice before starting face scrub, as it helps to detoxify the skin. (source: Internet)
Avoid using soap or face wash creams immediately after face scrub treatment.
Topically apply moisturizer when you're done with rinsing off the face scrub.
Add it to your beauty regimen.
Did you ever use pineapple, oats or papaya face scrub? Share your views here in comments.