Shingles, also termed as "Herpes Zoster" is caused by the same virus responsible for chickenpox- "varicella-zoster virus". Shingle is not something new or rare for humans. Almost one-third of the human population experience the outbreak of shingles at least once in their lifetime. The virus usually remains dormant in the nerve cells and can cause an outbreak of shingles with rashes and significant pain on the body.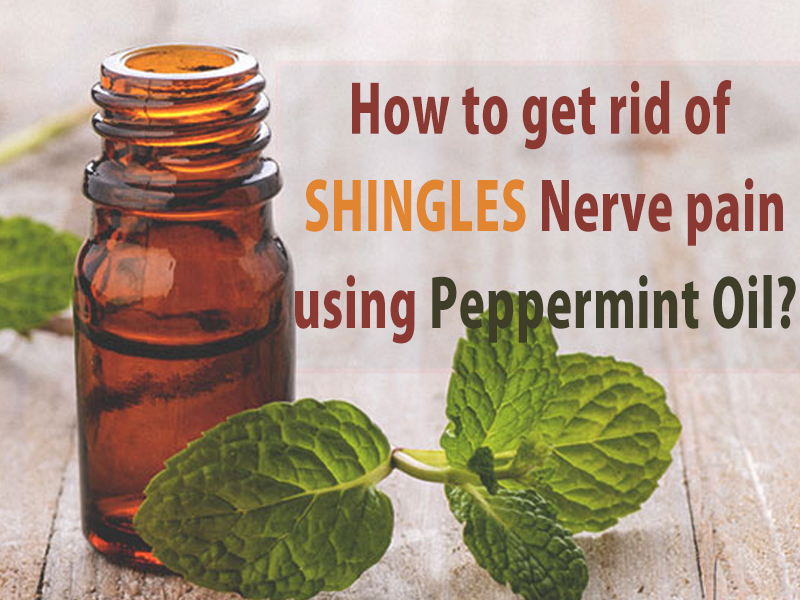 Although, most doctors can point out if you have got the vaccine against "varicella-zoster virus", it is always good to have ideas about some home remedies especially essential oils for shingles. In this article, we are trying to discuss an amazing essential oil- the peppermint oil, its health benefits and how it is effective in shingles. We will also talk about some methods to use it in case you are suffering from shingles.
How is Peppermint Oil Beneficial in Shingles?
Peppermint oil is one of the most versatile essential oils and can be used aromatically as well as topically and internally to get rid of various health-related issues. It has great beneficial properties on the skin and can relieve muscular pain, seasonal allergies, digestive troubles and other skin related problems. Thanks to its antimicrobial, antiviral, and antioxidant properties, it can be a great option for shingles. It is very effective to heal the rashes and muscular pain caused in case of shingles. You can use it topically in some ways. Here are a few of them.
Also Read: How to Use Coconut Oil for Psoriasis and Scalp Psoriasis?
Normal Application of Peppermint Oil:
Peppermint essential oil alone can be very effective to heal the pain and rashes caused due to shingles. We have already discussed its properties and benefits on your skin. Here are the tips to use it for shingles.
Take half tbsp. peppermint essential oil in a clean bowl.
You can adjust the volume according to the affected area.
Take little oil on your fingertips and apply gently on shingles rashes. If available, you can use the cotton plug as well.
Leave it for 2-3 hours and then wipe out softly using a soft cloth soaked in warm water.
Keep repeating it for several days until you get proper relief.
Peppermint Oil with Lemon Essential Oil:
If the affected body part(s) is dried due to prolonged symptoms of shingles, adding a few drops of lemon oil to peppermint essential oil is a great option. The lemon essential oil is known for excellent beaching properties. It will work wonderfully with peppermint oil. It won't only clear the rashes; it will also help you to get back the normal tonicity of the skin.
Here is how to use lemon essential oil with peppermint oil.
Take half cup peppermint essential oil and add 4-5 drops of lemon oil to it.
Mix both oils properly, and apply on the affected parts.
Apply properly at night and leave till morning for best results.
Have a bath with lukewarm water.
Keep repeating it for 10-15 days.
Peppermint Oil with Rose Essential Oil:
Rose essential oil is not only used for its pleasing aromatic smell, but it is also very effective in various skin related problems. It will assist peppermint oil in case of shingles by reducing the inflammation and itching on the skin. It also has tremendous antiseptic properties. Here are a few ideas to us rose essential oil with peppermint oil.
Take equal amount of peppermint oil and rose essential oil.
Mix both oils properly and add a little amount of coconut oil.
Take a few drops in hands and message on the affected parts.
Leave for a few hours and then wash off with fresh water.
Pat dry with a clean, soft cotton cloth.
Keep repeating the process until you get rid of inflammation and itching.
The Bottom Line:
Although Peppermint Essential Oil is very beneficial to relieve the symptoms caused due to shingles, it is far from a permanent solution. If somehow, you are affected with shingles, don't waste your time and consult a qualified and experienced dermatologist. Keep taking the medications according to the doctor's suggestion. You can relieve the pain and itching caused by shingles with peppermint essential oil, but can't rely totally on it. Always get advice from your dermatologist before using any essential oil, you never know, you can get allergies from a few of them.