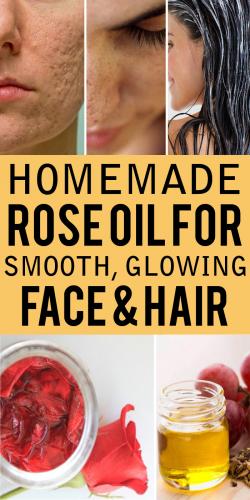 Roses are well known for its skin and hair beautifying properties. It is used in many skin and hair products, but we cannot really depend on those products completely. As they also contain many synthetic and toxic substances that damages our skin.
Instead of depending on expensive products, it's always better to make our own DIY oil by sitting in our home itself. Essential oils offers many health and skin benefits that improve the texture of our skin. Rose oil is one of those essential oils which make our skin bright and smooth and even gives us strong, healthy hair.
Benefits Of Rose Essential Oil:
Rose oil contains astringent properties that strengthens the hair from its root and make it stronger. It gradually results in improving the skin tone and texture.
Rose oil is also used as facial oil to balance oil secretion of your skin. It promotes healthy skin tone with healthy complexion.
Regular application of this oil makes your hair smoother, softer and it even smells great that stays for longer hours as a hair spray.
Grape seeds essential oil has anti moisturizing properties that keeps your hair frizz free and make it even softer and smoother.
Recipe Of Homemade Rose Oil:
Ingredients:
Fresh handful of fresh organic petals
½ cup of grape seed oil or else you can also use olive, coconut and almond oil.
How To Prepare:
Pluck the rose petals and tear them roughly. Wash them completely and add them in a jar along with grape seed oil.
Close the jar with a lid and place it in bowl of water and boil it for 15 minutes on low flame.
Once the oil and water cool down, place the oil bottle in dark room for 24 hours.
That's it, rose oil is ready. You can strain rose petals to use the oil, but it is better to use along with petals.
How To Use It:
For Hair:
Take little amount of rose oil in your hands and apply it on your hair before going to bed or 2 hours before hair wash.
For Skin:
To maintain glowing skin, just massage your skin with rose oil every day before going to bed for few minutes.