Green tea is prominent for its weight loss benefits. But, you can also use this herbal tea to achieve flawless skin and treat ailments. In this article you'll know how to use green tea for psoriasis.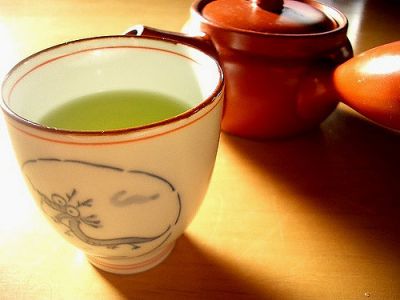 Though originated in China, people all over the world consume green tea. I too tried this healthy tea, to make it more effective I replaced sugar with raw honey.
You'll not enjoy its taste initially. But, gradually you'll feel great.
Don't just sip; topically apply green tea leaves for an excellent skin texture.
Psoriasis is a chronic skin ailment affecting around 7.5 million Americans and 3 percent of the world population. Immune system, which protects over body wrongly focus on developing skin cells.
Rapid growth of skin cells results in dry scaly patches. This chronic skin ailment isn't contagious and affects people of all ages.
You must get diagnosed by dermatologist to treat psoriasis. But, according to researchers there is no permanent cure for this ailment. Using steroid creams and home remedies like green tea you can however reduce inflammation and get rid of dry scaly patches. (1)
Note: Person with this skin ailment must avoid food and substances that may trigger the reaction.
How Green Tea Can Treat Psoriasis?
Natural ingredients are filled with vitamins and minerals that can benefit you. But, some of you may experience allergic reaction to ingredients in this recipe. So, it's recommended to make sure that you aren't sensitive to any of the ingredients.
A study carried over mice to test green tea abilities to treat psoriasis. Polyphenol compounds residing in green tea have shown positive effect in reducing inflamed patches. (1)
Mice groups were divided into two. One group was bathed in regular warm water and other group was bathed in green tea leaves mixed water.
Researchers conclude that mice group that bathed in green tea leaves showed positive result by reducing lesions.
However, few researchers say that further study must be carried out to determine its affect on human psoriasis.
As green tea is derived from a plant and has no synthetic compounds, it isn't associated with any side–effects.
Apart from that, anti-inflammatory, antibacterial, exfoliating and anti-aging activity of this herbal tea will benefit your skin.
How to Use Green Tea for Psoriasis?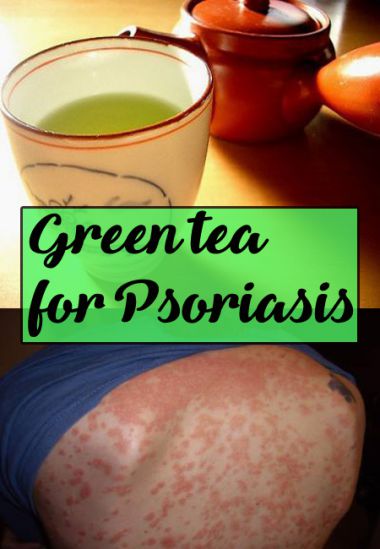 Because of its enticing nutrients supermodel Miranda Kerr regularly uses this herbal remedy. (2)
Brew green tea and have a sip or topically apply it over the skin. Both ways you'll get benefited.
But to treat psoriasis, experts recommend topical application.
#1 Green Tea and Yogurt
Dry scaly patches over the skin must be cleansed. Mix these two ingredients for exfoliating.
Add 1 teaspoon of green tea leaves with 3 teaspoons of plain yogurt. Apply it over psoriasis affected part and gently massage to wipe impurities.
Rinse it off with water after 15-20 minutes.
#2 Green Tea Toner
Brew green tea with required amount of water, but don't add sugar. Allow it to cool at room temperature.
Strain the leaves and collect the liquid in a bottle to preserve. Use cotton ball and to apply the green tea toner over psoriasis affected parts.
#3 Green Tea, Tea Tree Oil and Honey
Brew a cup of boiling water and drop 1 green tea bag. Also add few green tea leaves to it.
After cooling, add 1 tablespoon of raw honey, few drops of vitamin E oil and tea tree oil. Mix thoroughly and shift the solution to a spray bottle.
Using cotton ball apply the toner over prewashed face.
These recipes may not give overnight results, but they will slowly reduce the inflammation.
Regularly drink green tea to treat psoriasis and avoid foods like red meat, gluten, condiments, citrus fruits, dairy products and alcohol that can trigger psoriasis.